Several large American cities have contracted with a Chinese state-owned rail car manufacturer to design and manufacture subway cars for their subway systems, raising serious cybersecurity and human-rights concerns. Over the past eight years, China Railway Rolling Stock Corporation (CRRC) has secured more than $2.6 billion in federal transit contracts to provide passenger railcars in Los Angeles, Boston, Chicago, and Philadelphia.
Lawmakers from both parties have taken notice, and are now demanding that the Biden Administration take action to prevent a company that has links to the Chinese military from dominating the railcar market in the United States.
CRRC, the world's largest rolling stock manufacturer, has a headquarters in Springfield, Massachusetts (CRRC MA), and a production facility in Chicago (CRRC Sifang America). The Chinese state-owned company is reportedly controlled by the communist People's Liberation Army (PLA), and has been identified as a threat to U.S. economic and national security. CRRC also has been called out repeatedly for human rights and labor violations.
CRRC's use of brutal, anti-competitive tactics has given it the ability to offer bargain-basement prices that U.S. transportation agencies have found irresistible. The company allegedly uses the slave labor of Uyghur Muslim minorities in its factories, and child labor to mine for a mineral used in manufacturing its railcars.
In April 2019, retired U.S. Army Brigadier General John Adams wrote an op-ed in the Washington Post advising the Washington Metropolitan Area Transit Authority to reject CRRC's bid for its next series of rail cars.
Adams and other national security experts were concerned that China could "plant listening devices or malicious software in rail cars as a way to conduct surveillance or allow sabotage of trains traveling beneath or near the Capitol, Pentagon and White House."
The retired general argued that city governments that use the company are putting "short-term savings over long-term national and economic security."
CRRC's aggressive show of force hinges on anti-competitive bidding practices and only serves the long-term strategic and technological aims of the Chinese government. CRRC contracts also come with serious cybersecurity risks. After all, rail cars are no longer just big metal boxes. They are computerized smart cars with sensors that transmit billions of instructions per second and are prone to the same kinds of cyberattacks as a 5G network.
Due to these cybersecurity concerns, the D.C. Metro ultimately rejected CRRC's proposal.
Congress passed the Transportation Infrastructure Vehicle Security Act (TIVSA) in December 2019 barring transit agencies from making such purchases. President Donald Trump signed TIVSA into law just before Christmas that year. The law stipulates that transit agencies "can purchase only from domestic companies or companies based in countries approved by the Tariff Act and Trade Act." TIVSA bans federal taxpayer dollars from being used to purchase rolling stock from foreign state-owned or controlled companies.
The Federal Transit Administration (FTA) requires that 70 percent of the cost of the components for rolling stock be produced in the United States.
U.S. trade groups allege CRRC may be skirting federal law by insourcing its assembly work at its plants in the United States, while allowing more components than allowed under law to come from China.
Those same groups complain that CRRC's state-backed, aggressive anti-competitive tactics have helped the company achieve global market dominance.
In September 2020, the House of Representatives' Ways and Means Subcommittee on Trade held a hearing on "Enforcing the Ban on Imports Produced By Forced Labor in Xinjiang."
In testimony submitted for the hearing, Rail Security Alliance (RSA) Vice President Erik Olson called for increased scrutiny by legislators on companies such as CRRC.
"As a state-owned enterprise, CRRC has access to unlimited state funding that allows them to win transit contracts around the world by underbidding competitors," Olson said. This has included its "aggressive and alarming incursions into the U.S. rail market using state-backed financing, below-market pricing, and other anti-competitive tactics." 
Alarmingly, "CRRC was recently named one of 20 companies by the Department of Defense that it says is owned or controlled by China's People's Liberation Army," Olson added.
Olson called on Congress "to ensure products manufactured with forced and child labor not be allowed to be imported into the U.S. Section 307 of the Tariff Act of 1930 specifically prohibits these types of imports and should be applied to CRRC railcars and parts that are currently entering the U.S." 
Olson also urged members of the Democrat-led subcommittee to ask Customs and Border Patrol (CBP) to "open an investigation into these imports and take proper action."
Nevertheless, many Democrat-run cities have embraced CRRC because it offers the cheapest product.
As part of a systemwide expansion plan, the Los Angeles County Metropolitan Transportation Authority (L.A. Metro) in December 2016 awarded a contract to CRRC MA to design and manufacture its new subway cars. In April 2017, L.A. Metro and CRRC signed a $647 million framework agreement for the supply of 282 metro cars with an initial order for the delivery of 64 rail cars valued at $178 million. According to the framework, the remaining 218 railcars could be ordered through five options.
"CRRC had the overall best value proposal, with the highest rated technical offer and lowest price," CRRC said in a post announcing its partnership with LA's Metro.
Due to delays stemming from the COVID pandemic shutdowns, CRRC wasn't able to deliver any cars to L.A. Metro until August, according to L.A. Metro's June update to the Federal Transit Administration (FTA). Metro also reported it would not be exercising options for the remaining 218 more cars.
LA Metro update to FTA on 6/1/22 on 64 new subway cars from CRRC. Delays from China COVID shutdowns. First cars to be delivered to Metro in August. Metro reports they are not exercising options for 218 more cars, which were planned for service expansion and Purple Line 2 and 3. https://t.co/3bzflSqH64 pic.twitter.com/J0GnKn2AqK

— numble (@numble) July 14, 2022
CRRC also won the contract for a major Chicago metro train project, and built a rail vehicle assembly plant in the Windy City to assemble the trains.
The communist-controlled company in June delivered a "fully assembled and commissioned 7000-series metro train to the Chicago Transportation Authority (CTA)."
The new vehicles are being mass-produced by CRRC Sifang America following CTA's 2016 base order for 400 cars. The first commissioned vehicle has now been delivered to the CTA Rail Skokie Maintenance Facility, and a further 7 are expected to be delivered later this month.
The Chicago plant reportedly employs about 200 people.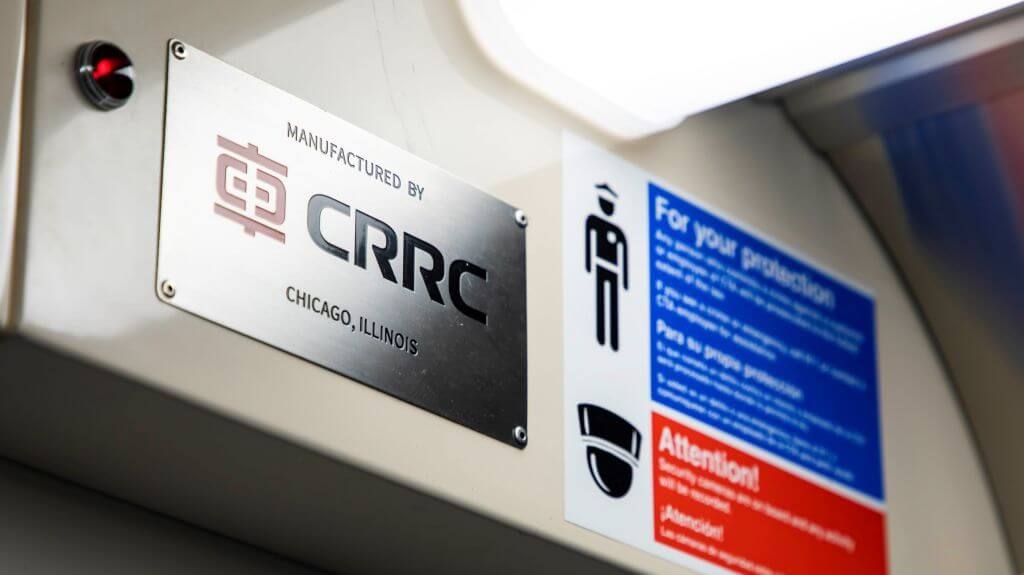 CCRC also has a $1 billion contract with the Massachusetts Bay Transportation Authority (MBTA).
According to the terms of the contract, CRRC was required to deliver 152 new Orange Line cars by January of this year, and 252 new Red Line cars by September of 2023. However, due to delays caused by the pandemic lockdowns, only 78 new Orange Line cars and 12 new Red Line cars had been delivered as of late September. CRRC has reportedly projected that the rest won't arrive anytime soon.
One transit agency appears to be flagrantly skirting the TIVSA's ban on imports from foreign state-owned or controlled companies.
The Southeastern Pennsylvania Transportation Authority (SEPTA) has 45 new double-decker passenger cars currently being constructed at CRRC's plant in China, the Philadelphia Inquirer reported in July. SEPTA awarded a $138 million contract to CRRC MA in March 2017, but the COVID pandemic led to delays in production.
Some good news for Philly commuters: the first of SEPTA's new multilevel push-pull commuter cars are taking shape at CRRC's plant in China. Photos from Beijing Youth Daily's FB page. @SEPTA_SOCIAL @SEPTA pic.twitter.com/jXWrh2Zz39

— Imperial Hobby Productions (@ihphobby) July 17, 2022
Why are rail cars still arriving from the PLA-linked company, given the serious national security concerns, and laws intended to prevent cities from using them?
Some members of Congress are addressing the issue.
The SEPTA project caught the attention of three House Republicans: Sam Graves (R-Mo.), who is the ranking member of the transportation and infrastructure committee; Rodney Davis (Ill.), ranking member of the subcommittee on highways and transit; and Rick Crawford (R-Ark.), ranking member of the subcommittee on railroads, pipelines, and hazardous materials.
The trio fired off a letter on September 21 to Eric Soskin, the inspector general of the U.S. Department of Transportation, requesting an investigation "to ensure compliance with FTA's Buy America standards."
The lawmakers said Congress passed TIVSA in 2019 to make sure American tax dollars wouldn't go to state-owned enterprises (SOEs) like CRRC MA.
"TIVSA bans Federal taxpayer dollars from being used to purchase rolling stock—railcars or buses—from foreign state-owned or controlled companies," the congressmen wrote. "Although TIVSA was passed after SEPTA's CRRC MA contract, the public transportation authority still must comply with FTA's Buy America requirements."
According to FTA's Buy America requirements, the cost of the components and subcomponents for rolling stock produced in the United States must total more than 60 percent for fiscal year (FY) 2016 and FY 2017; more than 65 percent for FY 2018 and FY 2019; and more than 70 percent for FY 2020 and beyond. In addition to the components and subcomponents requirement, final assembly for rolling stock must occur in the United States.

CRRC has claimed that it sources 70 percent of the total cost of railcar components from manufacturers in the United States. This claim has been echoed by press affiliated with

Chinese state media. However, a recent report by the Philadelphia Inquirer (Inquirer) gives reason to speculate about the accuracy of that claim.

The Inquirer reported that the first cars from the SEPTA–CRRC MA contract were being built in China. The photos published alongside the story appear to show nearly completed railcars.

Furthermore, the Inquirer article states that CRRC MA is planning to ship finished shells for the passenger cars to Massachusetts for final assembly. In other words, the article raises questions about how complete these cars are when they arrive in the United States.

In light of the Inquirer's article, we are concerned whether CRRC MA has met the Buy America requirements over the course of this contract so far and whether CRRC MA will be able to meet these requirements as the contract progresses. 
The lawmakers asked Soskin to initiate a review and specifically examine how the FTA and SEPTA are certifying CRRC MA's adherence to the federal agency's "Buy America" requirements, and how both agencies determine the total value of foreign components—especially if any foreign components in the CRRC MA contract are undervalued against their U.S. market rate.
Last week, Reps. Mike Gallagher (R-Wisc.) and John Garamendi (D-Calif.) wrote to Treasury Secretary Janet Yellen to "inquire why the Department of the Treasury has failed to list CRRC as a state-directed enterprise linked to the People's Liberation Army (PLA), the military of the People's Republic of China."
"We request that CRRC be listed as a state-owned and directed enterprise with clear links to the PLA," the pair wrote in the October 13 letter.
The Department of Defense designated the CRRC as a Chinese military company on October 5, but reportedly, a designation by the Treasury would trigger an investment ban under the current system." The Department of Defense designation is essentially toothless then, with "no real world penalties."
"CRRC has already made anticompetitive incursions into the United States rolling stock market with state-backed financing, below-market pricing, and other anti-competitive tactics as a mainland Chinese state-owned enterprise," the lawmakers noted in their letter.
By its own estimate, CRRC currently controls more than 83 percent of the global rail market. Moreover, the company has made public its aim to dominate the remainder of the global market. Within a decade of entering Australia's once-thriving domestic rail manufacturing industry, CRRC used anti-competitive tactics to wipe out Australia's domestic rail manufacturing entirely. CRRC has already made anticompetitive incursions into the United States rolling stock market with state-backed financing, below-market pricing, and other anti-competitive tactics as a mainland Chinese state-owned enterprise. CRRC's activities in Australia should serve as a blueprint of its designs for the American market.
Gallagher and Garamendi also cited CRRC's documented history of human-rights abuses.
"We are deeply concerned that CRRC will continue to undercut good-faith actors in the rail sector, further compromising the global rail market. Despite the company's well-documented connections to China's PLA, CRRC already provides passenger railcars to transit agencies across the United States, including Boston and Los Angeles," they wrote. "Additional reporting on CRRC and its supply chains has found a troubling reliance on forced labor, including Uyghurs, and child labor in Madagascar mines."
Ultimately, the congressmen said they want American companies that are considering partnering with CRRC to "know that they are signing contracts with an arm of the Chinese military."
RSA's Olson praised Gallagher and Garamendi for taking a stand to safeguard the domestic rolling stock industry from foreign threats.
"Given the case against CRRC, which is years in the making, there is every reason that the Chinese state-own-enterprise should be added to Treasury's list of PLA-controlled companies immediately," he said in a statement. "We are grateful for the support of Congressmen Gallagher and Garamendi. Their request highlights the important role that the domestic rolling stock market plays in the U.S.—and why it deserves safeguarding," Olson added.
American Greatness reached out to L.A. Metro, CTA, MBTA, and SEPTA for comment on this story, but did not receive a reply before publication.