Pfizer board member Scott Gottlieb, M.D. played a major role in getting COVID "vaccine" critic Alex Berenson suspended from Twitter in the summer of 2021, according to emails obtained through discovery in Berenson's lawsuit against the social media giant. Gottlieb worked with former Biden White House senior coronavirus adviser Andrew Slavitt to suppress Berenson's influential voice as the administration was preparing to impose boosters and vaccine mandates on the American public.
Gottlieb, a Republican,  served in the Trump administration as the 23rd commissioner of the Food and Drug Administration from May 2017 until April 2019, and is presently a senior fellow at the conservative think tank the American Enterprise Institute (AEI).
As a member of  Pfizer's board, he played a pivotal role in "a secret months-long conspiracy" to suppress Berenson's right to free speech, and block his "reporting about the failure of the mRNA Covid vaccines," the journalist alleged in a lengthy Substack piece that laid out the chronology of events leading to his suspension.
"The conspiracy to censor me appears to have begun in earnest in April 2021, as I raised questions about the safety and efficacy of the mRNA Covid vaccines," he wrote.
At its heart was Gottlieb's colleague and friend Andy Slavitt. Slavitt and Gottlieb know each other well. In April 2020, they co-authored a letter to Congress demanding expanded Covid contact tracing efforts. They also appeared together on interviews, including on Slavitt's own "In The Bubble" podcast, which Pfizer sponsors.

From January through June 2021, Slavitt served as senior advisor to the Biden Administration's Covid response team. On April 21, 2021, Slavitt and other Biden Administration officials spoke to Twitter officials to complain about vaccine "misinformation."

Afterwards, a Twitter employee told other employees in a private discussion over Slack that the White House had "one really tough question about why Alex Berenson hasn't been kicked off from the platform." The employee distinguished the question from others White House officials had asked, which the employee called "pointed but fair."

Another employee wrote in a different Slack discussion that Slavitt had attacked me directly, calling my reporting an obstacle to convincing the "persuadable public" to take Covid vaccines.
Berenson says Twitter resisted taking action against him because he wasn't technically violating their rules by publicizing data that disputed the official narrative. But by July 2021, the regime's "censorship efforts took on a new urgency" because the vaccines had begun to fail in Israel, the first country to complete a mass vaccination campaign with Pfizer's mRNA shot. This, he noted, was happening as the Biden Administration and Pfizer were promoting a third mRNA "booster" dose for vaccinated people, and were getting ready to impose employment and education-related vaccine mandates in the United States, despite earlier promises it would not.
On July 16, Gottlieb told MSNBC, "I think the social media platforms do have an obligation to police the kind of misinformation that we're seeing—things that are truly false—and we've seen them step in to do that," he said.

On the same day, President Biden said social media companies were "killing people" by allowing dissenters to raise questions about the mRNA shots.

The pressure had immediate impact.

A few hours after Biden's comment, Twitter locked me out of my account for the first time. On July 27, it gave me a third "strike," and on July 30, a fourth – this time for a tweet that did nothing but accurately reflect the results of a Pfizer clinical trial.
The emails show that Slavitt continued to press Twitter to ban Berenson after he left the White House.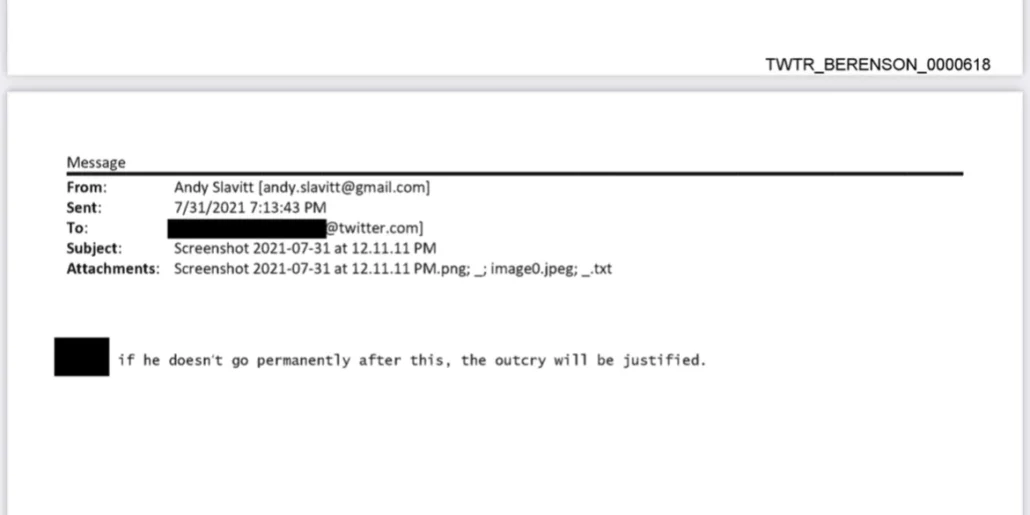 The former New York Times reporter received his fourth strike on July 30, 2021 for the tweet exposing Pfizer's clinical trial results.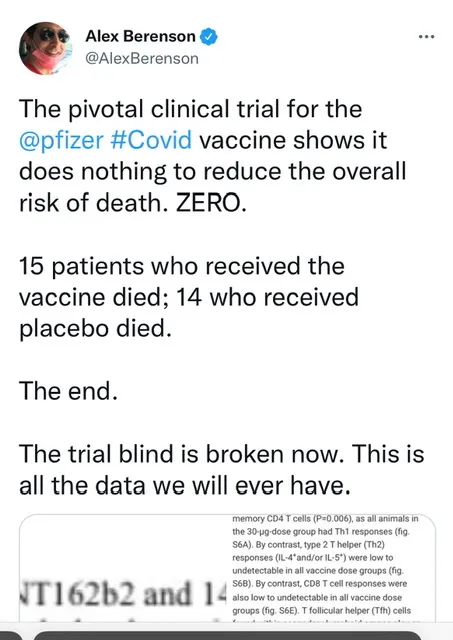 This strike resulted in a seven-day suspension, per Twitter's policy, and Berenson was allowed back on the platform on August 6.
"My fourth strike clearly was invalid under Twitter's own policies," the journalist argued on Substack. "It was a simple statement of fact about Pfizer's clinical trial results. By imposing the strike, Twitter was essentially arguing it could take action against me at any time for any reason."
Nonetheless, Berenson writes, he "continued to post aggressively," and by August 24, 2021, Gottlieb had had enough, and sent an email to Twitter targeting a post by Berenson about National Institutes of Allergy and Infectious Disease (NIAID) Director Anthony Fauci.
In the email, Gottlieb complained that "this is what's promoted on Twitter. This is why Tony needs a security detail."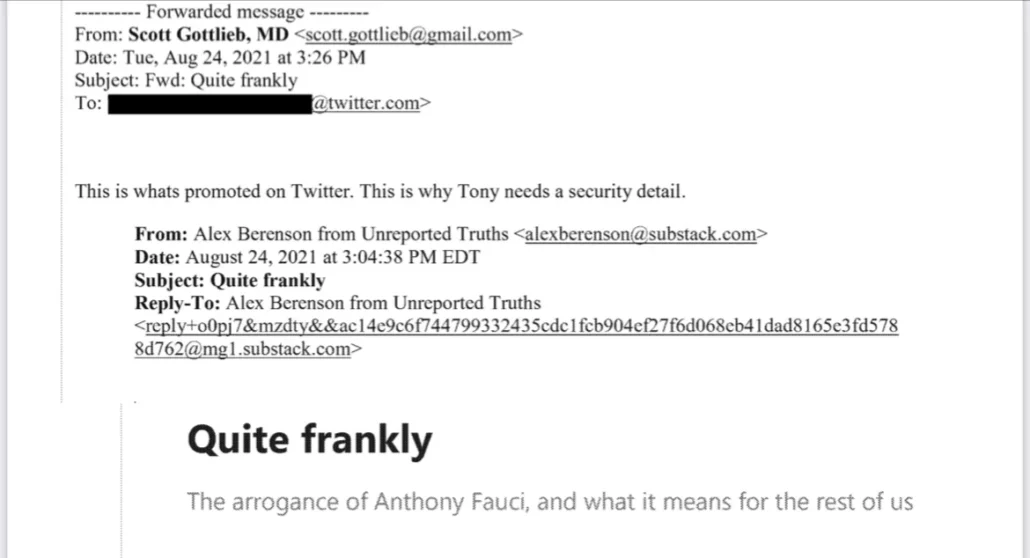 The post in question, Berenson noted, did not threaten or harass Fauci in any way—it merely mocked the NIAID director's "arrogant" comment that suggested criticizing him amounted to "attacking science."
According to Berenson, Gottlieb called Twitter officials on Aug. 27, and a Slack chat at the time "shows that my name came up quickly."
The next day, August 28, Gottlieb sent Twitter one more email – this one simply cutting and pasting what at the time was my final Tweet. The fact that he said nothing else suggests a phone call or text message alongside the email, though at this point I cannot be sure.

In any case, Gottlieb, Slavitt, and the White House had forced Twitter's hand. That night, Twitter gave me my fifth strike and what the conspirators thought would be my permanent suspension.
Slavitt did a quick victory lap on Twitter: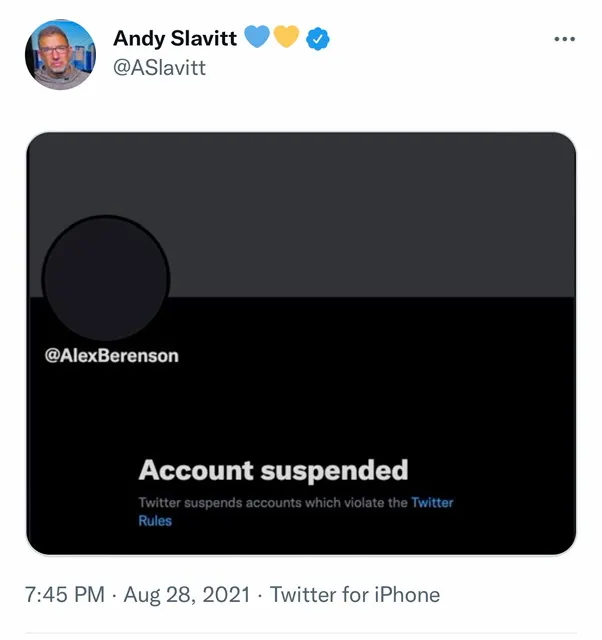 Less than two weeks later, on September 9, 2021, Joe Biden announced strict federal vaccine mandates in a primetime speech that scapegoated the unvaccinated.
"What more is there to wait for? What more do you need to see? We've made vaccinations free, safe, and convenient," Biden insisted. "We've been patient but our patience is wearing thin and your refusal has cost all of us."
On "Tucker Carlson Tonight" Thursday evening, Berenson explained how Slavitt had been complaining to Twitter about his tweets, which routinely undermined the official narrative on the lucrative jabs.
"I was discouraging people from getting the vaccines, which the White House wanted and [he was] asking them why they hadn't banned me," Berenson told Carlson.
Even after he left the Biden White House, Slavitt was still in contact with administration officials, as well as millionaire Pfizer CEO Albert Bourla, Berenson noted.
"So you criticized his product in which he had a financial interest, and he got you censored," Carlson replied, before inviting Gottlieb to appear and defend himself on his show.
The conflict of interest here is obvious. As Berenson pointed out, Pfizer has made $70 billion selling the often-mandated mRNA jabs, and Gottlieb is paid "almost $400,000 per year" to serve on its board.
Berenson said his lawyer James Lawrence has sent "demand letters" to Gottlieb, Pfizer, and Slavitt notifying them he intends to sue.
"We have several grounds, likely including a conspiracy to interfere with my civil rights—in this case, my First Amendment right to free speech," he explained. "I do not intend to allow Gottlieb, Pfizer, Slavitt, and the White House simply to escape or forget their effort to muzzle me."
Incredibly, even after being successfully sued by Berenson over his suspension last year, Twitter on Oct. 8 locked his account and barred him from making new posts, "again for supposedly breaking its COVID misinformation rules."
Berenson said he suspects that Twitter wants to "punish" him for sharing this embarrassing information, and wishes to keep him "from breaking this news on its platform."
The intrepid journalist pledged to do everything he can to "ensure the sun rises on this conspiracy."
"[N]ot just for me, or everyone whose rights to speak and debate came under attack, but for the untold millions of Americans who desperately wanted to avoid taking mRNA vaccines in the fall of 2021 and were forced to do so at risk of their jobs and educations," he said.
"The insane government coercion of 2021 is, thankfully, behind us. But the battle over what happened last year has only begun," he concluded.