Republican author and lawyer J.D. Vance leads Democrat Rep. Tim Ryan 46 percent to 44 percent in the U.S. Senate race in Ohio, according to GOP polling firm Cygnal. The survey of likely general election voters in Ohio also gave Republican Governor Mike DeWine a strong lead in the gubernatorial race, and Ohio Republicans leading in the races for Secretary of State, and Attorney General.
Additionally, the poll showed that a near majority of Ohio voters (49.2) have a very unfavorably opinion of the job Joe Biden is doing. Overall, 57.2 percent of Ohioans disapproved of Biden's job performance, the survey found.
Vance did best among male voters, while Ryan performed best among female voters.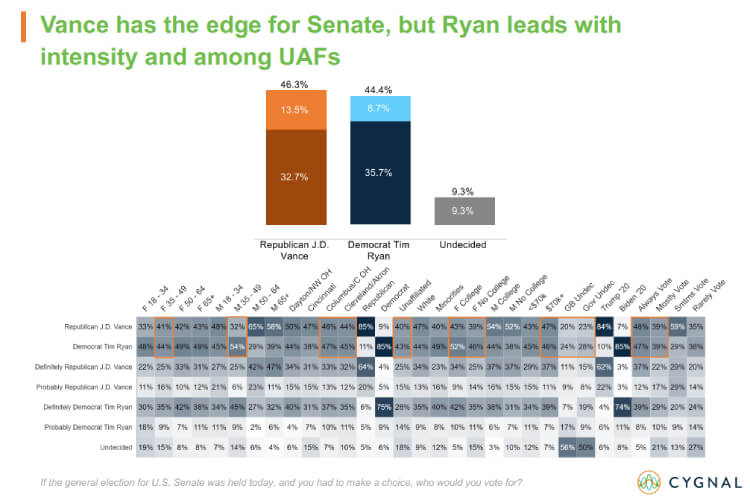 Republican Governor Mike DeWine has a powerful +22 lead over Lt. Governor Jon Husted on the Gubernatorial ballot (56.9 percent to 34.6 percent) in the Cygnal poll.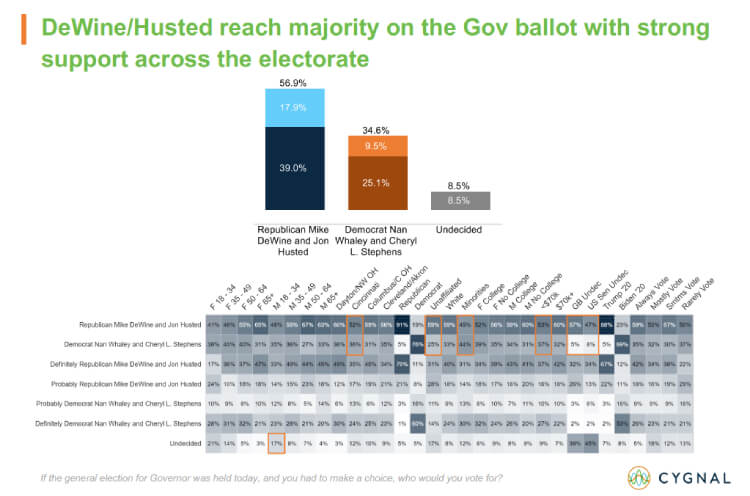 The survey also found that Republicans have a +6 advantage over Democrats (49.9 percent to 43.8 percent) on the generic congressional ballot in the state. Another 6.3 percent of likely voters were unsure of which party they preferred.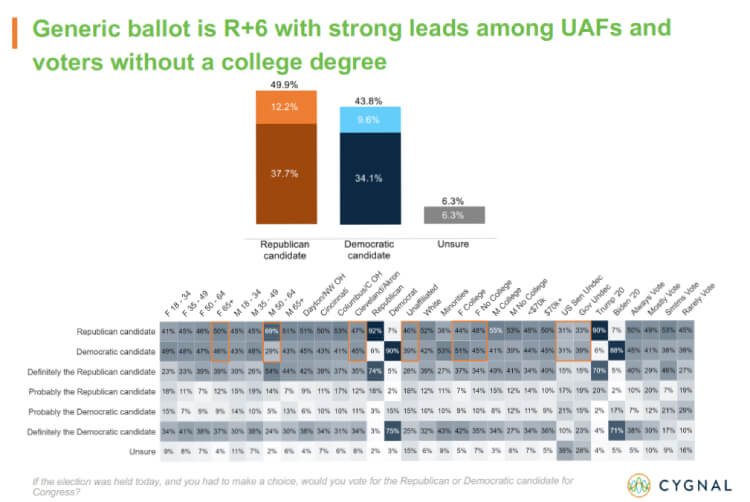 Significantly, the poll found that most Ohioans are pessimistic about the direction of the country, with 63.8 percent of voters saying we are on the "wrong track," and only 31.6 percent of voters saying the country is headed in the "right direction."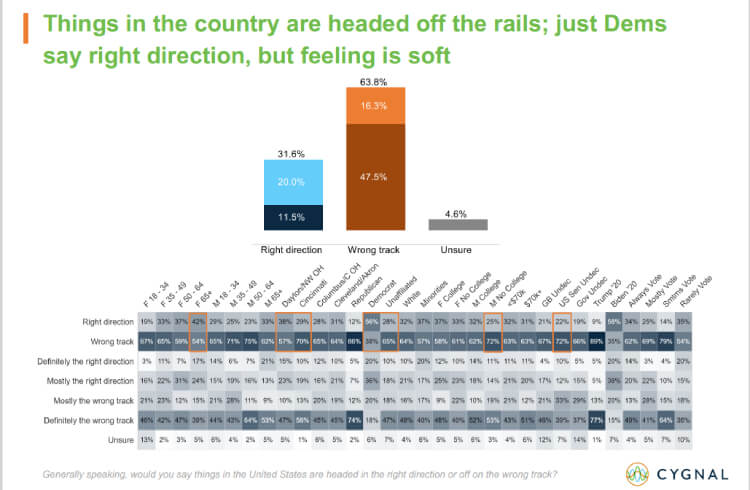 According to the survey, Joe Biden approval rating is deep underwater at -16 in Ohio, with 41.5 percent approving, and 57.2 percent disapproving of his job performance.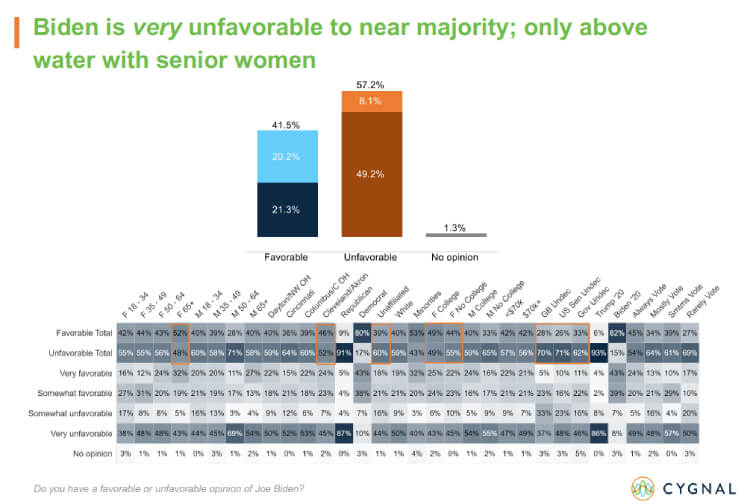 In the race for Attorney General, Republican Dave Yost leads Democrat Jeffrey Crossman 48.8 percent to 37.9, with 13.3 percent undecided.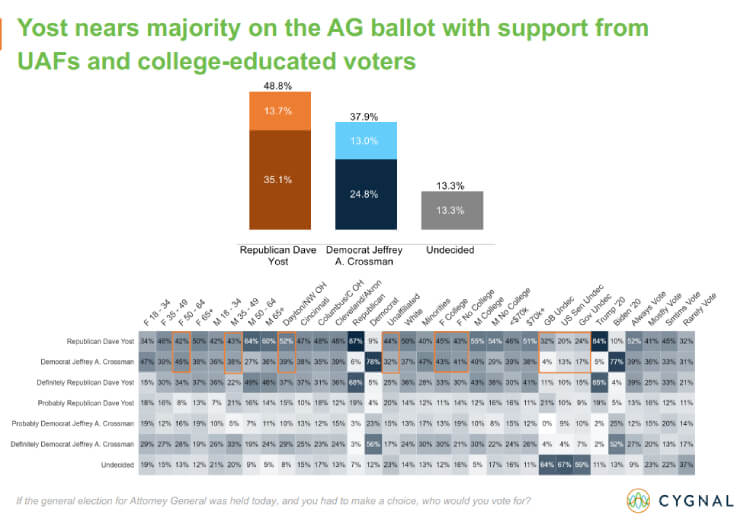 In the race for Secretary of State, Republican Frank LaRose leads Democrat Chelsea Clark 46.7 percent to 34.6 percent, with 14.7 undecided.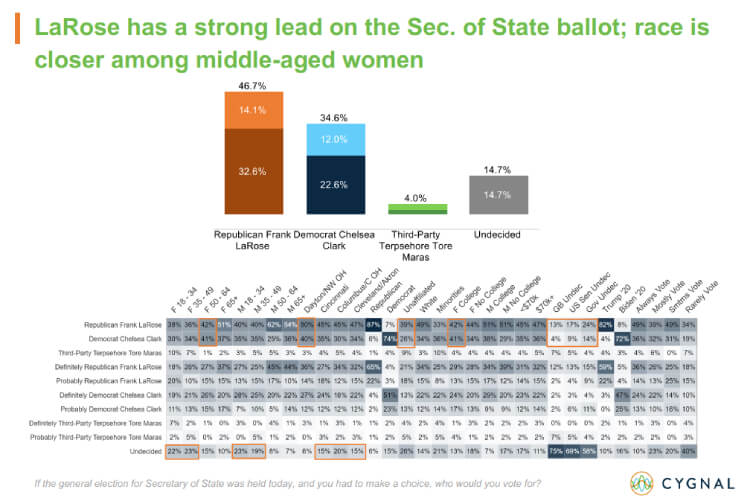 The survey found that 41 percent of Ohio voters chose economic issues as their top priority, including inflation, cost of living, and jobs. Another 23 percent chose abortion as their top priority. Republicans and unaffiliated voters were most concerned with the economy, while Democrats and women under 65 were more concerned about abortion.
Republicans were slightly more excited than Democrats and unaffiliated voters about the midterm elections, according to the poll.