A new Insider Advantage poll of the Nevada Senate race shows Republican Adam Laxalt beating Democrat Catherine Cortez-Masto 45.9 percent to 43 percent.
Independents preferred Laxalt to Cortez-Masto 55.1 percent to 24.2 percent, according to the survey.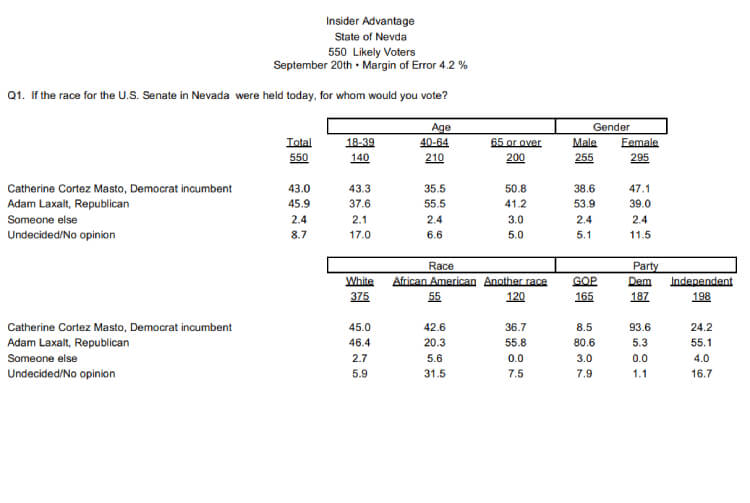 Seven weeks before the midterm elections, Joe Biden's approval rating in the Silver State is at 40.8 percent, according to the Insider Advantage poll, with 54 percent disapproving and 5.2 percent undecided.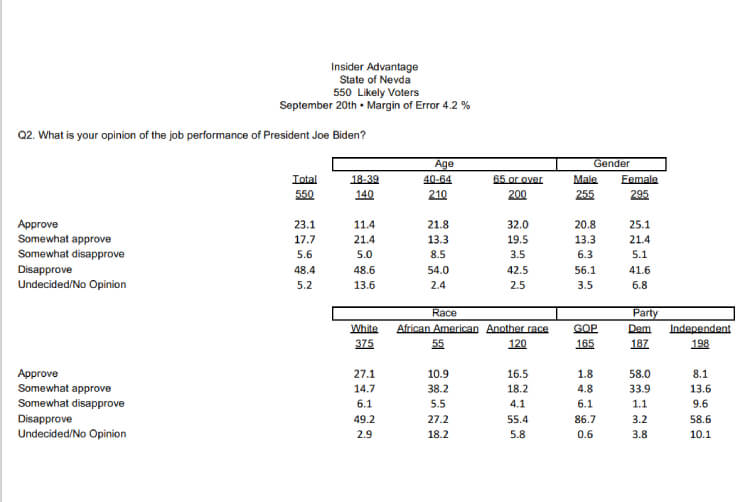 The survey of 550 likely voters was taken on September 20th and has a margin of error of 4.2  percent.
The Las Vegas Review-Journal on Wednesday called Laxalt and Republican Joe Lombardo—who is running for governor—the "clear favorites" in their races.
In October 2018, Nevada had 75,000 more registered Democrats than Republicans. In October 2020, the Democrat lead was 87,000. In both cases, Democrats held a 4.8-percentage point advantage.

Last month, that lead had shrunk to under 49,000 voters or less than 2.8 percentage points. Remember, Joe Biden won Nevada by fewer than 34,000 votes or 2.4 percentage points. That advantage is virtually gone.

There are now fewer registered Democrats in Nevada than there were in October 2018, while the number of registered Republicans is up. Republicans generally overperform in Nevada's off-year elections, too.

Nationally, Democrats are swapping working-class Hispanic voters for college-educated women. That may be a good trade politically in some states. It isn't in Nevada. Plenty of data points and anecdotes suggest a sizable shift toward Republicans among Nevada Latinos.
The Insider Advantage poll appears to back this assertion up.
Although Laxalt bested Cortez-Masto among white voters (46.4 percent to 45 percent), the Republican polled best with voters of "other races"—mainly Hispanics—garnering 55.8 percent of the vote to Cortez-Masto's 36.7 percent.
Adam Laxalt is an American attorney who served as the 33rd Nevada Attorney General from 2015 to 2019, and was the co-chairman of Donald Trump's 2020 re-election campaign in Nevada. Following the rigged 2020 election, Laxalt drew attention to multiple election irregularities, including  the counting of potentially invalid ballots.