An attorney with a popular TikTok account has exposed a corrupt left-wing influence operation that pays social media personalities to post disinformation about former president Donald Trump and January 6.
Atlanta-based attorney Preston Moore claimed on Saturday that he was offered $400 by the nonprofit "Good Information Foundation" to post manipulative "propaganda" ahead of the 2022 mid term elections.
"I was just offered $400 to make an anti-Donald Trump propaganda video in a post related to the January 6 investigation that is completely not true," said Moore at the beginning of a now-viral video posted to TikTok on Saturday.
The "Good Information Foundation" is the non-profit arm of Good Information Inc., which is funded by left-wing billionaires George Soros and Reid Hoffman, among others. The "public benefit corporation" launched in October of 2021 to combat "disinformation" online.
The 501(c)(3) proclaims on its website that "good information is the lifeblood of democracy," and that it wants "to increase the flow of good, factual information online to counter and rebut the spread of misinformation and disinformation."
Moore, who practices law at the Beasley Allen law firm, focuses mostly on legal news and personal stories on his TikTok account @trialbypreston, which 93.1 thousand followers.
"I should start out this video by saying I am not a Donald Trump supporter so that should give a little bit of context to where I'm coming from," he said in his video.
Although the attorney—as he noted—is not a Trump fan, he was able to quickly recognize that he was being asked to disseminate disinformation about January 6 "to reach the widest possible audience."
Moore explained that he received an email from the allegedly nonpartisan foundation offering him $400 to post a video on Instagram related to January 6, and said that he was open to the collaboration because he thought he could learn something. The group sent him another email that provided "important notes" and "key messaging" that should be included in his post.
The "important notes" the nonprofit offered included:
Say "criminal conspiracy," not "attempted coup," "treason" or "insurrection."

Say "Trump Republicans, not 'Trump and his allies."

Say "January 6 investigation," not "hearing" or "trial."

Call this an "attack on our country" or an attack on "America" or on "Americans" and a "criminal conspiracy," "committed crime."

Talk about "MAGA Republicans" etc.

Make clear this is ongoing and unresolved, not past and done.

Show voter agency, turn the anger into defense.
Moore shared screenshots of the communication.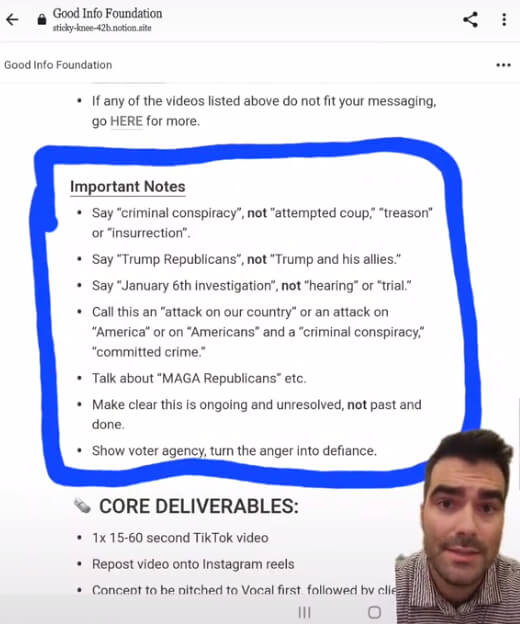 In the "key messaging" portion of the email, the foundation urged him to: "Remind your followers about the images and scenes from the January 6th insurrection."
The group even offered an example of what he might say: "You probably saw this [greenscreen of Jan 6th violence] happen but what a lot of people don't know is that the violence on January 6 was actually planned and paid for by Trump Republicans."
The email added: "Talk about the many aspects of their plan and the broad involvement of Trump officials, members of Congress . . . "
Another point of "key messaging" that the email suggests Moore tell his followers: "It's important to know that this wasn't a one day thing—there is an ongoing threat of political violence or MAGA Rebublicans trying to overturn elections."
Moore said that "most importantly" the "Good Information" email said that he "must channel all of this on to the manipulation of voter agencies so that I could turn their anger around this event into defiance that would make people more likely to vote in midterms."
Moore said what struck him the most was the allegation that "the Trump Campaign literally paid millions of dollars to make January 6 happen."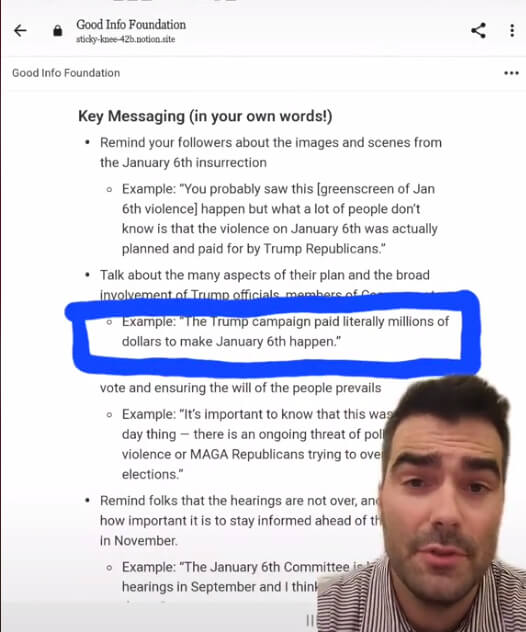 The lawyer said he responded to the email by asking, "What is the basis for the claim that the Trump campaign itself paid millions of dollars to make the January 6 siege at the Capitol happen?"
Ignoring the question, the foundation wrote in response that he could leave that bullet point out of his post if he didn't want to.
"Sure I am just wondering if there is support for that claim," Moore replied.
"Let me know if you are interested and the rate works for you," the foundation responded, again ignoring the question.
Moore concluded his video by saying that he was "not interested" and "the rate doesn't work" for him.
"This is the Good Info Foundation," he said. "They boast on their homepage that good information is the lifeblood of a democracy. They further cry that we are in an information crisis. You know the crazy thing about all of that? They're right."
"I was just offered $400 to make an anti Trump video" pic.twitter.com/FhinA9nY4p

— Laura Lawrence (@LBoogie1919) September 17, 2022
Moore later told Breitbart, "It became really clear that … they wanted me to use the most graphic images possible. They wanted me to use fear to manipulate people into voting blue, or into voting not Trump. … And when they're giving examples of the things they wanted me to say—don't say 'Trump and his allies,' say 'Trump Republicans'—it became really clear that this was about putting out information … to impact midterms."
The CEO and founder of Good Information Inc., according to Axios, is former Democratic strategist Tara McGowan, who previously ran ACRONYM, another left-wing non-profit. ACRONYM invested in for-profit companies to build "media and technology solutions for progressive causes," and ran a $100 million digital campaign to defeat former Trump in the 2020 election.
ACRONYM faced a FEC complaint last year that alleged it wasn't transparent enough about its involvement with Courier Newsroom, a Democrat-aligned network of local media websites.
Democrat strategist RC Di Mezzo, who previously served as national press secretary and senior digital strategist for The Never Trump Political Action Committee (PAC) the Lincoln Project, is now the communications director for Courier Newsroom and Good Information Inc.

McGowan originally told Axios that the complaint had been dropped. The group that filed the complaint, Americans for Public Trust, told Axios that the complaint was still pending. McGowan subsequently told Axios that her lawyers are "confident" it will be dropped.
The foundation runs its disinformation operation through its "Civic News Initiative (CNI)," which funds and organizes "a network of local and niche media properties, freelance reporters, editors and social content producers to distribute factual, values-driven news and content to the communities in which they live that effectively counter and dilute the impact of disinformation."
The Foundation will compensate publishers and freelancers and influencers to publish their original reporting online and offer the content free of charge to any global, national, state or local news organizations looking to bolster their reporting capacity and coverage within those communities and geographies.

The group's stated mission is to "increase the flow of good, factual information online to counter and rebut the spread of misinformation and disinformation."

We do this by creating, incubating, funding and lifting up fact-based solutions, voices, programs and initiatives that can be quickly developed, tested and deployed at scale. We are on offense against disinformation.

Although backed and launched by left-wing operatives, including the former Obama officials, McGowan told Axios the group could make investments in entities across the political spectrum as long as their editorial standards support fact-based information. She cited the Never Trump The Bulwark as an allegedly "center-right" website it could fund.
According to Axios, former Obama White House Communications Director Dan Pfeiffer is a member of Good Info Inc.'s advisory committee. Also on the advisory board reportedly is former Obama White House official Jason Goldman. Until a couple of days ago, former Obama official Rick Stengel was listed on The Good Info Foundation's website as the board chair. Stengel served as Under Secretary of State for Public Diplomacy and Public Affairs from 2014 to 2016, and is a political analyst for MSNBC.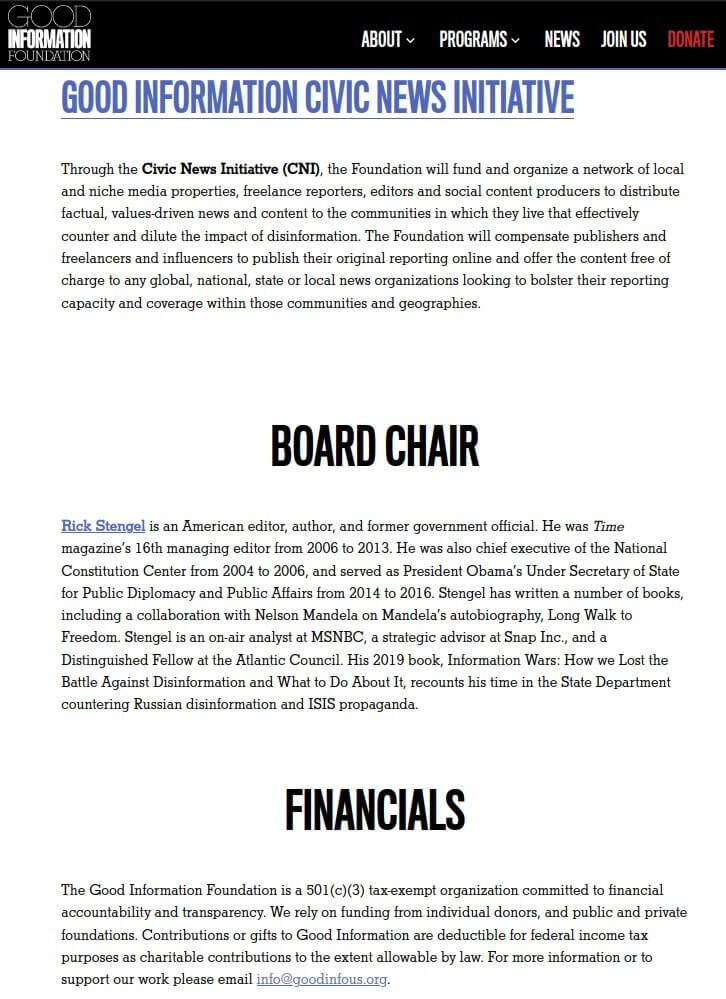 In his 2019 book, Information Wars: How We Lost the Global Battle Against Disinformation and What We Can Do About It, Stengel writes that "governments are increasingly using disinformation to create their own false narratives, and democracies are proving not to be very good at fighting it."
Stengel in 2020 argued that propaganda is "not that awful."
"I'm not against propaganda. Every country does it, and they have to do it to their own population," he explained. He said his colleagues dubbed him "chief propagandist" at the State Department when he worked in the Obama administration.
One is Richard Stengel, self described former "Chief Propagandist" and supporter of domestic US propaganda pic.twitter.com/pNv1opsKBK https://t.co/LyZCxZaADi

— Max Blumenthal (@MaxBlumenthal) November 11, 2020
The Good Information Foundation website has since deleted Stengel's association with the organization.
As a 501(c)(3) tax exempt organization,  the Good Info Foundation is "absolutely prohibited from directly or indirectly participating in, or intervening in, any political campaign on behalf of (or in opposition to) any candidate for elective public office," according to IRS regulations.
American Greatness reached out to the Good Information Foundation for comment; no response has yet been received.