A new ad that seeks to raise awareness about myocarditis in children is proving to be extremely unpopular with viewers.
New York-Presbyterian Hospital uploaded the video titled, "Pediatric Patient Story–Suri," to its YouTube channel on September 6.
"Suri had a bad stomach ache that turned out to be myocarditis, a serious inflammation of the heart," the video's description reads. "Our multidisciplinary pediatric critical care team worked to regulate her heartbeat–and got her back to feeling like herself."
Critics online are blasting the ad, calling it an attempt to "normalize" myocarditis in children.
The video as of Monday afternoon had 130 likes, and 6.3 thousand dislikes.
Although the video currently shows zero comments, viewers had initially voiced their disdain of the video, according to SJ News Bulletin. 
"It makes me sad and angry," said one commenter.
Another user said, "Very disgusting."
"Geez and now they make it sound like 'Oh! It's normal and you'll be fine!" wrote another commenter.
Public health officials have routinely downplayed the risk of post-vaccine myocarditis, describing it as "mild," and claiming that COVID-induced myocarditis is much more serious.
In the past year, famed cardiologist Dr. Peter McCullough, a leader in the medical response to the COVID pandemic, has argued otherwise. According to McCullough, myocarditis in young people post-vaccine is far more dangerous than the COVID-induced version of the heart disease.
In the COVID-19 cases, the heart inflammation happens mainly in those who are in the intensive care unit with severe COVID, and who have an elevation in their troponin levels, McCullough explained in an interview last December.
Troponin is a type of protein found in skeletal muscle and cardiac muscle. Measurements of cardiac-specific troponins are used as diagnostic and prognostic indicators in the management of myocardial infection and acute coronary syndrome.
McCullough emphasized that usually "the myocarditis in COVID-19 is mild, it's inconsequential, and it's largely a component of elevation [of troponin]."
Conversely, he said, "there are pre-clinical studies suggesting the lipid nanoparticles [from the vaccines] actually go right into the heart."
"The heart expresses the spike protein, the body attacks the heart. There are dramatic EKG changes," he explained.
"I don't want anybody to think that the myocarditis of a natural infection is anything like what we're seeing with the vaccines," McCullough stressed.
"The [troponin] blood test for heart injury with the vaccine myocarditis, is 10 to 100 times higher than the troponin we see with a natural infection," he continued. "It's a totally different syndrome."
Factcheckers at the time "debunked" McCullough—a top expert in the field. "Benefits from COVID-19 vaccines far outweigh the risks for teens," Politifact proclaimed in a post rating the cardiologist's assertions as "false.".
According to data from the Vaccine Adverse Event Reporting System (VAERS), a massive increase in reports of myocarditis and pericarditis emerged in 2021 and 2022 as the mRNA vaccines were being widely administered.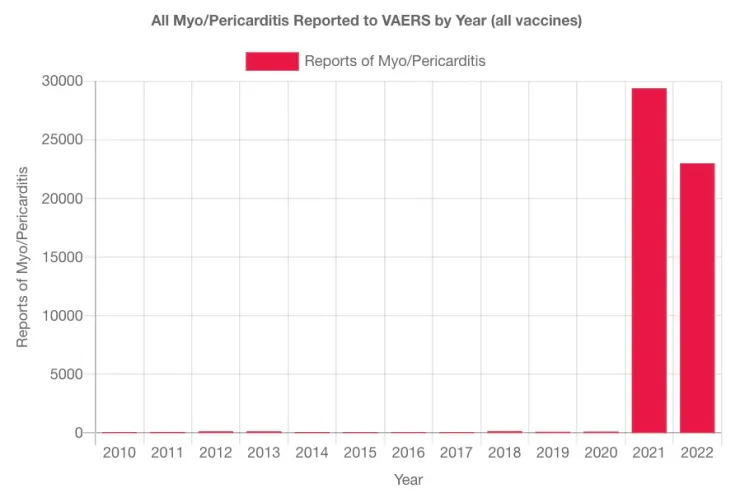 A study released in January by the Journal of the American Medical Association (JAMA) found that the mRNA-based COVID-19 jabs resulted in an increase risk of myocarditis in young men.
"Based on passive surveillance reporting in the US, the risk of myocarditis after receiving mRNA-based COVID-19 vaccines was increased across multiple age and sex strata and was highest after the second vaccination dose in adolescent males and young men," the study concluded.
Descriptive study of reports of myocarditis to the Vaccine Adverse Event Reporting System (VAERS) that occurred after mRNA-based COVID-19 vaccine administration between December 2020 and August 2021 in 192 ,405, 448 individuals older than 12 years of age in the US; data were processed by VAERS as of September 30, 2021.
According to the study, there were 1,991 reports of myocarditis in VAERS—391 of which also included pericarditis—after receiving at least one dose of the mRNA-based COVID-19 vaccine, and 684 reports of pericarditis without myocarditis present.
Increasingly, studies are showing that the COVID jabs are not so "safe and effective."
An investigation of United Kingdom COVID data has found that there was a 53 percent increase in deaths due to all causes among male teens aged 15-19 in the UK during 2021 after they were offered the Covid-19 injection.
Each spike in deaths correlates perfectly with a spike in the administration of the first, second, and third doses of the Covid-19 injection to this age group.
Dr. Paul Burton, the chief medical officer at Moderna, casually admitted in media interviews back in June that the increased risk of myocarditis in young people seemed to be the result of spike protein interacting with heart muscle cells.
"We know so much more about myocarditis today than we did a year ago. I do believe that it is the spike protein….that either causes a little bit of direct damage to the heart, or antibodies that are produced that react with the heart cells," Burton said.
As independent journalist Chris Bray noted on Substack, professors throughout 2021 were "unpersoned for saying that mRNA injections could cause heart damage; but in 2022, Moderna executives shrug and say that sure, it damages your heart a little, but whatever."
The UK Health Security Agency (UKHSA) announced earlier this month that it will no longer be offered COVID injections to children under 12-years-old, except for those in clinical risk groups.
Denmark announced last week that it will no longer offer COVID jabs to healthy people under 50.
However, the New York State Department of Health, the Centers for Disease Control and Prevention (CDC), and the American Academy of Pediatrics (AAP), still urge all eligible young people—including toddlers, and babies—to get COVID-19 injections.
"CDC recommends COVID-19 vaccines for everyone ages 6 months and older, and COVID-19 boosters for everyone ages 5 years and older, if eligible," the CDC says on its website.
"Through continued safety monitoring, COVID-19 vaccination has been found to be safe for children and teens."