BOWLA, CHILE—In a stunning snubbing of their international and domestic leftist betters, Chileans voted down Democracy™. 
Despite a newly proposed leftist constitution that would have set a "global record" for new rights for people, animals, and nature—and despite the lobbying by the international Left and the Guinness Book of World Records—Chileans rejected the proposed constitution by a margin of 32 percent in favor and 68 percent against.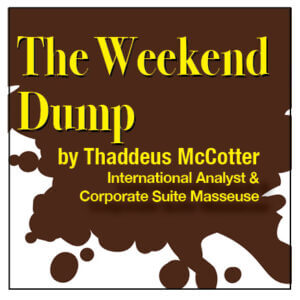 The proposed constitution arose from the ashes and corpses left behind by "mostly peaceful" rioters upset by a four-cent increase in transit fares. Their discontent and violence were stoked by foreign cyber disinformation tracked back to Venezuela and Russia. Amid the rioting and mayhem, a beleaguered, embattled citizenry sought a return to calm by voting to discard their existing Pinochet-era constitution that, including its 20 subsequent amendments, had cruelly made Chile one of, if not the most, free and prosperous Latin American nation. A convention was elected to craft a new constitution from "scratch." The body, shaped by the voters and the dictates of the DIE cult ("diversity, inclusion, and equity") produced a new constitution sprawling more than 170 pages and 388 different articles. 
Who wouldn't love that? 
The Snub Heard Round the Salon
Evidently, Chileans. They rejected the most "progressive" constitution ever written, confirming their unconscious bias for authoritarianism—or is it their implicit bias for authoritarianism? (It also provided yet another confirmation that "communist" is the deadname of "progressive.") Regardless, the Chileans' obstinate refusal to heed their international and domestic vanguard of the prolet—er, progressivism—has rendered the latter everything but speechless. 
The official newsletter of the American Left, the New York Times, was flabbergasted: "Chile Says 'No' to Left-Leaning Constitution After 3 Years of Debate." The Times bemoaned the defeat of a document that would have lavished upon Chileans: 
 . . . legalized abortion, mandated universal health care, required gender parity in government, given Indigenous groups greater autonomy, empowered labor unions, strengthened regulations on mining and granted rights to nature and animals. In total, it would have enshrined over 100 rights into Chile's national charter, more than any other constitution in the world, including the right to housing, education, clean air, water, food, sanitation, internet access, retirement benefits, free legal advice and care 'from birth to death . . .' The text included commitments to fight climate change and protect Chileans' right to choose their own identity 'in all its dimensions and manifestations, including sexual characteristics, gender identities and expressions.' 
The Times ferreted out and fingered two ubiquitous and diabolical tools used by the Right that almost single-handedly "blinded" the Chilean people to the sagacity of their international leftist betters.
First, there was a rash of "misinformation." Specifically, "there was widespread uncertainty about its implications and cost, some of which was fueled by misleading information, including claims that it would have banned homeownership and that abortion would have been allowed in the ninth month of pregnancy."
And, certainly, international racism reared its systemic head:
Many voters were particularly opposed to language that defined Chile as a 'plurinational' state. That meant 11 Indigenous groups, which account for nearly 13 percent of the population, could have been recognized as their own nations within the country, with their own governing structures and court systems. The proposal became a centerpiece of the campaign to reject the charter. The five regions where the charter was most resoundingly rejected are in the south, where violent conflict between the logging industry and Indigenous activists has persisted for years.
How indigenous people could become racist against themselves and their own interests, and how so many could reject the proposed progressive constitution is yet another head-scratcher posed by this untoward turn of democracy's screws that the international and Chilean Left's politicians, pundits, financers, artists, media, and academics will be pondering for years.
Perhaps, if Chileans had embraced censorship, hosted some nationwide diversity indoctrination sessions for the populace, and added a few more new, exotic rights for flora and fauna to transform the new "left-leaning" document into a full-blown progressive constitution, it may have passed? "For all sad words of tongue and pen," indeed . . .
In a curious case of self-sabotaging their democracy, nearly every major voting bloc—including indigenous people—took to the polls and rejected the new constitution their international Leftist betters told them was the greatest thing that could have ever happened to them. 
Per a somber CNN, "the document was rejected in all of Chile's provinces, including the more progressive capital of Santiago and its metropolitan area, where voters had overwhelmingly supported Boric last December during the presidential election." Apparently, the right-wing racist disinformation campaign was puissant enough to induce Chilean progressives to channel their inner-Pinochet and vote down democracy. Still, whether the new constitution would have passed if animals and nature had been able to vote is another question of diversity, inclusion, and equity that lefty academics trying to finagle tenure will be publishing about for decades.
The ultimate question the international Left—oh, and Chileans—will be focused upon is the way forward.
Bringing It All Back Home
Perhaps, there is a place these stakeholders (and Chileans) can look for a precedent? A place where "mostly peaceful riots" and their attendant violence and mayhem led a beleaguered, beset people to sue for peace and reestablish calm by acquiescing to the leftist mob's demands by replacing the administration they hated with one more to their liking—a new administration vowing to fundamentally transform that country, which had been irredeemably tainted by the real and alleged sins of the past. A place where, when the electorate capitulated to such coercion in the moment, didn't stem the chaos; but, instead, abetted its metastasizing, leading to far worse chaos, carnage, damage, and division within the country. 
The only question is whether, like Chile, in Biden's America "the transformational vision . . . proved too drastic an overhaul"; or whether both nation's benighted, populist peasants finally accept the genius—and rule—of their international and domestic leftist betters?
Well, that and how will the coming climate apocalypse affect Chilean sea bass. Per the Science™, Chileans' rejection of the commun- uh, progressive constitution made Mother Nature very angry. By all accounts, she [sic?] voted "yes."
© B.S. News 2022