Newly released communications between federal officials and social media companies reveal how the Biden administration and Big Tech coordinated to silence opposing views on a number of topics—especially COVID-19— in "a vast censorship enterprise,"  the attorneys General of Missouri and Louisiana alleged in a court filing Thursday.
According to Attorneys General Eric Schmitt of Missouri and Jeff Landry of Louisiana, the Department of Justice has identified 45 federal officials who have interacted with social media companies on how to combat "misinformation," and Facebook/Meta has identified 32 additional federal officials, including White House officials, who communicated with them to censor unapproved speech. YouTube identified 11 federal officials, including White House Officials, who communicated with them, many of whom were not disclosed by the Justice Dept., the State Attorneys General say.
The communications, which were obtained pursuant to a federal judge's court order in July, reveal that Biden officials held weekly censorship meetings with social media companies to suppress posts about the COVID vaccines that countered the regime's "safe and effective" narrative.
Schmitt and Landry filed a lawsuit back in May against eight high-ranking Biden Administration officials, including Joe Biden, Jen Psaki, and Dr. Anthony Fauci, seeking to expose how top Biden Administration officials colluded with social media giants to suppress freedom of speech under the pretense of combatting "misinformation."
Judge Terry Doughty, of the U.S. District Court for the Western District of Louisiana, ruled on July 12 that there was "good cause" for the discovery process, and set a timetable with specific deadlines for depositions.
"The Department of Justice is cowering behind executive privilege and has refused to turn over communications between the highest-ranking Biden Administration officials and social media companies," Schmitt wrote in a press release Thursday. "That's why, yesterday, we asked the Court to compel the Department of Justice to produce those records."
In their Objections and Responses, the Biden Justice Department asserted a series of objections to discovery relating to White House officials. In their 67 page Joint Statement to the Court on the discovery disputes, the State Attorneys General argue that all their objections "lack merit."
Although the Justice Department refused to produce communications between the most senior Biden officials and social media companies, the limited discovery produced thus far provides "a tantalizing snapshot into a massive, sprawling federal "Censorship Enterprise," according to the AG's Joint Statement.
That "censorship enterprise" includes "dozens of federal officials across at least eleven federal agencies and components identified so far, who communicate with social-media platforms about misinformation, disinformation, and the suppression of private speech on social media—all with the intent and effect of pressuring social-media platforms to censor and suppress private speech that federal officials disfavor," the AGs say.
The joint statement alleges: "The discovery provided so far demonstrates that this Censorship Enterprise is extremely broad, including officials in the White House, HHS, DHS, CISA, the CDC, NIAID, and the Office of the Surgeon General; and evidently other agencies as well, such as the Census Bureau, the FDA, the FBI, the State Department, the Treasury Department, and the U.S. Election Assistance Commission. And it rises to the highest levels of the U.S. Government, including numerous White House officials. Defendants have objected to producing some of the most relevant and probative information in their possession."
The joint statement includes Meta's panicked reaction to Joe Biden's unhinged and baseless accusation on July 16, 2021 that Facebook was "killing people" by not censoring vaccine critics.
"A very senior executive at Meta (Facebook and Instagram) reached out to Surgeon General [Vivek] Murthy to engage in damage control and appease the President's wrath," the AGs said in the Joint Statement. "Soon thereafter, the same Meta executive sent a text message to Surgeon General Murthy, noting that "it's not great to be accused of killing people," and expressing that he was "keen to find a way to deescalate and work together collaboratively."
Such "deescalation" and "working together collaboratively," naturally, involved increasing censorship on Meta's platforms. One week after President Biden's public accusation, on July 23, 2021, that senior Meta executive sent an email to Surgeon General Murthy stating, "I wanted to make sure you saw the steps we took just this past week to adjust policies on what we are removing with respect to misinformation, as well as steps taken to further address the 'disinfo dozen': we removed 17 additional Pages, Groups, and Instagram accounts tied to the disinfo dozen…."
Another Facebook official sent an email to Murthy stating, "I know our teams met today to better understand the scope of what the White House expects from us on misinformation going forward."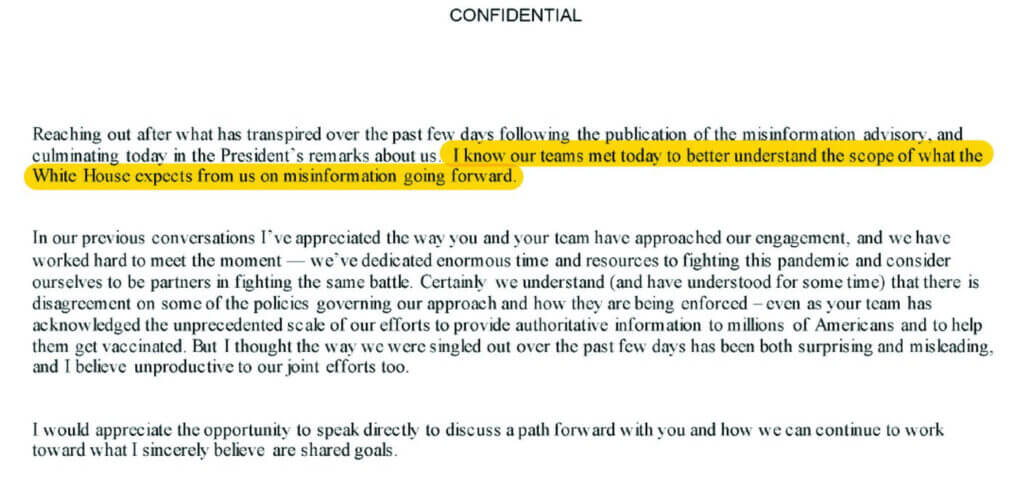 This email chain follows a "misinformation health advisory" put out by Murthy in July 2021.
Later, the same Facebook official discussed with an official at the Department of Health and Human Services (HHS) "additional efforts to censor opposing views, including "expanding penalties for individual Facebook accounts that repeatedly share misinformation."
The same senior official sent a later email to HHS and noted, "Thanks again for taking the time to meet earlier today." Then, the official continued to discuss how Facebook is taking even more steps to censor freedom of speech https://t.co/gYz2RtXlNF pic.twitter.com/c9FqgKVtBe

— Eric Schmitt (@Eric_Schmitt) September 1, 2022
It is worth noting that much of what the Biden Regime deemed "misinformation" last year, such as the lab-leak origin of COVID-19,  the vaccines' inability to prevent infection or transmission of the virus, the elevated risk of myocarditis in young men, etc., are now widely accepted to be true.
The communications reveal how Facebook  increased "the strength of our demotions for COVID and vaccine-related content that third party fact checkers rated as 'Partly False' or 'Missing Context.'"
In an email to the Executive Office of the President (EOP) and HHS, the Facebook official said: "That content will now be demoted at the same strength that we demote any content on our platform rated 'False.'"
The CDC set up a monthly "debunking meetings" with social media platforms to help them censor what it deemed "misinformation," as well as regular "Be on the Lookout" phone calls.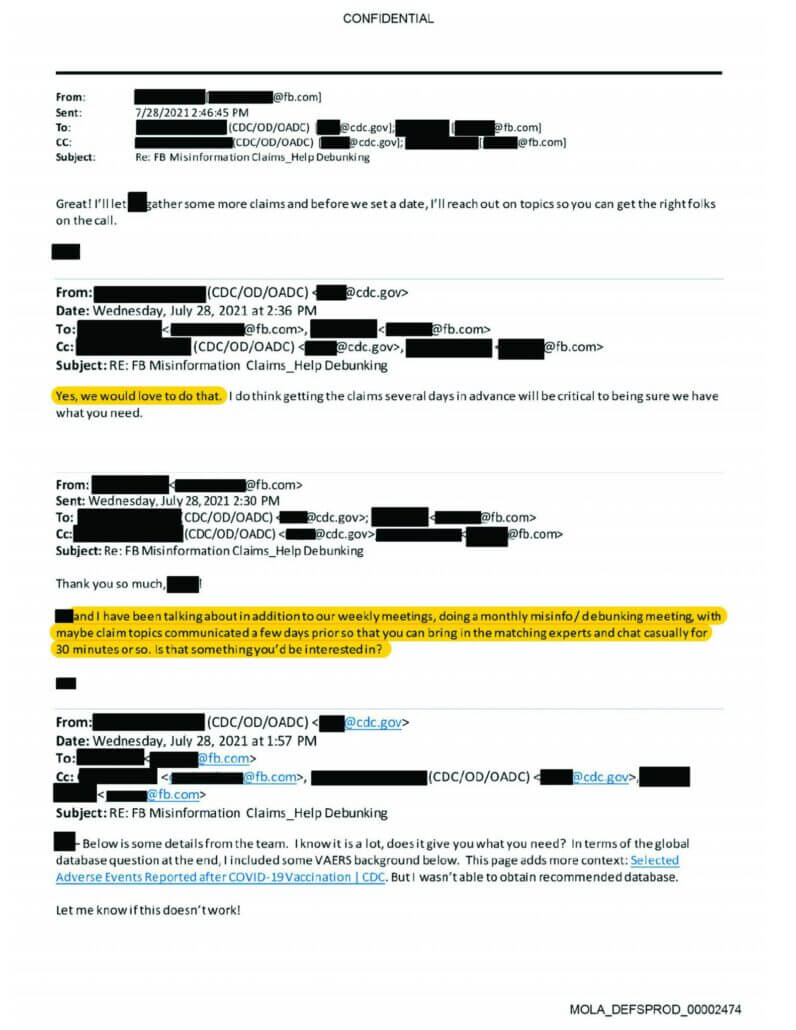 Twitter in April of 2021 scheduled a meeting to debrief top White House Officials on "vaccine misinformation."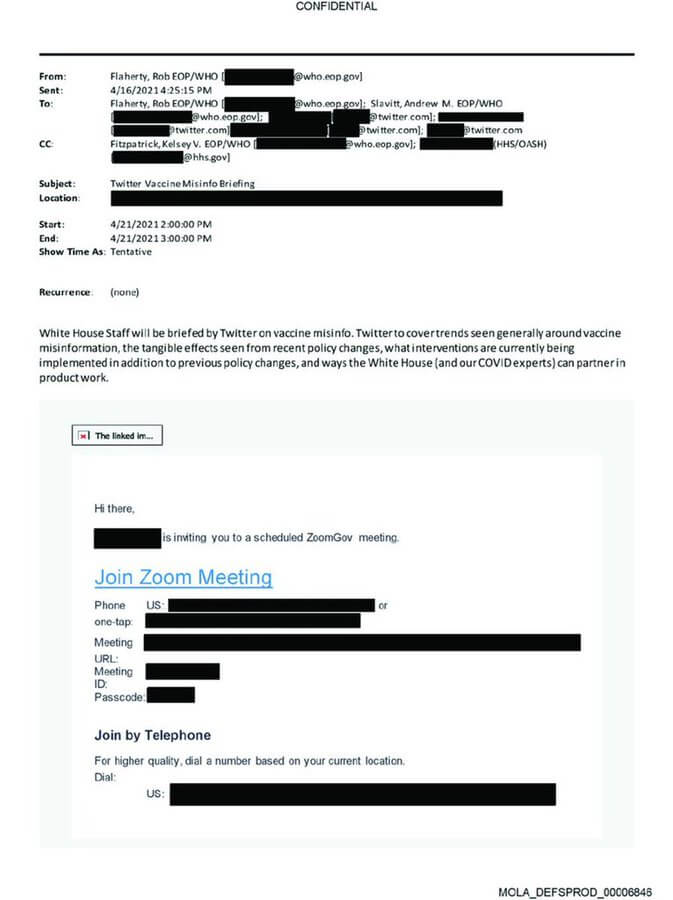 The communications further show that the White House coordinated with Facebook to take down parody Fauci accounts.
"Hi there—any way we can get this pulled down? It's not actually one of ours, White House COVID Response Digital Director Clarke Humphrey wrote to a Facebook employee, with a link to a parody Instagram account.
"Yep, on it!" the employee responded.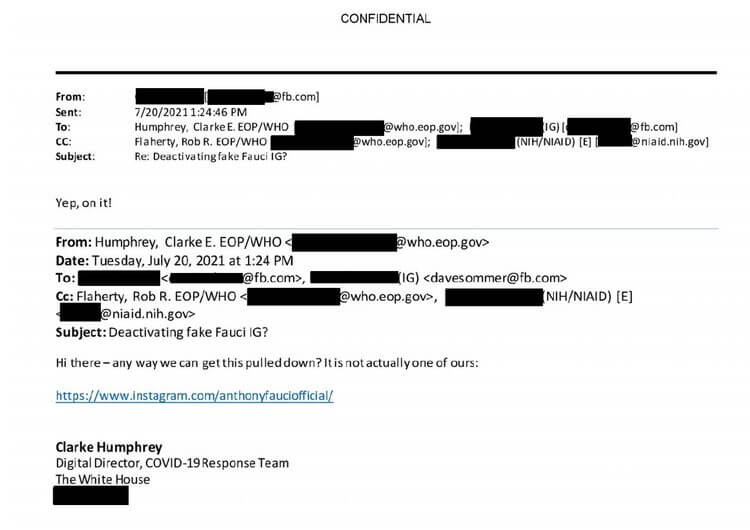 An official from the Cybersecurity and Infrastructure Security Agency (CISA) reached out to Twitter, Google, Meta, and Microsoft following the botched rollout of DHS' Disinformation Governance Board, encouraging the platforms to contact him with any questions.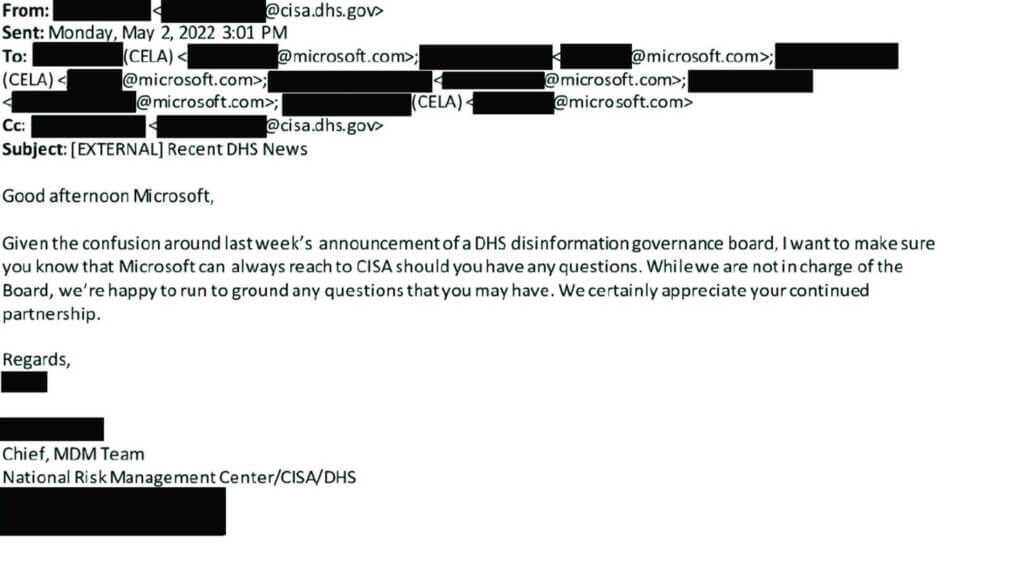 Deputy Secretary at Treasury Wally Adeyemo also sought to connect with social media platforms to influence censorship operations on social media, according to the documents.
"Under the First Amendment, the federal Government should have no role in policing private speech or picking winners and losers in the marketplace of ideas," Schmitt and Landry declared in their Joint Statement. "But that is what federal officials are doing, on a massive scale – a scale whose full scope and impact is yet to be determined."
On Twitter, Schmitt wrote: "Missouri and Louisiana will continue to fight to get to the bottom of this alleged collusion and expose the suppression of freedom of speech by social media giants at the behest of top-ranking government officials."