Florida Governor Ron DeSantis was in Pittsburgh last week campaigning for Doug Mastriano, the Republican nominee for Pennsylvania governor. DeSantis is intelligent and articulate, but what makes him probably the most popular Republican governor in the country—and why he brought star appeal to the Keystone State—is that he fights, and wins, political battles for conservative principles.
Earlier this year, the Walt Disney Company—one of the largest employers in Florida, and one of the most influential corporations in the world—opposed legislation sponsored by DeSantis that prohibited public school teachers from discussing sexual topics in kindergarten through the third grade. It was a strange position to take for a business that caters to parents with young children, and an indication of how ideologically deranged corporate America has become. 
Not long after, DeSantis demonstrated a rare willingness to inflict pain on his political opponents by signing a bill revoking Disney's special regulatory and tax exemptions. It was a major showdown, and DeSantis is rightly proud of himself for not backing off. If only more Republicans in other states, and in Washington, D.C., followed his lead. DeSantis is proof that political power, like muscle power, grows when it is used.  
But constitutional politics always includes persuasion as well as coercion. So what about DeSantis' rhetorical gifts? 
In his Pittsburgh speech, he highlighted several accomplishments of his gubernatorial tenure in Florida: opposing the federal government's hysterical overreach in the COVID-19 pandemic, upholding law and order in the face of widespread Democratic weakness on crime, and opposing critical race theory in schools. DeSantis, who attended Yale as well as Harvard Law School, understands the value of education for democratic citizenship, as well as the dangers of leftist indoctrination. In his speech, he clearly and accurately explained how "our rights come from God not the government." In fact, he even wrote a serious book in 2011 called Dreams from Our Founding Fathers: First Principles in the Age of Obama. 
As a political scientist, I'm impressed by DeSantis' learning and intellect; and I certainly can't imagine Trump writing a detailed analysis of how the United States has abandoned James Madison's constitutional principles. Yet Trump grasps intuitively something essential about America that is more basic and even more important than any academic discussion of political theory. He knows that America is supposed to be "for the people," and that the government once defended the rights, interests, and prosperity of ordinary, working citizens. He further knows that the great crisis of our time is that it no longer does so. 
A recent poll indicated that large percentages of Republicans, and even a majority of Democratic voters, believe the FBI has become a Gestapo-like force in service of the Biden White House. This simply confirms what many MAGA supporters suspected in 2016: the system is rigged. Establishment politicians, Democrats or Republicans, won't admit this, for the simple reason that it is rigged by and for them. And because Trump does say it, loudly and often obnoxiously, he is hated by elites of both parties and the many people who benefit directly or indirectly from this bona fide hijacking of American democracy. 
That America really was a government of, by, and for the people seemed to the world and to Americans to be an actual miracle. From the time of the founding until quite recently, it was commonly believed, and often said out loud, that the American Revolution and the genius of our Constitution were evidence of God's blessings. As George Washington put it in his First Inaugural Address, "Every step by which [we] have advanced to the character of an independent nation seems to have been distinguished by some token of providential agency."
Even today, at Trump rallies, it is common to see signs saying "God Loves America." And in small towns and local community gatherings nothing is more normal than to hear people express their gratitude for God's blessings on America. But as our current ruling oligarchs inexorably pervert the institutions of government to serve their woke tyranny, it becomes harder and harder for patriotic citizens to see the evidence of God's blessings. From this crisis of political faith comes a deep and growing doubt about whether we still have self-government in America.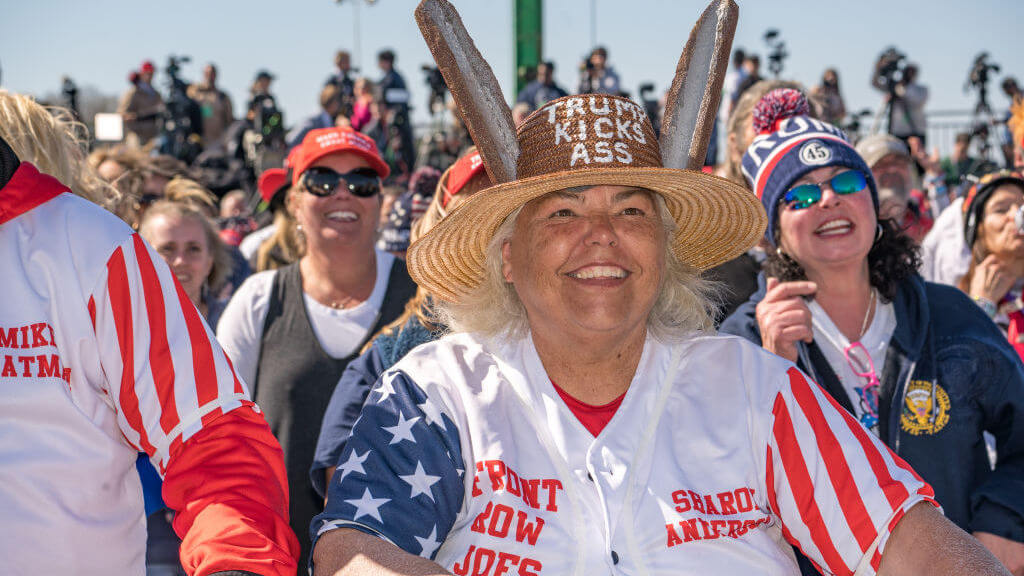 The MAGA movement certainly includes resentment of anti-American elites and fear about the direction of the country. But it is crucial not to overlook the element of hope that animates the Trump voters. MAGA is the last remnant of a certain uncomplicated and optimistic patriotism—a patriotic pride and gratitude about being American without any need to apologize. Trump unabashedly shares this patriotism, and the proud and joyous expression of this patriotism is the essential spirit of every Trump rally and of the MAGA movement as a whole.
Perhaps the strangest and most offensive element of the current woke tyranny is that it is now normal and even expected of polished and powerful elites to denounce people for being male or heterosexual, for lacking a college education or working with their hands ("Why don't you learn to code, dummy?"), for being Christian, and above all for being white. How is it possible, millions of MAGA voters wonder, that in a few short decades the most common characteristics of ordinary American citizens are now qualities that are officially shamed and penalized? 
Through his demeanor, his body language, and his brash insults—and the full resonance of his carefully worded slogan, "Make America Great Again"—Trump has inspired an intensely loyal following by making it clear that he is not part of this well-mannered, smooth-talking privileged establishment, and in fact holds that establishment and its ideas in contempt. All his policies—on international trade, crime, immigration, jobs, and foreign policy—center on what he called in his inaugural address, the "forgotten men and women of our country."  
Millions of Trump voters rallied to the idea that America could be great again because they remember that it once was great, period. No apologies. No qualifications. No nonsense about saying it wasn't perfect. 
Of course it wasn't perfect. Only our smug, inbred elites feel the need to say that. Trump does not. And in this simple and direct way, he does something by instinct that most intellectuals can't do, even with their refined educations: he awakens in the minds and souls of citizens the idea—or, more specifically, the memory—of America. 
This is the memory of an America that actually delivered on the American dream. To be an American was good—and not so long ago. In the living memories of many people, America made it possible to live a worthy and productive life, with security and dignity. 
Perhaps the greatest sin of the Left is to have created a generation of young cynics. Many under 30 don't know, and can hardly believe, that a different America existed before the intellectuals and bureaucrats poisoned every major institution that once made America prosperous, strong, free, and for the people. 
John Marini, arguably the greatest living American political scientist, has observed that although these young people may not know it, "they long for a completed whole that establishes the ground of the intellectual, political, and moral good that makes decent social life possible." That is what America used to offer to all its citizens. It is Trump's greatest achievement that he has persuaded a potentially ruling majority of Americans that we can bring it back. 
The elites have told the MAGA deplorables, "This country no longer exists for your sake." But their effort has not succeeded in subduing the American people's wish to rule themselves, or in destroying the idea of America that still lives within them. So the ruling class has intensified its assault. 
During the COVID lockdowns, an attorney in Manhattan or a financial consultant in Chicago could work from home, supervise her child's education through state-of-the-art computer technology, and order takeout from the corner restaurant. But when schools and churches in rural communities were shut down by administrative fiat, when waitresses and carpenters lost their jobs, the effects were devastating. Now, inflation and a possible financial crisis are threatening to further erode the financial security of ordinary Americans. 
Whatever the ruling class may think, the political reckoning for this has not yet played itself out. 
DeSantis has remarked that he never heard anyone criticize God until he was 18. It was only when he arrived at Yale in 1997 that he first encountered genuine anti-Christian and anti-American elitism. There is no reason to think DeSantis has forgotten his roots. But his defense of those roots, and the American tradition that nurtured them, can tend to the abstract and intellectual. It isn't yet clear that he sees the crisis confronting America with the same intensity and clarity that Trump intuits. 
At the same time, Trump's first term certainly lacked the kind of discipline and consistency that has made DeSantis so practically effective in Florida and so appealing to patriots across the country. An ideal statesman, of course, would combine the best of both men. If one of these men is to be the next Republican nominee for president, we may hope he has learned something from the other.