In an open letter posted on LinkedIn, Senator Rick Scott (R-Fla.) vowed that Republicans plan to roll back the hiring of 87,000 new tax collection agents for the IRS, a key provision in the inaptly named "Inflation Reduction Act."
🚨JOB SEEKERS BEWARE🚨If you're thinking of taking one of @JoeBiden's 87,000 new IRS jobs…it's going to be a short-term gig.

Here are a few other troubling things you'll want to consider ⬇️ https://t.co/ffuaYi5XET

— Rick Scott (@SenRickScott) August 16, 2022
Democrats cheered as Joe Biden feebly signed the inflationary bill, which raises taxes on the middle class and weaponizes the IRS, into law on Tuesday.
WATCH — Democrats cheer as Joe Biden signs a bill to raise taxes on the middle class and worsen inflation. pic.twitter.com/zgTagPRRJd

— RNC Research (@RNCResearch) August 16, 2022
Democrats contend that the new agents are necessary in order to boost tax collection from the wealthiest Americans. However, according to an analysis by the Congressional Budget Office (CBO), the lion's share of new taxes will be paid by the middle class.
The CBO estimates that those earning less than $400,000 will pay  $20 billion more in taxes over the next decade thanks to the Democrat's $740 billion spend-a-thon.
According to the Daily Signal's analysis, people making less than $200,000 will be hit hardest of all.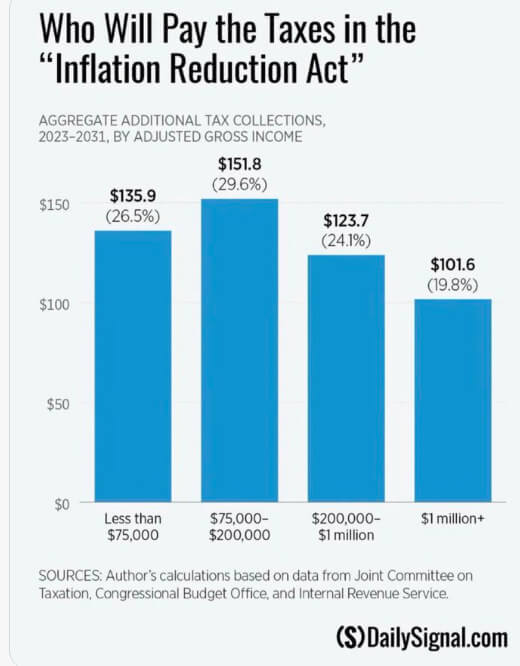 "The IRS will have to target small and medium businesses because they won't fight back,"  Joe Hinchman, executive vice president at National Taxpayers Union Foundation, told the New York Post. "We've seen this play out before … the IRS says 'We're going after the rich' but when you're trying to raise that much money, the rich can only get you so far."
William Henck, a former IRS lawyer/whistleblower who was forced out after making allegations of internal malfeasance, said the government will be hitting the middle class with new audits.
"The idea that they're going to open things up and go after these big billionaires and large corporations is quite frankly bulls–t," Henck told FOX Business in an interview. "It's not going to happen. They're going to give themselves bonuses and promotions and really nice conferences."
"The big corporations and the billionaires are probably sitting back laughing right now," he added.
An online job posting for special agents within the law enforcement branch of the IRS caused a stir on social media, last week, ahead of the passage of the bill.
The IRS is hiring new special agents!

Requirements include working min "50 hours per week, which may include irregular hours, and be on-call 24/7, including holidays and weekends" and "Carry a firearm and be willing to use deadly force, if necessary."https://t.co/uvwbrAkIit pic.twitter.com/z0aVX6uoMr

— Ford Fischer (@FordFischer) August 10, 2022
A link to a job posting for "Criminal Investigation Special Agents" appeared to have been briefly deleted on Wednesday, following online criticism of the posting's language, though it reappeared back online after a FOX Business inquiry to the agency.

A "key requirement" for applicants is that they have to be "legally allowed to carry a firearm," and "major duties" include "Carry a firearm and be willing to use deadly force, if necessary" and "Be willing and able to participate in arrests, execution of search warrants, and other dangerous assignments," according to the job posting.
The IRS reportedly has a stockpile of 4,600 guns and 5 million rounds of ammunition.
Thomas Massie (R-Ky.) posted a number of photos and video online Tuesday showing trainees in an IRS recruitment program making arrests with guns drawn.
These are not auditions for the next Police Academy sequel. This is an actual IRS recruiting program: pic.twitter.com/KUFqxmbDpW

— Thomas Massie (@RepThomasMassie) August 16, 2022
In case you thought the IRS needed 87,000 more agents to help you with your tax returns and audit billionaires, watch this: Highlights from the IRS Adrian recruiting project.

Link to original video: https://t.co/jgCluHuvvM pic.twitter.com/QXlHmDBR6D

— Thomas Massie (@RepThomasMassie) August 17, 2022
But Sen. Scott had a message for any prospective IRS employees.
"These new positions at the IRS will not offer you the long-term job stability you may expect from a position with the federal government," Scott wrote said in his open letter. "Put another way: this will be a short-term gig."
Scott predicted the GOP will assume control of both chambers of Congress next year, though any changes to the Inflation Reduction Act would have to wait until at least 2025 — and that's only if Biden loses re-election or a Democratic candidate fails to win the White House.

"I can promise you that we will immediately do everything in our power to defund this insane and unwarranted expansion of government into the lives of the American people," Scott wrote.
The senator noted that in its recruitment ad, the IRS said IRS agent should be "willing to use deadly force" if necessary.
"The IRS is making it very clear that you not only need to be ready to audit and investigate your fellow hardworking Americans, your neighbors and friends," Scott wrote, adding that the "Democrats' plan to defund the actual police and create an IRS super-police force will not be tolerated by the American people."
Rep. Chip Roy (R-Texas) called on Republicans to repeal the new law "on DAY ONE."
Dems' latest price-hike bill:

⚠️RAISES food + energy costs for everyone

⚠️Takes a combined $20 BILLION in NEW taxes out of MIDDLE CLASS paychecks

⚠️ Sends a supercharged IRS after families making less than $75k

Republicans must REPEAL it on DAY ONE.https://t.co/cc55lgSRmK

— Rep. Chip Roy Press Office (@RepChipRoy) August 16, 2022