The Biden administration plans to stop buying vaccines, treatments and tests as early as this fall, with the hope of full commercialization of the products in 2023, White House Covid-19 Response Coordinator Dr. Ashish Jha revealed on Tuesday.
Speaking at an event sponsored by the US Chamber of Commerce Foundation, Jha said that the administration needs to get past the crisis phase of the Covid-19 pandemic in order for this to happen.
"One of the things we've spent a lot of time thinking about in the last many months–and we're going to continue this work, and you'll hear more from the administration on this – is getting us out of that acute emergency phase where the US government is buying the vaccines, buying the treatments, buying the diagnostic tests," Jha said.
"My hope is that in 2023, you're going to see the commercialization of almost all of these products. Some of that is actually going to begin this fall, in the days and weeks ahead. You're going to see commercialization of some of these things," he said, meaning the regular health-care system would handle vaccines and treatments.
The Centers For Disease Control and Prevention (CDC) last week revised its guidelines to bring the recommendations for unvaccinated people in line with those who have been fully vaccinated.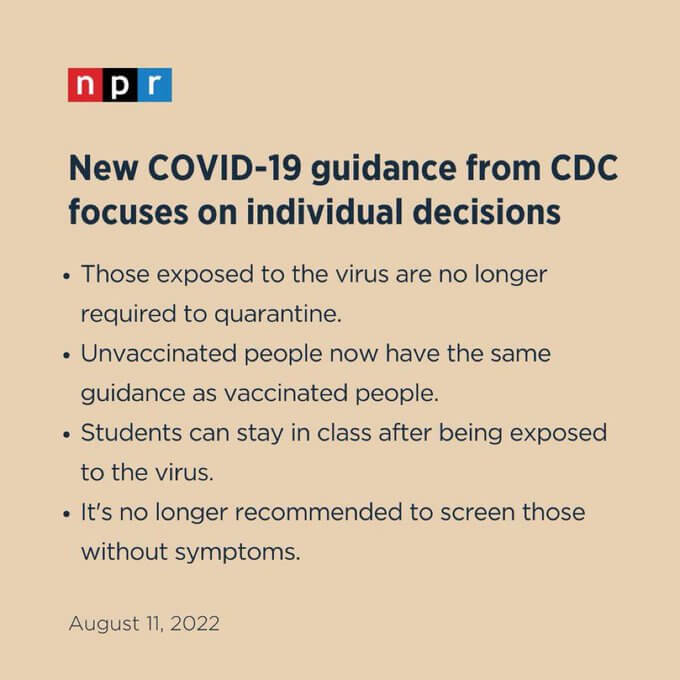 The CDC is no longer recommending those who are unvaccinated or have not received booster shots to quarantine after any potential exposure to COVID-19. Also, COVID tests will no longer be recommended for symptomatic people without known exposures, regardless of vaccination status, in most community settings. Additionally, the agency has relaxed its guidelines for social distancing.
In light of the CDC's new guidelines, the Detective's Endowment Association (DEA), the labor union serving 20,000 active and retired New York City Detectives, on Tuesday sent a letter to NYC Mayor Eric Adams, urging him to reinstate detectives who were forced off the job because they were unvaccinated.
In the letter, DEA head Paul DiGiacomo noted that amid the city's severe cop shortage, 340 detectives left the force in the past seven-and-a-half months.
𝙏𝙝𝙚 𝘿𝙀𝘼'𝙨 𝙨𝙚𝙘𝙤𝙣𝙙 𝙡𝙚𝙩𝙩𝙚𝙧 𝙪𝙧𝙜𝙞𝙣𝙜 𝙈𝙖𝙮𝙤𝙧 𝘼𝙙𝙖𝙢𝙨 𝙩𝙤 𝙧𝙚𝙞𝙣𝙨𝙩𝙖𝙩𝙚 𝘿𝙚𝙩𝙚𝙘𝙩𝙞𝙫𝙚𝙨 𝙬𝙝𝙤 𝙬𝙚𝙧𝙚 𝙛𝙤𝙧𝙘𝙚𝙙 𝙤𝙛𝙛 𝙩𝙝𝙚 𝙟𝙤𝙗 𝙙𝙪𝙚 𝙩𝙤 𝙩𝙝𝙚 𝙫𝙖𝙘𝙘𝙞𝙣𝙚 𝙢𝙖𝙣𝙙𝙖𝙩𝙚. pic.twitter.com/haiWMgGozq

— Detectives' Endowment Association (@NYCPDDEA) August 16, 2022
At the Chamber of Commerce event, Jha said updated vaccine booster shots that protect against the BA.4 and BA.5 coronavirus subvariants would be ready in early to mid-September.
COVID-19 vaccine manufacturers did not need to conduct new clinical trials as they developed the shots, as the FDA determined that earlier clinical trials, manufacturing data, and animal studies were sufficient to evaluate the safety and efficacy of the injections.
"I would like to get to a point where every adult in America who wants a vaccine can get one, Jha said. "I'm hopeful we will be there. We're not quite there yet in terms of how many vaccine doses we've been able to buy."
He urged all Americans to get the new untested boosters once they become available.
This continued push for COVID vaccines comes despite strong data that shows a correlation between the vaccines and all cause mortality, especially in millennials.
Dr. Aseem Malhotra, an esteemed British cardiologist, noted in a recent interview with Mark Steyn, that very eminent doctors are now raising red flags over data released from the Pfizer and Moderna vaccine trials.
"In the trial itself, it appeared that one was more likely to suffer a serious adverse event from the vaccine [such as] disability, life-changing event, hospitalization—than they were to be hospitalized for COVID," Malhotra said. The paper, written by seven doctors and scientists, can be read here.
"If this is true, and there's a good reason to suggest that it is, then it changes everything," Malhotra told Steyn.
The British cardiologist was reportedly one of the first people in the United Kingdom to get two doses of the COVID-19 shot, and initially promoted them on television.
Now he has called for an end to all "global vaccine mandates for Covid-19 must stop until we have the full data on efficacy of all available vaccines."
Why a reluctance to acknowledge all possible causes of excess deaths ?

WILLFUL BLINDNESS

End result of lockdowns undoubtedly a factor BUT

Re-analysis of data from original trials suggests mRNA products may be more likely to…

'If true this is extraordinary' #BadPharma pic.twitter.com/ELCm3r6d9j

— Dr Aseem Malhotra (@DrAseemMalhotra) August 17, 2022