Former President Donald Trump is under investigation for violating the Espionage Act, among other crimes, according to the Mar-a-Lago search warrant released on Friday.
FBI agents allegedly seized ten sets of classified information from former President Trump's home during the unprecedented raid on Monday, including some marked as "top secret," the search warrant shows.
A property receipt accompanying the search warrant shows that "FBI agents collected four sets of top secret documents, three sets of secret documents, and three sets of confidential documents," The Wall Street Journal reported. The property receipt does not reveal any details about those records.
The list also includes a leatherbound box of documents, binders of photos, handwritten notes, the executive grant of clemency for Roger Stone, and information about the President of France.
Attachment B of the raid warrant authorized FBI agents to seize not only documents marked classified, but "any government and/or Presidential Records created between January 20, 2017, and January 20, 2021" in their search for evidence.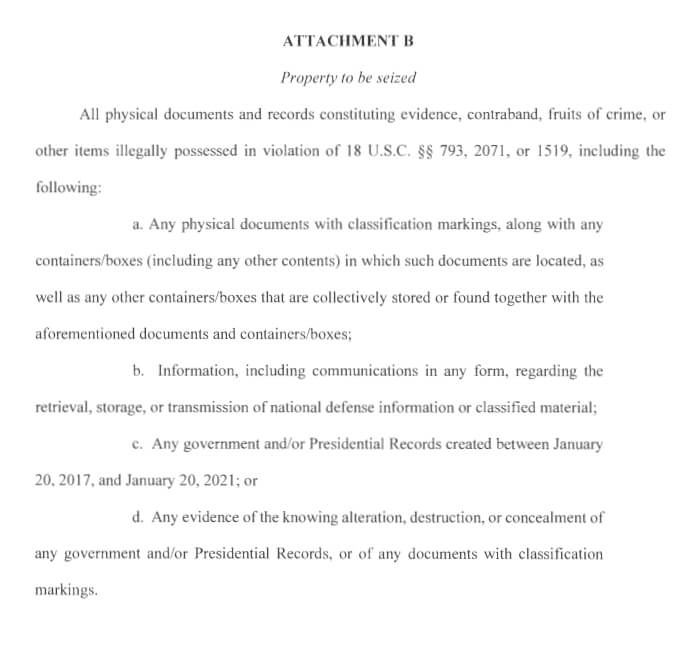 The Federalist's Sean Davis pointed out on Twitter that Attorney General Merrick Garland falsely claimed in his remarks on Thursday that the FBI search of Trump's home was "narrowly scope[d]."
Merrick Garland went on camera yesterday and falsely claimed without blinking an eye that the FBI raid to search Trump's home was "narrowly scope[d]."

We now know, having reviewed the Trump raid warrant that Garland personally authorized, that Garland lied. https://t.co/WP4ULjXS8f pic.twitter.com/tOKYlbU0jg

— Sean Davis (@seanmdav) August 12, 2022
The Trump/Mar-a-Lago search warrant indicates that Trump is under investigation for the following violations:
18 U.S.C. 793 – Espionage Act.
18 USC 2071 — Concealment, removal or mutilation
18 USC 793 — Gathering, transmitting or losing defense information
18 USC 1519 — Destruction, alteration or falsification of records in Federal inv.
"This is orders of magnitude more insane than even the FBI's biggest critics contemplated earlier this week," Davis wrote in a subsequent tweet.
"And it's all because a left-wing archivist got butthurt over ongoing litigation he didn't bat his eye at when it came from Obama, Bush, or Clinton."
Trump on Friday shot down the Washington Post's report that claimed FBI agents were looking for classified documents related to nuclear weapons, among other items, when they searched his Mar-a-Lago home earlier this week.
On his Truth Social platform, Trump said that "Nuclear weapons is a hoax, just like Russia, Russia, Russia was a hoax, two Impeachments were a Hoax, the Mueller investigation was a Hoax, and much more." He went on to link the past hoaxes with the current one: "Same sleazy people involved," he wrote.
"Why wouldn't the FBI allow the inspection of areas at Mar-a-Lago with our lawyer's, or others, present. Made them wait outside in the heat, wouldn't let them get even close – said "ABSOLUTELY NOT." Planting information anyone? Reminds me of a Christopher Steele Dossier!" Trump said.
The Washington Post report on Thursday was light on details, such as whether the nuclear weapons in question were tied to the United States or another country, and whether investigators found the documents they were seeking.
One set of documents, according to the receipt, was labeled "Various classified/TS/SCI documents," referring to top-secret and sensitive compartmented information.
Anti-Trumpers, including a former CIA director, and a presidential historian, are openly suggesting that the former president be executed.
NBD just a former NSA & CIA Director (who also was among the dozens of ex-intel officials who signed the infamous October 2020 Hunter Biden laptop letter) out here suggesting that Trump should be executed.https://t.co/JNLNplERUO pic.twitter.com/BDperuhRIU

— Jerry Dunleavy (@JerryDunleavy) August 12, 2022
"President Barack Hussein Obama kept 33 million pages of documents, much of them classified. How many of them pertained to nuclear? Word is, lots!" Trump wrote in another post on Truth Social, Friday.
The WaPo report—based on leaks from anonymous sources from within the Department of Justice—came just hours after Attorney General Merrick Garland claimed the department takes great pains "to protect the integrity of our investigations."
As American Greatness reported yesterday, the WaPo's story about the classified nuclear documents was met with deep skepticism and derision on social media yesterday, with right-of-center pundits concluding that it was a CYA move by a DOJ to help justify its over-the-top raid on Joe Biden's political opponent.
"Number one, it was all declassified. Number two, they didn't need to 'seize' anything," Trump wrote on his platform Friday. "They could have had it anytime they wanted without playing politics and breaking into Mar-a-Lago. It was in secured storage, with an additional lock put on as per their request."
He added: "They could have had it anytime they wanted—and that includes LONG ago. ALL THEY HAD TO DO WAS ASK. The bigger problem is, what are they going to do with the 33 million pages of documents, many of which are classified, that President Obama took to Chicago?"