In an interview with the Daily Mail on Wednesday, Eric Trump said FBI agents on Monday refused to hand over the search warrant for the FBI raid of Mar-a-Lago to his father's attorney Christina Bobb. Worse, they allegedly kicked her out of the house while they searched the premises. Mar-a-Lago is basically shut down for the summer months, and only had a skeleton crew on hand when the FBI showed up at the door that morning. [Bobb later clarified that she was provided a copy of the warrant after the nine-hour search of the property was finished. See update below.]
Bobb, and Lindsey Halligan, another attorney for Trump, were called to the scene, where they had to wait outside, reportedly in the estate's parking area, while the feds did their work.
Halligan told CBS News on Wednesday that the search warrant was sealed, thus she did not know what kinds of documents the feds were looking for.
"Donald Trump and his legal team will likely seek a court order to force the FBI and The Justice Dept. to turn over a physical copy of the search warrant, the affidavit, and a complete inventory of what was taken in the Mar-a-Lago raid," Fox Business correspondent Charles Gasparino reported Wednesday afternoon on Twitter.
The sealed warrant was authorized by Bruce Reinhart, a federal magistrate judge in West Palm Beach, who once represented employees of convicted pedophile and sex trafficker Jeffrey Epstein.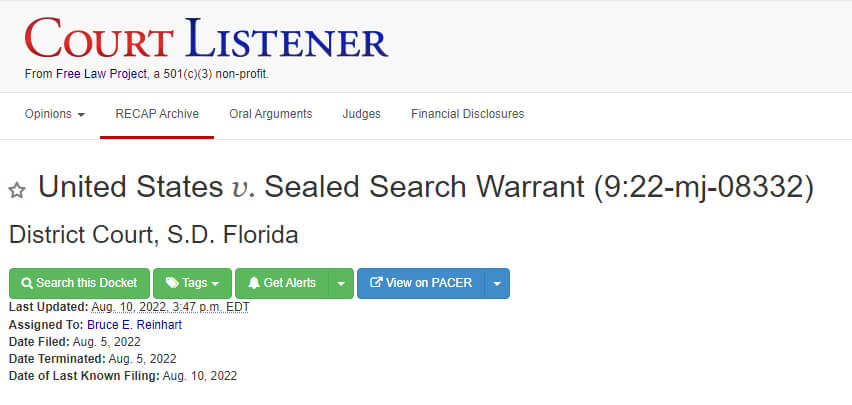 "When you want to do something shady, you get your shady friends to help you," Bobb told conservative news outlet One America News Network on Tuesday. "They put this case in Washington D.C., which is where, if they were to indict or prosecute, they would do it."  She said the trick is to "find a local assistant U.S. attorney willing to work with a shady judge to get a warrant."
Bobb lamented that because the warrant docket is sealed, they "don't know what the probable cause is." The lawyer said there was "no reason" for them to have not made the warrant publicly available. "It's all really shady," she added.
Eric Trump told The Daily Mail that the feds demanded that security cameras be turned off while they searched the home for documents. He said the FBI used "safe crackers" to blast open his father's safe.  Dozens of G-men reportedly roamed inside the 128-room Florida estate for nine hours on Monday, including the master bedroom, where they rifled through Melania Trump's wardrobe, according to reports.
The younger Trump said that the lawyers refused to turn off the cameras, but they were forced to stand in the estate's parking lot while dozens of agents searched the house.
"There's 30 agents there. They told our lawyer… you have to leave the property right now. Turn off all security cameras," " he recalled in a phone call with Daily Mail.
"They would not give her the search warrant," he added. "So they showed it to her from about 10 feet away. They would not give her a copy of the search warrant."
Eric Trump told the Daily Mail that Bobb was confused as to why a lawyer for someone whose home was being raided by the FBI, would not be able to see or obtain a copy of the search warrant.
The younger Trump went on to call the raid another "coordinated attack" on his father, and said he would be "thrilled" to find out if there was a valid search warrant. He then threw cold water on the White House's claim that Joe Biden had no prior knowledge of the raid.
"The president learned about this just like you all did—through the public reports," White House Press Secretary Karine Jean-Pierre told reporters on Tuesday.
"Do you think that the FBI director is going to raid the former president's house, especially a house as you know, kind of world renowned as Mar-a-Lago is in a place as public as Mar Lago is without getting the approval of President [Biden]?" Eric Trump asked.
The former president also shot down the White House's claim that they had no prior knowledge of the raid.
"Biden knew all about this, just like he knew all about Hunter's 'deals," Trump posted on his social media platform Truth Social.
The former president's son told the Daily Mail that their security footage showed the FBI raiding areas of the property where they "shouldn't have been."
Halligan told CBS that the FBI focused their search in three areas: "a bedroom, a storage area and an office."
She said she spoke with Trump who expressed shock about the FBI search. He said he thought he'd complied with investigators' requests. He told Halligan that the Justice Department has an open line to his attorneys and said that he's instructed them to turn over responsive documents if they have them. She said that the former president raised concerns about abuse of power by the Biden administration.
Former press secretary Kayleigh McEnany said on Fox News Wednesday that Department of Justice lawyers who were on the scene were "very rude" to Trump's legal representatives, telling them "over and Over" that they had "full access to everything, we can go anywhere." She added, "it feels like the full power of the federal government raining down on a political enemy."
The details of the unprecedented raid on President Trump's home continue to get worse…

A NINE AND A HALF HOUR search of someone's home who happens to be a political opponent of President Biden! pic.twitter.com/9jKILeyESx

— Kayleigh McEnany (@kayleighmcenany) August 10, 2022
On Truth Social Wednesday, Donald Trump said that the FBI blocked his lawyers from the property during the raid, and suggested that agents may have "planted" evidence.
"The FBI and others from the Federal Government would not let anyone, including my lawyers, be anywhere near the areas that were rummaged and otherwise looked at during the raid on Mar-a-Lago," Trump wrote.  "Everyone was asked to leave the premises, they wanted to be left alone, without any witnesses to see what they were doing, taking or, hopefully not, 'planting,"' he added. "Why did they STRONGLY insist on having nobody watching them, everybody out? Obama and Clinton were never 'raided,' despite big disputes!"
The fallout from the raid comes as Trump confirmed on his alternative social media site Tuesday evening that he will be deposed Wednesday in questioning part of the New York attorney general's civil investigation into his family's real estate business.

The New York probe is just one of many the former president is facing, including the one that led to the raid on Monday involving the reported removal of official documents from the White House when he left office last year.
Bobb told Real America's Voice on Tuesday that the raid was a "weird flex" and like Trump, expressed fear that the FBI might have planted something incriminating during the search.
"No, there is no security that something wasn't planted," she said. "I'm not saying that's what they did."
"This was a completely unnecessary power flex. It was a weird flex," Bobb added. "It's quite honestly sad to see what they have done to our country."
According to sources, Trump's attorneys, led by Evan Corcoran, had been "cooperating fully" with federal authorities on the documents since May or 2021, and at some point, it was noticed that some records were missing.
In January 2022, some of the documents were returned, and in February this year the news became public.

In early June, four top DOJ officials traveled to Mar-a-Lago to speak with the former president's attorneys about the documents.

The DOJ's counterintelligence and export control section chief Jay Bratt was reportedly among the group who sat down with Trump's lawyers.

Trump's team showed the government officials where Trump was storing documents – in a basement room. Investigators reportedly observed that some of the files there were marked as classified.

At one point the former president himself reportedly stopped in to say hello and 'make small talk' before leaving again, CNN reported.

Days after the investigators' visit, they reportedly sent a letter to Trump's staff asking them to secure the room where they observed the documents being stored.

Aides then padlocked the area, according to CNN.

It is unclear what transpired between June and this week to make the FBI decide to forcibly claim the documents.

But a former FBI agent told DailyMail.com that Monday's raid was likely sparked by new information from an 'informant' and a breakdown in cooperation between the agency and former president.
Lindsey Halligan told CBS that the government's search "was an appalling display of abuse and power—complete overkill," and added, "if they needed documents, they could have asked. There's never been an issue with compliance." She said the FBI raid came as a "huge surprise."
In the interview with OANN on Tuesday, Bobb also said the raid was a "shock to everybody," especially since Trump had been "extremely cooperative" with the FBI all year. She told the outlet that she was not allowed to oversee the search, and was forced to go outside and wait by the cars.
"I'm a little but befuddled as to why they would do such a drastic thing—so disrespecting and dishonoring—other than the fact that it's a political tool," she said. "They're trying to prevent Donald Trump from running for president. They're not going to be able to do that, but they're trying everything that they can."
Bobb told OANN that the raid has only made Trump "more resolved to protect this nation."
"President Trump is such a warrior. He loves this nation. He loves the American people, he's fighting so hard, he's not giving up," she said.
Update:
A federal Court has ordered the DOJ to file a response to a request to unseal any Trump raid warrant materials by 5:00 p.m. next Monday
Judicial Watch announced on Tuesday that it had filed a motion asking the U.S. District Court for the Southern District of Florida to unseal the search warrant materials used by the FBI to raid President Trump's Mar-a-Lago home as soon as possible.
Earlier today, the court granted the request.
BREAKING: Federal court orders Garland DOJ to file any response to @JudicialWatch request to unseal Trump raid warrant materials by Monday at 5 pm (8/15). pic.twitter.com/0edd7hiwBb

— Tom Fitton (@TomFitton) August 10, 2022
Update:
In an interview with conservative filmmaker Dinesh D'Souza, Bobb later clarified that a copy of the warrant was eventually provided to her after the nine-hour search of the premises was completed.
"I tried to get a copy of the search warrant, and they wouldn't give it to me initially," Bobb told conservative filmmaker Dinesh D'Souza on Wednesday. "They said they didn't have to show it to me," she complained, adding, "They gave me a copy of it after it was over."