The federal judge who signed the FBI's search warrant authorizing the raid of former President Donald Trump's Mar-a- Lago estate is a former attorney and Obama donor who once represented employees of convicted pedophile and sex trafficker Jeffrey Epstein.
Bruce Reinhart, a federal magistrate judge in West Palm Beach, authorized the warrant on Monday,  the New York Post reported.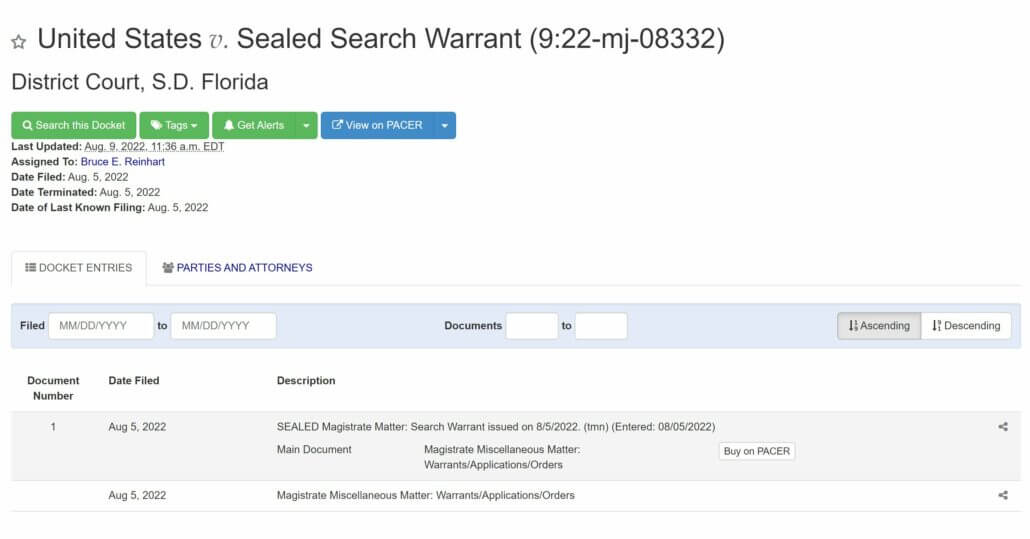 Reinhart was one of several high power attorneys Epstein hired to defend him while he was being investigated for sex trafficking. He left the U.S. Attorney's Office in South Florida that was investigating Epstein's crimes on Jan. 1, 2008 and began representing Epstein's employees on Jan. 2, 2008, the Miami Herald reported.
In 2011, Reinhart was named in the Crime Victims' Rights Act lawsuit, which accused him of violating Justice Department policies by switching sides, implying that he leveraged inside information about Epstein's investigation to curry favor with Epstein.
Reinhart reportedly represented several of Epstein's employees, including his pilots; his scheduler, Sarah Kellen; and Nadia Marcinkova, whom Epstein described as his "Yugoslavian sex slave."
Kellen and Marcinkova were among Epstein's lieutenants who were granted immunity as part of a controversial 2007 deal with federal prosecutors that allowed the pervert to plead guilty to state charges rather than federal crimes. Epstein wound up serving just 13 months in county jail and was granted work release.

According to the outlet, Reinhart resigned from the South Florida US Attorney's Office effective on New Year's Day 2008 and went to work for Epstein's cohorts the following day. Epstein, who was found dead in August 2019 of an apparent suicide in the Manhattan Correctional Center while awaiting trial on federal sex-trafficking charges, had hired a stable of high-powered lawyers, including former independent counsel Kenneth Starr.

Reinhart was later named in a civil lawsuit that accused him of violating Justice Department policies by switching sides in the middle of the Epstein investigation, suggesting he had used inside information about the probe to build favor with the notorious defendant, the Herald reported in 2018.
Reinhart insisted that he had done nothing improper in a 2011 affidavit, and denied that he was privy to inside information about the case.
However, the attorney's former colleagues contradicted him in a court filing two years later, claiming that he had "learned confidential, non-public information about the Epstein matter."
In response, Reinhart told the Herald that a complaint filed against him by a lawyer for Epstein's victims had been dismissed by the Justice Department.
The National Pulse reported on Tuesday that Reinhart "donated to the campaigns of former President Barack Obama and to the establishment opponents of Donald J. Trump during the 2016 election."
In a statement Monday night, Trump said Mar-a-Lago was "under siege, raided, and occupied by a large group of FBI agents." Later Monday evening, Trump released a campaign-style video on his platform, Truth Social.  "We are a nation in decline. We are a failing nation," the former president says at the beginning of the video amid ominous cracks of thunder.
The agents were reportedly searching for classified materials Trump allegedly brought with him to Mar-a-Lago when he left office in January of 2021.
The National Archives and Records Administration (NARA)  "had ongoing communications with the representatives of former President Trump" about boxes of White House records that were stored at his West Palm Beach resort, Politico reported.
NARA reportedly alerted the FBI after it recovered fifteen boxes in January, including documents the agency identified as "marked as classified national security information." 
Federal prosecutors subsequently began a grand jury investigation, according to two people briefed on the matter. Prosecutors issued a subpoena earlier this year to the archives to obtain the boxes of classified documents, according to the two people familiar with the matter.

The authorities also made interview requests to people who worked in the White House in the final days of Mr. Trump's presidency, according to one of the people.

In the spring, a small coterie of federal agents visited Mar-a-Lago in search of some documents, according to a person familiar with the meeting. At least one of the agents was involved in counterintelligence, according to the person.
The FBI raid on Mar-a-Lago comes amid the partisan House select committee's investigation into Trump's role in the Jan. 6 riot at the US Capitol.
Former federal prosecutor Andrew McCarthy opined at National Review on Tuesday that the Biden administration is probably "not very interested" in prosecuting Trump for allegedly mishandling classified documents.
"The DOJ is very interested, however, in the Capitol riot, and it is under intense pressure from the Democratic base to charge Trump with crimes arising out of it," McCarthy wrote.