Voters in Wyoming were reportedly alarmed last week when "misleading" absentee ballot request forms appeared in their mailboxes courtesy of Rep. Liz Cheney's reelection campaign.
Cowboy State Daily reported that the forms—which were sent to homes in every Wyoming county—caused confusion and consternation among the recipients.
The mailers include the disclaimer "paid for by Liz Cheney For Congress," and provide detailed instructions on how to request absentee ballots to "save you time on Election Day."
Voters are instructed to fill out the absentee ballot request form, and to fold the page so their county clerk's address is facing outward. They are then instructed to tape the folded paper closed, put a first class stamp in the upper righthand corner, and place their absentee ballot request form in the mail.  County clerks' addresses were included in the mailers, along with the message "OPEN IMMEDIATELY," and "OFFICIAL ELECTION DOCUMENT ENCLOSED."
According to Cowboy State Daily, many Wyoming residents in Fremont County were "upset" to find these ballot request forms in their mailboxes, and called their county clerk to find out why they were getting the forms.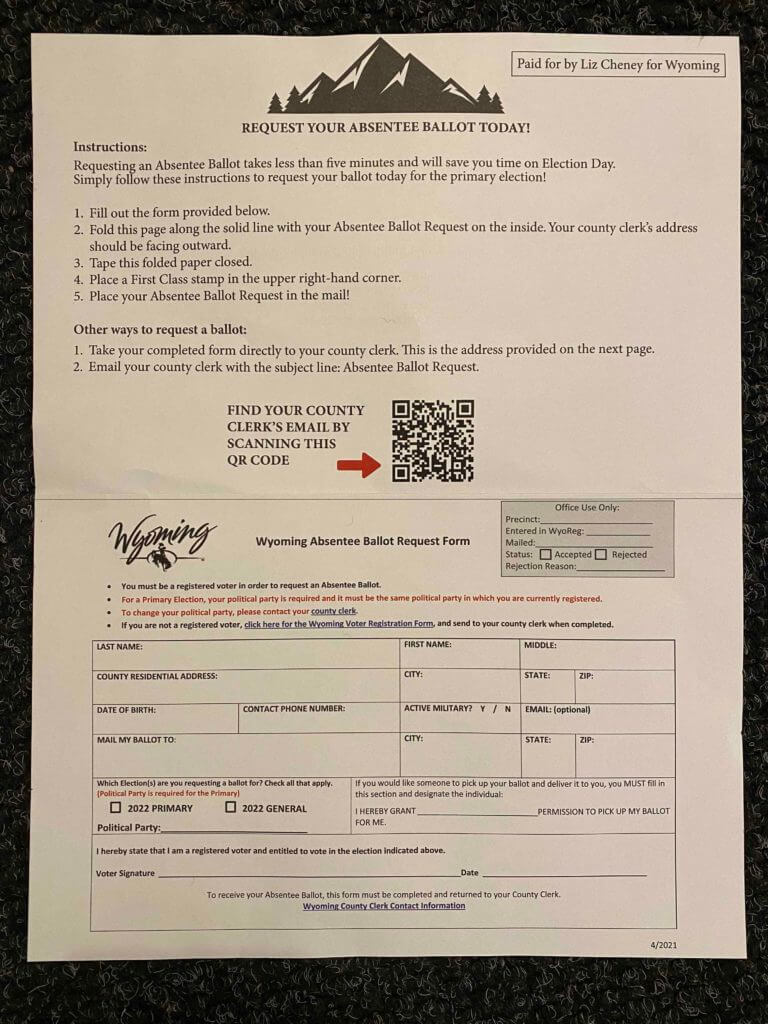 Cheney became politically toxic to Republicans in the Cowboy State after she voted to impeach former President Trump in January of 2021. Her work as the vice chairwoman of the sham Jan. 6 committee, and participation in the Jan. 6 show trials has rendered her politically unviable.  Her campaign for reelection has had to rely heavily on out-of-state Democrat donors who appreciate the work she's done on the committee.
Fremont County Clerk Julie Freese told the paper that the recipients "didn't like it at all that (the mailer) was sent to them." Freese was concerned because her office's address was provided on the backside of the mailers, and she didn't want voters to get the impression she had anything to do with the the mail-out of absentee ballot requests.
"THESE ARE NOT BEING SENT TO YOU BY THE FREMONT COUNTY CLERK'S ELECTION OFFICE," she declared in a press release last week.
Freese explained in her press release that the mailer was not requiring anyone to vote as absentees.
"It appears that this mailing is being sent by a candidate and you certainly do NOT have to vote absentee," she said.
Freese told the Cowboy State Daily that the mailers seemed "misleading" to many people.
Although legal, mass mailings to voters by third parties to request absentee ballots haven't been sent in her county in several years, said Freese.

She also said she had no idea it was going to happen this time. When the practice was more common several years ago, county clerks arranged with those sending out absentee ballot requests to alert the clerk's offices, so election officials wouldn't accidentally send out more than one request form.

Residents cannot receive an absentee ballot in Wyoming without requesting one.
Freese told the paper that now that the forms are out, her office "is watching carefully to make sure no one can request or receive more than one absentee ballot," but noted that the elections system in place will let elections officials know if someone already has a ballot.
"We've been doing what we do in Fremont County and in Wyoming the same way we do things always," she said. "There are people who don't trust elections – and we're doing things to make sure elections are secure. And we'll continue to do that."
Freese has reportedly been the County Clerk  for more than two decades, but is being challenged this year in the Republican primary election.
She told Cowboy State Daily that Cheney's mass mailer of "official election documents" with he office's address attached did not appear to have harmed her campaign, although some recipients seemed confused about who was responsible.
"As clerk, (elections are) my official duty, and yeah, someone may think, 'You're trying to affect the races,'" she said. "But if they read (the mailer) very carefully, they'll see it didn't come from me. The candidate that sent it did put our address on it, because that helps (voters mail it out)."
Cheney is facing off with Republican contenders Harriet Hageman, Denton Knapp, Anthony Bouchard and Robyn Belinskey in the Aug. 16 Primary Election.
Former President Donald Trump endorsed Hageman, and held a rally for her in Casper on May 28.
"I have driven over 23,000 miles around Wyoming since I announced that I was running for congress and there has been one overriding theme that I have heard over, and over, and over again and that is we're fed up," Hageman said in her rousing speech at the rally.
Harriet Hageman @HagemanforWY

Wyoming candidate challenger for Liz Cheney's congressional seat. pic.twitter.com/jWSHB81CmA

— ZZZ (@AskMeLaterOn) August 4, 2022