Twitter in recent days has permanently suspended three highly credentialed influencers, doctors Mary Talley Bowden and Jessica Rose, as well as cultural critic James Lindsay, after they posted tweets in defense of children that violated the platform's community standards.
James Lindsay, a writer and mathematician who has been in the forefront of the anti-CRT, anti-groomer culture wars, was banned from Twitter on Friday after he aggravated left-wing journalist Alejandra Carabello, a transsexual who hosts a podcast called "Queering the Law."
Lindsay, who has a Ph.D. in mathematics from the University of Tennessee, is the co-author of How to Have Impossible Conversations: A Very Practical Guide, and Cynical Theories. He is also the founder of the website, New Discourses.
Lindsay has been one of the leading voices against critical race theory, and "queer Marxism," which he says has turned our schools into "Groomer Schools." He has been credited with popularizing the term "groomer" to describe LGBTQ zealots who work tirelessly to indoctrinate children into a radical world view regarding sexuality, and to turn them against their parents.
"Your misogynoir is showing," tweeted Carabello, who wears a tee-shirt that says "protect trans kids" in his Twitter avatar.
Careful to avoid the word "groomer" because it's no longer allowed on the platform, Lindsay responded: "Ok, child sexualization specialist."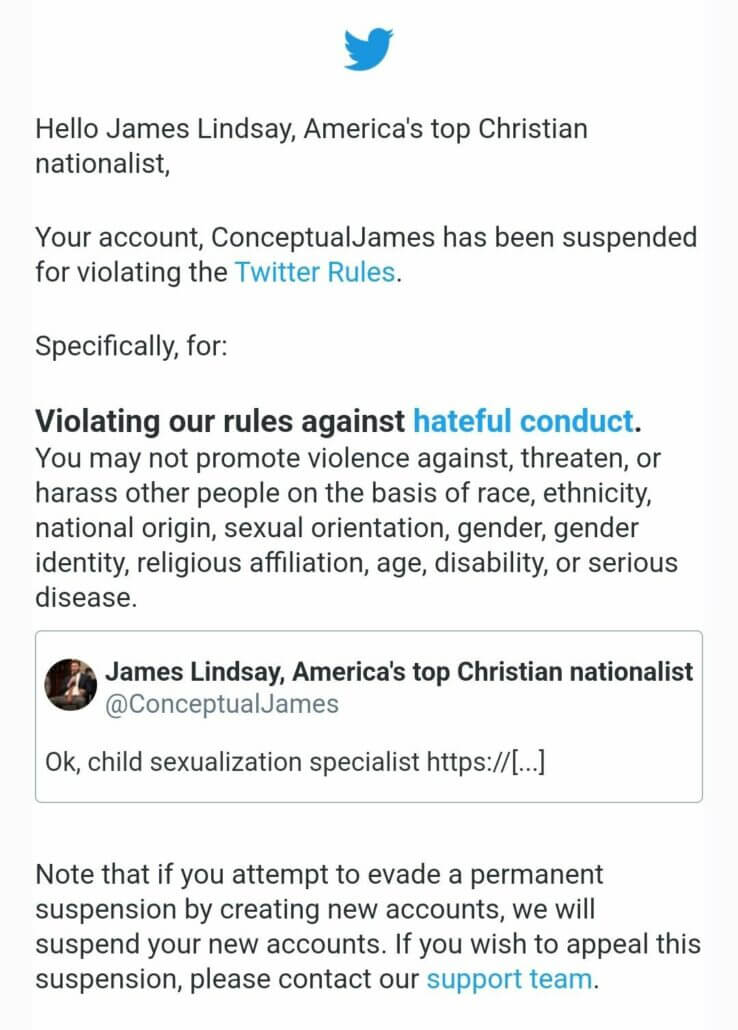 A message from Twitter informed Lindsay that he had violated the platform's rules against "hateful conduct," and that any new accounts created by him would also get suspended. There was speculation on Friday that Lindsay's suspension came as a result of being "mass-reported" by left-wing activists.
"The bastards kicked me off to protect child predators. I'm grateful for the attention it will bring to this issue and look forward to going outside again sometimes!" Lindsay wrote on his Gettr account.
Carabello gleefully took responsibility for the suspension.
Tell James, I want him to know it was me. pic.twitter.com/fn49LqjTdK

— Alejandra Caraballo (@Esqueer_) August 5, 2022
Lindsay was previously locked out of his account in July after tweeting "ok, tweeting what the platform deemed "misleading" information groomer" in response to a Media Matters activist, and was temporarily suspended from his account in May after making a comment about the COVID vaccines that Twitter deemed to be "misleading."
Dr. Bowden was permanently banned from Twitter last week after she posted links to Freedom of Information Act (FOIA) documents that provided "smoking-gun" evidence that the Biden regime colluded with big tech companies (including Twitter) to suppress criticism of the experimental COVID vaccines.
Bowden received an e-mail from Twitter on Friday night saying that she had been suspended for a tweet about children dying from vaccines.
"127 deaths reported to VAERS in children 6 months to 17 years," Bowden tweeted. "Pull them off the market. #StoptheShots."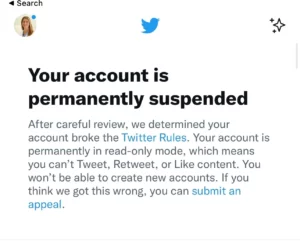 The Texas-based doctor spoke with journalist Emily Miller about her Twitter ban.
"This looks like retaliation," Dr. Bowden said. "My tweet yesterday exposing the collusion between Twitter and the CDC had 23,000 likes."
Bowden, who had about 120,000 Twitter followers, has a private practice in Houston. She was suspended from Houston Methodist in August of 2021 after clashing repeatedly with the hospital over COVID policies. The doctor has sued Houston Methodist and its president over statements made about her that she says are  "materially false." Bowden claims to have treated over 4,000 COVID patients, successfully keeping them out of the hospital.
Dr. Jessica Rose was featured as one of the Heroes of the Pandemic in American Greatness last October.
Rose has a bachelor of science degree in applied mathematics and a master's degree in immunology. She completed her Ph.D. in computational biology at Bar Ilan University in Tel Aviv, Israel, a post-doctorate in molecular biology at the Hebrew University of Jerusalem, and is currently working on a post-doctorate in biochemistry at the Technion Institute of Technology in Haifa, Israel.
The doctor has been closely monitoring, analyzing and commenting on the data from VAERS (Vaccine Adverse Events Reporting System) since the start of the vaccine rollouts, focusing most recently on the vaccine injuries and deaths of children.
Twitter signaled that it was getting ready to axe her account earlier this week when it censored two of her tweets.
On Monday, after she tweeted about a 13 year old girl with no pre-existing conditions who died 26 days after getting the Pfizer shot, Twitter informed her that it had "temporarily limited" her account. "Death is a side effect of the shots," she had tweeted about the case.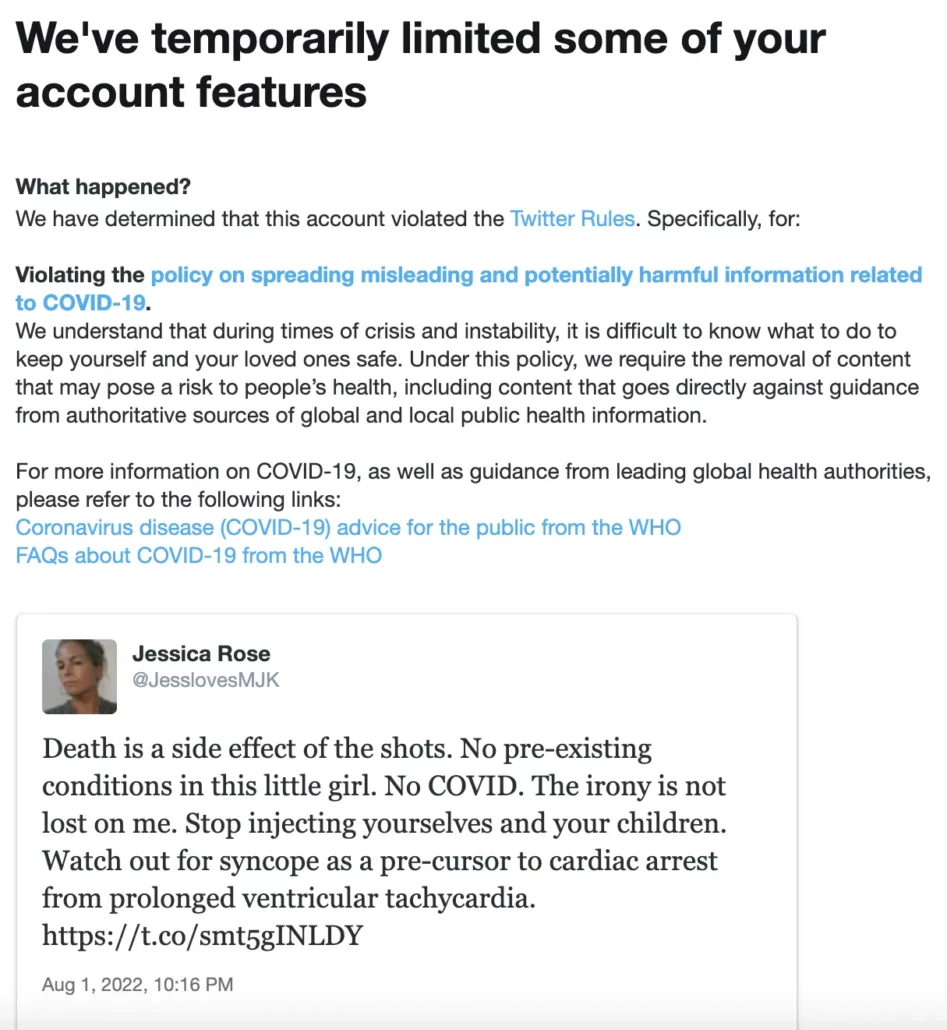 "It is bloody offensive that they are claiming that the death of a 13-year-old child with no pre-existing conditions that occurred days after a shot, is misleading," Rose fumed later on her Substack. 
Her account was limited again on Tuesday after she responded to a Twitter user who had pointed out the absurdity of medical experts at the top of their fields being censored by millennial techies with no expertise in science or medicine.
"Graduates of MIT, Harvard, Stanford, et al. All experts in their field of medicine and/or science—ALL censored by some millennial with a keyboard opting to protect Big Pharma's products and profits over "expert" voices of reason. Truly shameful times we're living in," tweeted TexasLindsay.
🚩 Graduates of MIT, Harvard, Stanford, et al. All experts in their field of medicine and/or science—ALL censored by some millennial with a keyboard opting to protect Big Pharma's products and profits over "expert" voices of reason. Truly shameful times we're living in. pic.twitter.com/aBbNKFBpOo

— TexasLindsay™ (@TexasLindsay_) August 2, 2022
Twitter told Rose that the company is "required by German law to provide notice to users who are reported by people from Germany via the Network Enforcement Act reporting flow."
"I got booted again because 'German law' didn't like me asking Lindsay not to forget me," Rose explained on her Substack. "With a smiley face."
Late Thursday, Rose was finally advised that she was permanently suspended from Twitter "specifically" for violating the platform's rules against "ban evasion."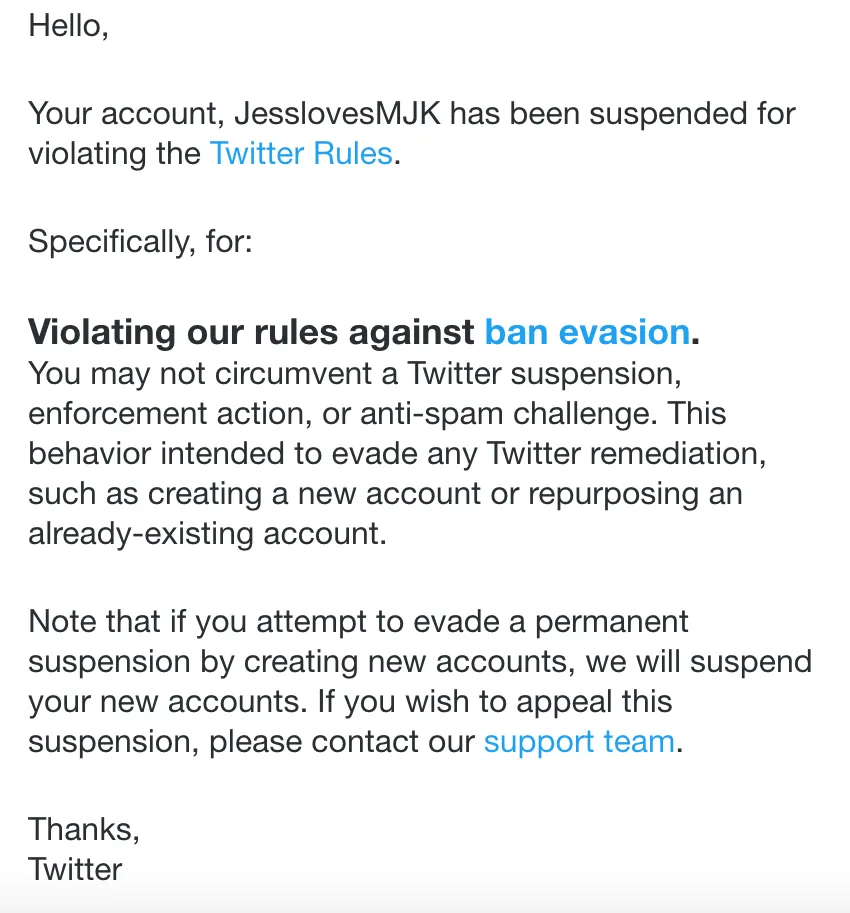 Rose called Twitter's action "completely, frighteningly bizarre."
"I literally have NO IDEA what the hell this is talking about," she wrote on Substack. "I didn't even log in since the last time I posted. It's wicked. Someone is working really hard to keep that space a festering cesspool. Good riddance," she said.