Professor Shmuel Shapira, M.D., MPH, the former Director General of the Israel Institute for Biological Research (IIBR), is one of the top medical scientists in the world, and since his "vaccine" injury, he's become one of the world's top critics of the COVID-19 shots.
"I received 3 vaccinations, I was physically injured in a very significant way as many others were injured," Shapira tweeted on May 13, 2022. "And in addition, my trust in the nature of the decisions and in the processes of making them has been severely eroded."
Shapira's impressive resume was recently featured in a an article in CTC Sentinel, the publication of the West Point Combatting Terrorism Center.
Professor Shmuel Shapira, M.D., MPH, served as the Director General of the Israel Institute for Biological Research (IIBR), Israel between 2013 and 2021. He is the founder and head of the Department of Military Medicine of the Hebrew University Faculty of Medicine and IDF Medical Corps. He is also a Senior Research Fellow at the International Institute for Counter-Terrorism (ICT) at Reichman University in Israel.

Professor Shapira previously served as Deputy Director General of the Hadassah Medical Organization and as the Director of the Hebrew University Hadassah School of Public Health. He is a Full Colonel (Res.) in the Israel Defense Forces (IDF) and served as the IDF Head of Trauma Branch. He is an authority on terror, trauma, emergency medicine and military medicine, and instructs medical students, physicians, EMS, medical leaders, and rescue teams on terror medicine, management of mass casualty's events, military medicine, advanced trauma life support, and risk management. He has published more than 110 articles and is the editor of Essentials of Terror Medicine, Best Practice for Medical Management of Terror Incidents and Medical Response to Terror Threats. He is the author of The Pandemic Circus (Yediot Books, Rishon LeZion 2021).
Shapiro played a central role in the original development of Israel's BriLife COVID-19 vaccine, which is based on a virus platform. After two years of development, the vaccine is only in phase 3 trials due to red tape, he told the CTC Sentinel. "We were affected a lot by bureaucracy, and this really delayed us."
Last week, Twitter censored Shapira for posting "disinformation" after he suggested that the Monkey Pox outbreak could be related to the mRNA vaccines.
"Monkey pox cases were rare for years. During the last years a single case was documented in Israel," he tweeted. "It is well established the mRNA vaccines affect the natural immune system. A monkey pox outbreak following massive covid vaccination: Is not a coincidence."
Twitter forced the expert in biological research and military medicine to take the tweet down.
A recently released trove of internal communications obtained by America First Legal (AFL) revealed that the Centers for Disease Control and Prevention (CDC) colluded with big tech monopolies to censor users—including dissenting medical doctors and scientists—who criticized the experimental COVID-19 "vaccines." Prominent vaccine skeptics like Dr. Robert Malone, Dr. Mary Bowden, virologist Adam Gaertner, feminist author Naomi Wolf, and journalists Alex Berenson, Emerald Robinson, and Daniel Horowitz have been banned from  Twitter for contradicting the Biden Regime/Big Pharma narrative on the mRNA and adenovirus DNA genetic products.
Professor Shapira could be next.
Substacker "Kanekoa The Great" highlighted a number of his tweets, which he translated from Hebrew to English, and noted that the professor has become increasingly critical of the mRNA jabs since he started his Twitter account in January of this year.
In one of his first tweets, Shapira denounced the Israeli Genesis Award after it was given to Pfizer CEO Albert Bourla.
On January 18, 2022, Shapira said (translated from Hebrew by Google): "The Israeli Genesis Award was given to the CEO of Pfizer, so wretched. Instead of giving it to an Israeli scientist, and all this for a mediocre, short-acting vaccine that yielded Pfizer a profit of billions, a wretched and exiled one. Bourla will be appointed the King of Israel now. Let me remind you that vaccinated Israel is the fourth-leading in the number of corona patients in the world. There is a championship!"

On February 6, 2022, Shapira asked: "What grade would you give to a vaccine that people are vaccinated with three times and get sick twice (as of today)? Not to mention significant side effects[.]"

On April 9, 2022, Shapira said: "The CEO of the company, millions of whose vaccines were used in Israel for vaccination, stated in an interview with NBC that Israel serves as the world's laboratory. To the best of my knowledge, this is the first case in history where experimental guinea pigs paid an exorbitant rate for their participation."
[…]
On June 7, 2022, Shapira said: "We are talking about vaccine five in two and a half years. When the vaccine is planned for the sequence from January 2020 (the great-grandfather of the great-grandfather of the current variants). A vaccine that does not prevent infection does not prevent morbidity. And it is allegedly attributed to significant side effects to say the least. Why? What is the logic? Which authority approved? And doesn't say that it prevents a serious illness, no one has proven it."

On June 8, 2022, Shapira said: "I will continue and ask why give an outdated fifth vaccine that does not prevent disease and apparently causes many significant common side effects."

On July 5, 2022, Shapira discussed the "son of a 36-year-old Australian friend" who developed "severe ventricular arrhythmias and went into heart failure" only "days after the second Pfizer vaccine".

"The compensation is automatic by the Australian government," he said. "Despite the behavior of their government they admit to the connection and the phrase 'no connection' does not appear in the lexicon."

On July 15, 2022, Shapira shared a chart of New South Wales COVID rates showing an increased risk of COVID infection with every new dose of the mRNA vaccine on which he commented: "According to official data from Australia the more you are injected the more likely you are to get sick as the fourth injection jumps the chance dramatically. According to this study it is supposedly an anti-vaccine at least according to what I have been taught."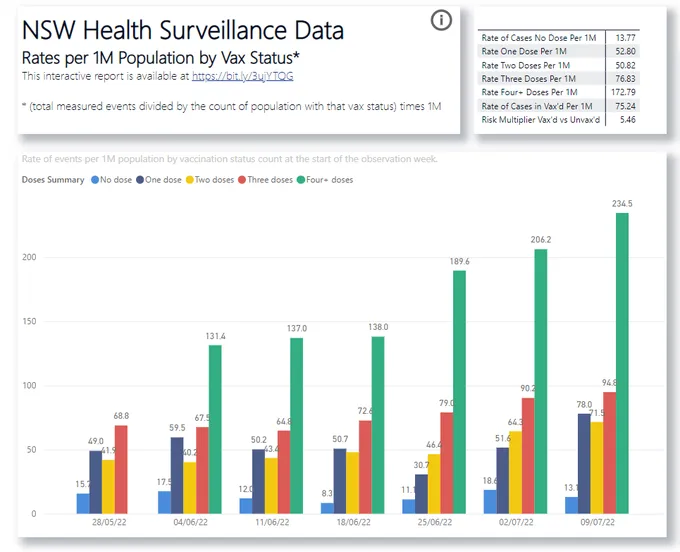 On July 18, 2022, Shapira said: "I am not anti-vaccine, I am anti-stupidity, anti-fake science, and anti-incompetent management."

On July 28, 2022, Shapira said: "T warned me to remove the T connecting MP to C. Each day I understand better where we live and in which year."

In other words, Twitter warned him to remove the tweet connecting monkeypox to the COVID vaccine.

On July 31, 2022, Shapira shared a link to the OpenVaers COVID Vaccine Adverse Event Reports which showed a total of 1,357,937 reports including 170,151 hospitalizations and 29,790 deaths, above which he simply commented: "Safe & Efficient."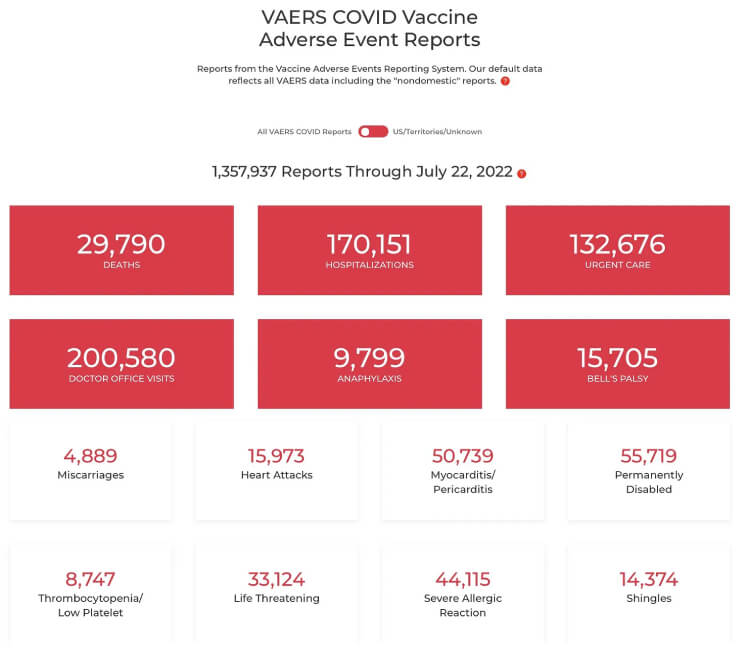 Professor Shapira also pointed to an alarming article in Genes, a peer-reviewed open access scientific journal. The article—mRNA Vaccines: Why Is the Biology of Retroposition Ignored?—was written by Domazot Lozo, a Croatian geneticist, whose fields of expertise are in evolutionary genetics, evolutionary developmental biology, macroevolution, and tumor evolution. "All pay attention a quote from Domazot Lozo article in Genes," Shapira tweeted.
"Here, I discuss the pervasive claim that mRNA-based vaccines cannot alter genomes," Lozo wrote.
Surprisingly, this notion is widely stated in the mRNA vaccine literature but never supported by referencing any primary scientific papers that would specifically address this question. This discrepancy becomes even more puzzling if one considers previous work on the molecular and evolutionary aspects of retroposition in murine and human populations that clearly documents the frequent integration of mRNA molecules into genomes, including clinical contexts. By performing basic comparisons, I show that the sequence features of mRNA vaccines meet all known requirements for retroposition using L1 elements—the most abundant autonomously active retrotransposons in the human genome. In fact, many factors associated with mRNA vaccines increase the possibility of their L1-mediated retroposition. I conclude that is unfounded to a priori assume that mRNA-based therapeutics do not impact genomes and that the route to genome integration of vaccine mRNAs via endogenous L1 retroelements is easily conceivable. This implies that we urgently need experimental studies that would rigorously test for the potential retroposition of vaccine mRNAs. At present, the insertional mutagenesis safety of mRNA-based vaccines should be considered unresolved.
Dr. Eashwarran Kohilathas explained the significance of Lozo's conclusions in layman's terms on his website.
"Retroposition, in genetics, is a term that describes the integration of a sequence from RNA into a DNA genome," Kohilathas wrote. "mRNA can be reintegrated into the genome via a process called reverse transcription. In fact, retroposition produces a large number of functional genes in the genome and accounts for about 10,000 duplications in the human genome."
He added: "If more evidence amounts to the fact that DNA integration is possible via these vaccines, then we're in big trouble. It essentially means that a large subset of the population could produce spike proteins naturally and others may pass this trait on to their children forever."
The CDC continues to claim that the mRNA vaccines do not alter DNA, without offering any scientific research to back it up.
"Myocarditis, fatal arrhythmias, 20% increase in strokes, facialis, Herpes Zoster, tinnitus (ear ringing), gynecological excessive bleeding, monkey-pox, obscured long term side effects," Shapira tweeted on August 2. "No worries. Be happy."