The Centers for Disease Control and Prevention (CDC) colluded with big tech monopolies to censor users—including dissenting medical doctors and scientists—who criticized the experimental COVID-19 "vaccines," a trove of internal communications obtained by America First Legal (AFL) reveal.
The CDC released 286-pages of documents to the group in response to a freedom of information act (FOIA) request. AFL said in a press release that the records "reveal the extent to which the Biden Administration is willing to engage in unconstitutional and otherwise unlawful activities in total disregard for the rights of American citizens."
Prominent vaccine skeptics like Dr. Robert Malone, virologist Adam Gaertner, feminist author Naomi Wolf, and journalists Alex Berenson, Emerald Robinson, and Daniel Horowitz were banned from the social media platform Twitter for contradicting the Biden Regime/Big Pharma narrative on the mRNA and adenovirus DNA vector genetic products.
Berenson was banned from Twitter almost a year ago, after reporting accurately that the jabs weren't working as promised: "It doesn't stop infection. Or transmission. Don't think of it as a vaccine. Think of it – at best – as a therapeutic with a limited window of efficacy and terrible side effect profile that must be dosed IN ADVANCE OF ILLNESS. And we want to mandate it? Insanity," Berenson correctly tweeted in August of 2021. His account was reinstated earlier this month after he and Twitter reached a settlement in his lawsuit.
Many frontline COVID docs who had concerns about the safety and efficacy of shots were effectively muzzled, Dr. Malone argued on his Substack, Thursday. As a result, many Americans were blocked from receiving "informed consent" before getting vaccinated.
Frontline Doctor Mary Bowden advised Twitter and the CDC to "lawyer up" in a thread that included links to the documents.
Lawyer up @twitter and @cdc. @America1stLegal obtains emails between CDC director of digital media Carol Crawford and @Twitter execs on how to suppress free speech. Examples in thread.

— Mary Talley Bowden MD (@MdBreathe) July 28, 2022
Malone, an early pioneer of mRNA vaccine technology, said that he and other docs "have long suspected that the US Government Department of Health and Human Services was colluding with Big Tech to censor, defame, gaslight and deplatform anyone who veers from the government-approved narrative regarding these matters."
He called the documents "smoking gun" evidence that the United States government blatantly infringed upon our First Amendment rights to free speech.
The vaccinologist said the coordination between the tech companies and the CDC was particularly egregious because it can now be proven that the people they silenced were right.
"We now have definitive evidence that the COVID-19 genetic 'vaccines' are neither fully safe, nor are they effective in preventing infection, replication, and spread of the virus," Malone wrote. "In fact, there is growing evidence that these EUA authorized products, which have been mandated by both governments and private industry, are associated with increased risk of disease and death from COVID-19."
These COVID genetic "vaccines" are associated with risks to the nervous system, risks of blood clotting, reproductive risks (reduced semen count, menometrorrhagia and other menstrual irregularities), cardiac risks, immune system damage, risks of latent DNA virus reactivation, and a wide range of other adverse events including death. These risks occur in both adults and children.
A recent study published in the Journal of Food and Toxicology found "diverse adverse consequences to human health" from the vaccine, potentially including "a causal link to neurodegenerative disease, myocarditis, immune thrombocytopenia, Bell's palsy, liver disease, impaired adaptive immunity, impaired DNA damage response and tumorigenesis."
Meanwhile, life insurance data in the United States have been showing alarming increases in all-cause mortality since the shots were rolled out. And now, a new paper from the Netherlands has found the same thing— that use of the mRNA shots correlates with an increase in all-cause mortality. This type information, of course, routinely gets censored by the big tech gatekeepers, so most Americans never see it.
A peer-reviewed paper released last month showed large decreases in sperm counts among men after the second dose of Pfizer's mRNA COVID vaccine, with the decline continuing for over five months in many cases.
The COVID jabs have also been found to negatively affect female fertility by delivering the SARS-CoV-2 spike protein directly to their ovaries. Millions of women across the globe have reported changes in menstruation after taking the mRNA vaccines.
Science that counters the Biden regime/Big Pharma narrative on the jabs are not welcome on public platforms, however.
The CDC sent social media staffers "advisories" like the one below, warning about "misinformation" regarding the vaccines' effects on male fertility.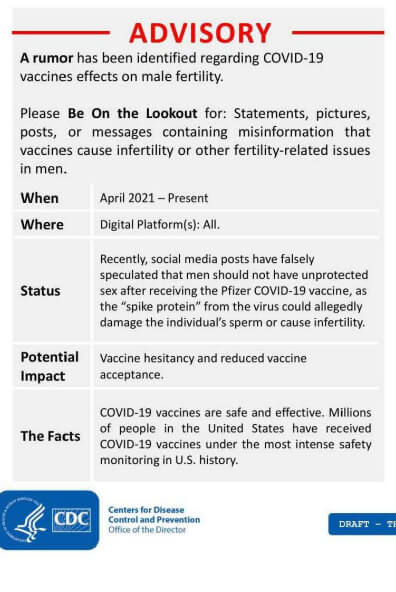 "The US Government colluded with Big Tech to prevent patients and general US citizens from being able to obtain true informed consent about the risks of these experimental products which have been provided under Emergency Use Authorization (EUA)," Malone said.
The coordinated effort to silence dissenting [and often expert] opinions reportedly began in December 2020, with CDC officials regularly communicating with personnel at Twitter, Facebook, and Google about what they called "vaccine misinformation." Over the course of at least six months, CDC officials even took the liberty to flag posts they deemed problematic on social media as "example posts," The Washington Free Beacon reported.
In one email to a CDC staffer, a Twitter employee said he is "looking forward to setting up regular chats" with the agency. Other emails show the scheduling of meetings with the CDC over how to best police alleged misinformation about COVID-19 vaccines.

Although many of the posts flagged by the CDC contained false information about the COVID-19 vaccines, the efforts to police misinformation also resulted in mistaken acts of censorship. An April 2021 email from a CDC staffer to Facebook states that the "algorithms that Facebook and other social media networks are apparently using to screen out posting by sources of vaccine misinformation are also apparently screening out valid public health messaging, including [Wyoming] Health communications."

The communications reveal a high level of coordination between the government and tech industry during the pandemic and raise questions about the extent to which other private companies are working with the federal government to censor the public. The Biden administration has faced criticism for engaging in what some have called "Orwellian" practices, such as the establishment of the Department of Homeland Security Disinformation Governance Board. The Free Beacon reported that the now-shuttered disinformation board arranged a meeting with a Twitter executive who blocked users from sharing stories about Hunter Biden's laptop.
CDC officials and big tech personnel also traded emails after Google's 2020 "Trusted Media Summit," a conference "for journalists, fact-checkers, educators, researchers and others who work in the area of fact-checking, verification, media literacy, and otherwise fighting misinformation."
One of the organizers of the conference asked a senior CDC official who attended the event for permission to post her remarks on YouTube. The official declined, telling the organizer that she was not authorized to speak publicly.
In the same email chain with a senior CDC official, a Google staffer offers to promote an initiative from the World Health Organization about "addressing the COVID-19 infodemic and strengthen community resilience against misinformation." That same Google staffer offers to introduce the CDC official to a Google colleague who is "working on programs to counter immunization misinfo."

According to the Free Beacon, emails show that Facebook awarded the CDC with $15 million in ad credits on the company's platforms in April 2021.

"This gift will be used by CDC's COVID-19 response to support the agency's messages on Facebook, and extend the reach of COVID-19-related Facebook content, including messages on vaccines, social distancing, travel, and other priority communication messages," an internal CDC memo reads.

A Facebook official says the platform has been transparent about its work with public health organizations "to address health misinformation." The platform also says it has asked its internal oversight board to assess whether its "current COVID-19 misinformation policy is still appropriate now that the pandemic has evolved."
In a statement following the release of the documents, America First Legal President Stephen Miller vowed to keep fighting the "illegal collusion between Big Tech and Big Government."
"These explosive smoking-gun documents, obtained as a result of America First Legal's litigation against the Biden Administration, conclusively demonstrate that Big Tech has unlawfully colluded with the federal government to silence, censor, and suppress Americans' free speech and violate their First Amendment rights," Miller wrote. "Government is expressly prohibited from censoring competing or dissenting viewpoints or from silencing its political opponents whether it does so directly or whether it uses an outside corporation to achieve its draconian, totalitarian ends. AFL will not rest in the fight against illegal collusion between Big Tech and Big Government to trample on your voices and the Bill of Rights."