Multiple lawmakers, including Reps Alexandria Ocasio-Cortez (D-N.Y.), Ilhan Omar (D-Minn.), Carolyn Maloney (D-N.Y.) and Cori Bush (D-Mo.), were arrested by Capitol Police on Tuesday, after they blocked traffic outside the Supreme Court during an abortion rights protest.
As she was gently escorted away by a Capitol Police officer, AOC put her arms behind her back as if she was handcuffed.
Here's where they're being corralled. The group also includes the assistant House speaker, Katherine Clark. pic.twitter.com/2jNIRB2WtU

— Andrew Solender (@AndrewSolender) July 19, 2022
As it turned out, the congresswoman had not been handcuffed at all. She gave away the game when she raised her fist to supporters watching from the sidewalk. Rep. Ilhan Omar also walked with her hands behind her back as if handcuffed, but like AOC, managed to raised her right arm in a clenched-fist salute to supporters.
Ilhan Omar faked being handcuffed too lmfaooo
pic.twitter.com/WYlh1hSUti

— Greg Price (@greg_price11) July 19, 2022
"Just noting—they weren't handcuffed—just decided to hold their hands like that," Fox News host Bret Baier noted on Twitter.
Just noting – they weren't handcuffed – just decided to hold their hands like that. https://t.co/8hK3xLBoA8

— Bret Baier (@BretBaier) July 19, 2022
The video of AOC pretending to be handcuffed while being arrested has been viewed over 2 million times on Twitter.
As the clip spread, AOC was roundly mocked on social media, the New York Post reported.
"AOC pretended to be in handcuffs when she was escorted away from the Supreme Court," the official account for the conservative paper Washington Free Beacon tweeted.

"Oh my gosh @AOC faking handcuffs," wrote Republican commentator Matt Whitlock. "This is too much."

The Capitol Police must have put invisible handcuffs on @AOC!" tweeted political analyst Carmyn Kinsey.

"You guys… @AOC is such a victim that she has to pretend that the big, mean policeman put her in handcuffs…She probably also thinks he wants to date her," said conservative columnist Tim Young.

You guys… @AOC is such a victim that she has to pretend that the big, mean policeman put her in handcuffs…

She probably also thinks he wants to date her. pic.twitter.com/BvBF23BzUp

— Tim Young (@TimRunsHisMouth) July 19, 2022

".@AOC is such an expert at getting attention and narrative building that she PRETENDED to be handcuffed just so she could have this image on social media. There are no handcuffs on her lmfaoooo," tweeted businessman Jason Howerton.

"Note the handcuff pose, abandoned only to raise her fist in the air. The queen of gestures," Fox News political analyst Brit Hume said.
It appears that the lawmakers who were involved with the "protest" were counting on being arrested.
Jeremy Slevin, the communications director/strategist for Omar tweeted earlier Tuesday that the congresswoman would be "participating in a civil disobedience at the Supreme Court" and would "potentially" be arrested.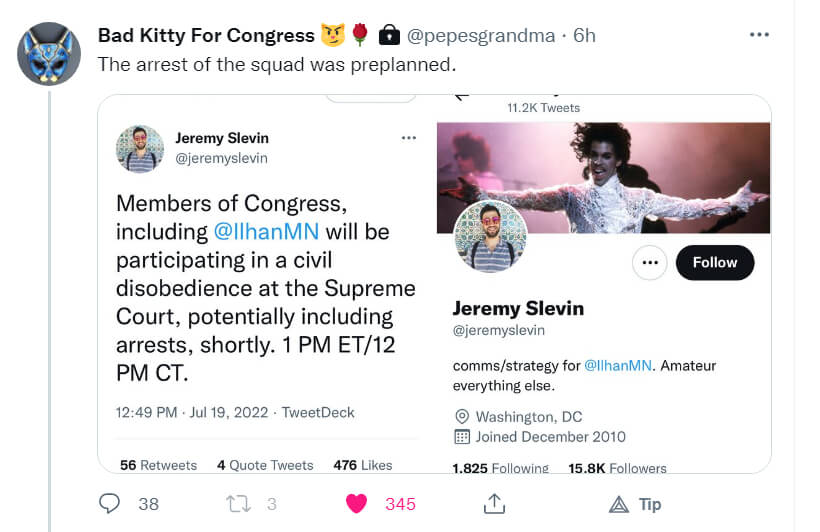 The Center For Popular Democracy—a left-wing NGO funded by George Soros, among others—live streamed the "arrests."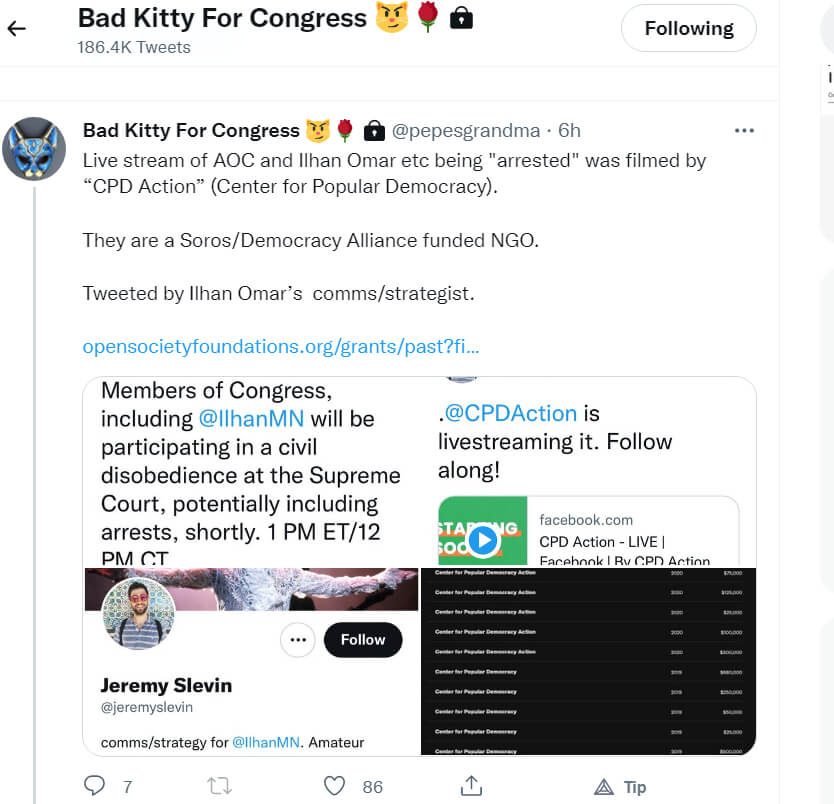 According to Capitol Police, 35 agitators—including 17 members of Congress—were arrested, although none are expected to face serious charges.
Other Democrat lawmakers arrested included Reps. Rashida Tlaib of Michigan, Jackie Speier of California, Ilhan Omar of Minnesota, Ayanna Pressley of Massachusetts, Andy Levin of Michigan, Barabara Lee of California, Cori Bush of Missouri, Katherine Clark of Massachusetts, Nydia Valezquez of New York, Jan Schakowsky of Illinois, Madeleine Dean of Pennsylvania, and Sarah Jacobs of California.
A group of lawmakers and activists were released from custody at approximately 2:30, after being charged with "crowding, obstructing or incommoding," the Post reported. They will reportedly have to pay a $50 fine.
Update:
Fox News host Tucker Carlson covered AOC and Omar's "harrowing" ordeal on his show Tuesday night.
"Police officers did something they've never done before," Carlson reported. "Those mean cops put both Sandy Cortez and Ilhan Omar in invisible handcuffs and led them away with their hands behind their backs."
Tucker on @AOC's stunning and brave day of pretending to be handcuffed. pic.twitter.com/Grjy5mOoma

— Benny Johnson (@bennyjohnson) July 20, 2022