An attempt to accost Supreme Court Justice Brett Kavanaugh at Morton's Steakhouse, a popular D.C. hangout, made national news last week. The move represented a mobile continuation of the tactic of targeting conservative justices outside their homes.
The targeting of Kavanaugh was led by antifa-aligned protest group Shutdown D.C., which has drawn attention in recent years for advocating the targeted protesting of political opponents. The group has since escalated by tweeting out a bounty for information about the location of conservative justices and posting flyers similarly offering money in exchange for facilitating harassment.
In response to the ongoing targeted abuse of judges, the head of security for the Supreme Court wrote a letter to Virginia and Maryland governors urging them to take action using existing state and local laws. Governors Larry Hogan and Glenn Youngkin (both Republicans) had previously written a joint letter to Biden Attorney General Merrick Garland asking the Department of Justice to enforce federal laws prohibiting the targeted intimidation of judges. Youngkin had also asked local county government officials to provide additional security for the homes of justices, but was given short shrift by the overwhelmingly Democratic county board of supervisors.
Meanwhile, Shutdown D.C. continues to operate openly and unapologetically.
For its part, the Biden Administration has all but openly endorsed the tactics of personally targeting opponents, hiding behind claims that actions by groups like Shutdown D.C. represent genuine "democracy" in action, rather than intimidation by a tiny subset of professional activists.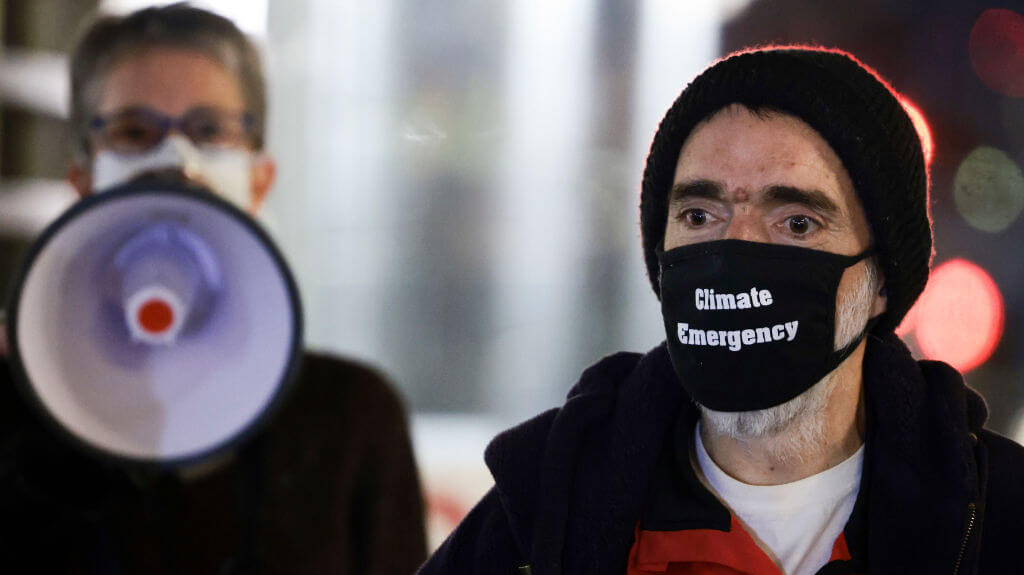 Originally created out of a coalition of environmentalist groups in preparation for a planned "Climate Shutdown" on September 20, 2019, Shutdown D.C. became one of the leading elements of a planned "uprising" (their words) in the event of a Trump election victory in 2020. The plan included occupying federal buildings and targeting key House and Senate members. They even discussed sabotaging communications equipment in a training call with infamous anarchist organizer Lisa Fithian, who noted, "In a situation of a coup or an insurrection or an uprising, whoever's got the guns, often can win. We should be clear. Trump's gotta go."
Shutdown D.C. played a key role in developing target lists for harassment, carefully mapped to sophisticated ArcGIS software. One of their targets was Senator Josh Hawley (R-Mo.). On January 4, Shutdown D.C. illegally protested outside Hawley's Virginia home, terrifying his wife Erin and family. Shutdown D.C. organizer Patrick Young was eventually charged with illegal trespass, pled no contest, and charges were dropped after Young promised to maintain distance from the senator's family.
Since Biden took power, the lead organizers of Shutdown D.C. have attempted to shift their public image from street revolutionaries to clean-cut public relations gurus. Shutdown D.C's organizers formed Movement Catalyst, which they describe as an "experienced and interdisciplinary team of strategists, organizers, and researchers, who will launch strategic projects to meet the moment, partner with organizations looking to expand their ability to have an impact, and anchor movement infrastructure."
Movement Catalyst offers its partners the group's target mapping system, "digital tools like mass texting and email software" along with "a PA system, megaphones, art supplies, vests, costumes, and other equipment . . ."
Shutdown D.C. and Movement Catalyst are not the only groups originally founded for a different purpose that now act as the tip of the spear in the Left's post-Dobbs fight. The group Ruth Sent Us has been instrumental in the doxxing and targeting justices, as well as protesting and disrupting churches. But similarly, that group was not originally established for the abortion fight, but was formed following a 2018 call by U.S. Representative Maxine Waters (D-Calif.) to target Trump Administration officials with its lead organizer calling for officials to be "ambushed." Ruth Sent Us leaders openly and explicitly endorse antifa principles, maintaining that their political opponents are Nazis who must be physically silenced, not fellow citizens who might be persuaded.
Rather than representing the will of a majority outraged by a Supreme Court decision, groups like Shutdown D.C. and Ruth Sent Us are better seen as radical mercenaries-for-hire paid to create the appearance of broad civil outrage. It's unsurprising with disapproval numbers hovering around 60 percent, the Biden Administration prefers to define democracy as the stage-crafted outrage of the professional radicals.
But having normalized a system of harassment and coercion in response to its feverish Trump Derangement Syndrome, elements of the Left are increasingly willing to apply this tool any time they suffer a policy setback. Having brought onto stage the weapon of political intimidation, the Left intends to use it at every turn.
Unless the American public demands that such tactics be reined in and insists on punishing politically those who benefit from them, there will be no limit to who or what might be targeted.