Robert Crimo, the Highland Park shooting suspect, is neither a conservative Trump supporter, nor a left-wing antifa radical, according to a friend who claims to know him. "He was an isolated stoner who lost touch with reality," Bennett Brizes—a college student who claims he "made music" with Crimo from 2015 to 2018—wrote on Twitter.
According to the Washington Post, analysts who have studied Crimo's online postings have not been able to find "a clear political or ideological motive" thus far.
Crimo, 21, is accused of killing at least six and wounding more than 30 in a shooting rampage on the Chicago suburb 4th of July parade. Investigators say he shot at parade-goers from a rooftop as the community celebrated Independence Day. He dressed in women's clothes to help conceal his identity, police said.
"During the attack, Crimo was dressed in women's clothing and investigators do believe he did this to conceal his facial tattoos and his identity and help him during the escape," Chris Covelli, spokesperson for the Lake County Major Crimes Task Force, told reporters on Tuesday. Police believe Crimo pre-planned this attack for several weeks.
He was arrested several hours after the shooting and taken into custody in Lake Forest, Illinois.
Crimo, who calls himself "Awake the Rapper," reportedly had a modest music career with more than 16,000 listeners per month on Spotify. He posted multiple YouTube videos featuring disturbing themes and violent imagery.
In one, he raps "like a sleepwalker, I am breaking through no matter what" alongside snippets of animated footage of a shooter that seems to foreshadow his actions on the 4th of July.
Recorded it before it was taken down pic.twitter.com/2auej2HV1e

— Kelly Nash (@kellynashville) July 4, 2022
Crimo had an extensive social media presence, though his accounts were quickly scrubbed after he was identified. Some of his postings have led people to believe he was a Trump supporter.
In 2019, for instance, he shared a video of President Donald Trump's motorcade, Heavy reported.
He is pictured attending at least a couple of Trump rallies, including one in 2020 where he dressed as "Where's Waldo."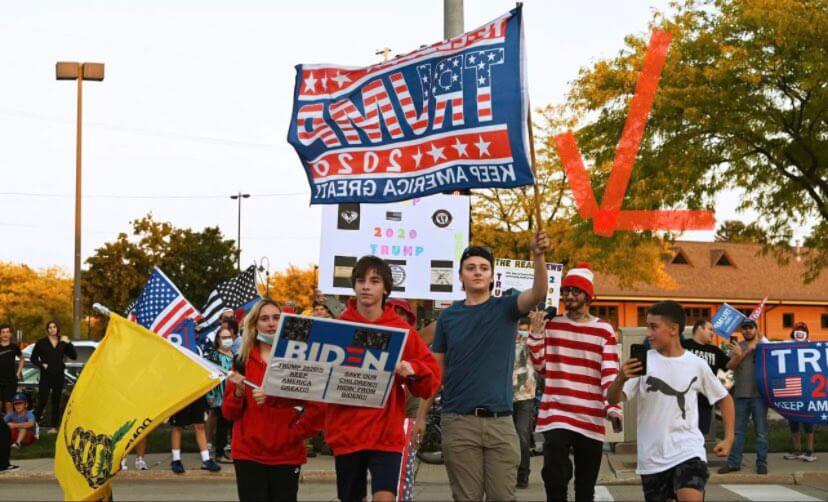 A picture posted on his Twitter account showed him with a Trump flag around his shoulders.

In an uncharacteristically balanced article Tuesday, the Washington Post reported that "it is not clear from his online postings that he was a supporter of Trump or any other political party or candidate."
"He was immersed in fringe internet culture. But nothing uncovered so far suggests a clear political or ideological motive," said Emerson T. Brooking, a senior fellow at the Atlantic Council's Digital Forensic Research Lab.
Some conservatives have surmised that Crimo was mocking Trump supporters, as his activity on Twitter suggests a decidedly left-ward slant.
These are all the accounts this person was following before it got suspended. It's all liberal politicians and left wing media orgs. pic.twitter.com/20Qh0OkVSQ

— America Respector (@frenchpoast) July 4, 2022
As many have noted, Crimo sports a rose tattoo on his neck. The rose is a symbol of the Democratic Socialists of America (DSA).
Highland Park Illinois killer Crimo has a huge red rose tattoo on his neck. That is a symbol of the Democratic Socialist of America #DSA pic.twitter.com/vybjuyUKFe

— Mackcol4 (@mackcol4) July 4, 2022
On the other hand, his videos include a symbol that is similar to one used by Suomen Sisu, a far-right Finnish organization.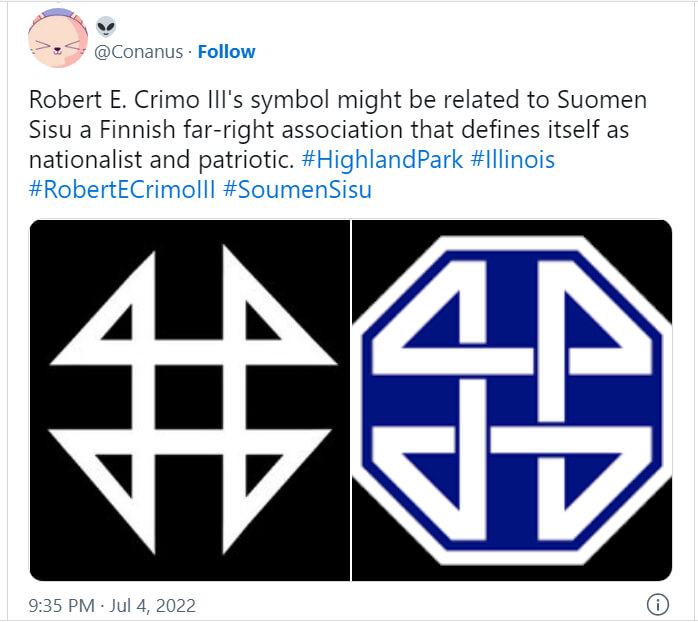 According to Brizes, his former friend is neither left nor right—just crazy.
"I knew awake the rapper/ Robert / Bobby Crimo. We used to make music together around 2015-18," Brizes wrote on Twitter Monday night. "He's not antifa, he's not some maga overlord. I know that shit sounds really interesting. But it's not the truth. He was an isolated stoner who completely lost touch with reality."
On his website, Brizes writes that he is an "artist and student at Otis College of Art and Design" who works "in photo and video."
A cursory look at the Brizes' Twitter account shows him to be left-of center politically—as someone who supports abortion rights, and gun control. He posted two photos and some text messages as proof that he knows Crimo.
Brizes said Crimo tended to coopt "aesthetics from the left and right" without actually believing in any of those things.
"I think he was lost," he wrote. "Gravitated towards aesthetics he found interesting. Maybe things can change in a couple of years, but he was never a white nationalist. And was never a leftist."
Brizes stressed that he was appalled by his former friend's actions.
"What he did was awful and I hope he rots," he wrote. "But to say he was an antifa shooter, or a qanon supporter or whatever. It's bullshit."
The student also shot down the theory that Crimo was a subject in a CIA brainwashing program like MKUltra. 
"He was not mkultra'd. He liked ARGs [alternate reality games] and thought it was cool," Brizes explained. "I know leftist twitter and trump stan twitter want to make him into whatever type of person they want to vilify but he isn't that."
He argued that Crimo's "weird ass" videos tell the real story about his state of mind.
"Anybody that knew him could attest to that. In his last years he was making some weird ass videos. But like, yeah, no sane person does what he does. There's nothing deeper to it. Crazy being crazy," Brizes wrote.
Update:
Police on Tuesday revealed they'd had two prior interactions with Crimo.
In April 2019, an individual called the authorities to report that Crimo had attempted suicide, officials said at a news conference. The matter was handled by mental health workers, not the police.

Another family member said Crimo had a collection of knives and said he "was going to kill everyone," Sgt. Christopher Covelli of the Lake County Major Crimes Task Force also told reporters. They removed the weapons from his possession and notified the Illinois State Police about the incident, he said.
Officers confiscated a dagger, knives, and a sword. However, there was "no probable cause for arrest," Covelli stated, and no witnesses signed complaints against Crimo.