Data found within the encrypted iPhone XS backup folder on Hunter Biden's laptop reveals that he queried Google for tips on making crack cocaine.
"I think I put too much baking soda in my mix with cocaine to make crack how do I fix it," Hunter Biden wrote in the Google search box at 7:23 a.m. on Jan. 19, 2019, the record shows.
The younger Biden's search for a good crack recipe came only three days after he claimed to advise his father on political matters, texts from his abandoned laptop reveal.
"My dad asked me to be in a call at 7:30 re political decisions," Hunter Biden texted his psychiatrist, Keith Ablow, on Jan. 16, 2019.
In texts to Ablow a year earlier, the younger Biden discussed his deep involvement with his father's political team.
"Been on calls with Dad most of day," Hunter Biden texted  on Dec. 16, 2018. "Talking what's next with political team. Slot of polls that are way outside the norm for anyone in the last 20 years of presidential politics."
A 77-minute audio file from his laptop that same month features Hunter bragging about his influence over his father's political decisions from his house in Plum Island, Massachusetts.
"He'll talk about anything that I want him to, that he believes in," the scandal-plagued First Son told his friend, British artist Phillipa Horan, in the Dec. 3, 2018, recording. "If I say it's important to me, then he will work a way in which to make it a part of his platform. My dad respects me more than he respects anyone in the world, and I know that to be certain, so it's not going to be about whether it affects his politics."
LISTEN: Hunter Biden says his father, Joe, will "talk about anything that I want him to"

"If I say it's important to me, then he will work a way in which to make it a part of his platform" pic.twitter.com/2ZyKVCnvYq

— RNC Research (@RNCResearch) June 14, 2022
Hunter went on to explain why he has such why he has such a healthy ego despite his well documented short failings.
"All those fears you think that I have of people not liking me or that I don't love myself … I don't fear that. You know why I don't fear that? Because the man I most admire in the world, that is god to me, thinks I'm a god," Hunter Biden said. "And my brother did, too. And the three of us, it was literally — I had the support to know I can do anything."
Joe Biden announced his candidacy for president of the United States on April 25, 2019.
"Everyone thinks it, talks about how — 'How can you be as good as your dad?' I'm better than my dad," Hunter Biden told Horan. "You know why I'm better than my dad? Because my dad tells me I'm better than him, since I was 2 years old."
During the conversation, Hunter also attempted to put a positive spin on his addiction to crack.
"Have you ever thought about this: Maybe this is the greatest thing that f****** ever happened to me," Hunter Biden mused. "Maybe this is literally the continuation and the continuum of what is going to be the thing that makes me the person that my father believes I am."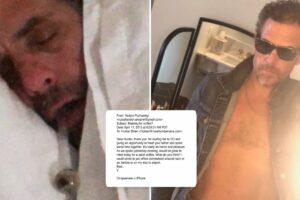 When Horan asked Hunter what his father thought about his crack addiction, the younger Biden replied, "he says f-cking stop," adding "he's scared to death."
When asked if his father would talk about drug reform if he becomes president, Hunter replied, "he's going to talk about drug reform and any other things that I want him to."
Perhaps not coincidentally, the Biden administration was called out in conservative media earlier this year for distributing crack pipes in taxpayer-funded "safe smoking kits" up and down the East Coast.
After the White House denied the story, the Washington Free Beacon visited "harm reduction" facilities in Boston, New York City, Washington, D.C., Baltimore, and Richmond, Va. and found that crack pipes were included in all of the kits.
The kits became the subject of national attention in the wake of a Free Beacon report in February indicating that a $30 million harm-reduction program was set to fund the distribution of free crack pipes in "safe-smoking kits." Pressed on the matter in a Feb. 9 press briefing, White House press secretary Jen Psaki issued a full-throated denial.
Hunter's influence over his father's political decisions also seemed to be on display in the government's $20,000+ payoff to his favorite Las Vegas hooker just a few months into Biden's administration.
Cheryl Deboves received $20,207 in a Paycheck Protection Program (PPP) bailout for her sole proprietorship of  a "white female owned business," federal records show.
A prostitute who bought crack for and had orgies with Hunter Biden got a $20,000 federal PPP stimulus for her "female owned sole propietorship" after Joe was elected.

It is listed as in the industry of "independent artists, writers, and performers."https://t.co/gHjXIuebZo

— Luke Rosiak (@lukerosiak) June 7, 2022
She was granted an "Independent Artists, Writers, and Performers" loan in April of 2021 for her "business" that "employed at least one person during the applicable loan period," according to FederalPay.
The federal loan was paid off or forgiven just six months later, the records showed.
"This loan's status is reported by the SBA (Small Business Administration) as 'Paid in Full,' which includes both loans repaid and those fully forgiven from repayment under PPP guidelines," FederalPay reported. "The loan's status was last updated by the SBA in October, 2021."
Texts from Hunter Biden's laptop include an August 2018 exchange between Biden and Deboves in which she complained that he was requesting too many prostitutes at a time.
"Honestly babe the problem is you have too many girls there," Deboves said, the Daily Wire reported. "I understand you like a lot of girls but that's fine do one at a time at the tops to Which is fine but just hire the second girl for like 1 hour."
In a subsequent conversation, Deboves admitted to spending Biden's money on buying heroine, the Daily Wire reported.
"WTF babe where are you?" Hunter asked.
"Baby I am so sorry listen I'm not trying to take advantage of you but I spent all of the money that you got me on black," she reportedly texted. "I went to Walmart to get needles babe."
In another embarrassing laptop leak, a naked Hunter can be seen in a video casually waving around a handgun and even pointing it at the camera "while cavorting with a nude hooker in a swank hotel room,"  the New York Post reported last week.
Packin' heat: Nude Hunter Biden cavorts with hooker, illegal gun in latest mess for president https://t.co/Uivqg9HgXe pic.twitter.com/qZdb8DZ8Fu

— New York Post (@nypost) June 6, 2022
Here is Hunter Biden with an illegally owned firearm, in a hotel room with an illegally-purchased prostitute, while using crack cocaine—also illegal.

But if you're a law-abiding citizen, unlike the president's son, they're coming for your guns. This is Anarcho-Tyranny in action. pic.twitter.com/1OykzSXYxp

— Charlie Kirk (@charliekirk11) June 7, 2022