In a series of interviews Thursday, "Ultra MAGA" Pennsylvania senatorial candidate Kathy Barnette attempted to clear the air after her campaign came under attack for not being transparent about her background.
After her highly praised debate performance on May 4, Barnette surged to a statistical three-way tie with Republicans David McCormick and the Trump-endorsed Dr. Mehmet Oz in the Republican primary race for the open U.S. Senate seat in Pennsylvania.
During the debate, Barnette revealed that she was a product of rape, and her mother was only 11 years old when she was conceived.
"I was not just a lump of cells, as you can see, I'm still not just a lump of cells​. My life has value and that is one of the reasons why it was very disturbing when I saw Mehmet Oz running for this particular race when I've seen him on numerous occasions and specifically at the ​'​Breakfast Club​' saying that my life was nothing more than an acorn with electrical currents​," Barnette said.
​"I am wondering if the good doctor has now since changed his position on that. My life is valuable and so are the many lives that find themselves in the womb of their mother, whether in the womb or toward the end of that life​," she said.
While Oz and McCormick have been slinging mud at each other for months, damaging each other's campaigns, Barnette's compelling personal story and her authentic brand of conservatism  prompted many Republican voters in Pennsylvania to support her as a viable candidate.  In recent days, she has been endorsed by the Club for growth, Susan B. Anthony List, Catholic Vote, and the American Principles Project.
Now she's facing major heat from her Republican opponents and a major food fight has ensued between the camps.
On Wednesday, the long knives came out for Barnette on Twitter, with Oz surrogate Ric Grenell posting deceptive tweets painting her as a Black Lives Matter supporter, and others, like John Cardillo and Sean Parnell, questioning her military service.
Also on Wednesday, a super PAC backing Oz released a deceptively edited ad titled "Crazy Kathy," that was widely shared by his surrogates on Twitter.
That same day, reporter Salena Zito published a piece in the Washington Examiner criticizing Barnette's campaign for refusing to answer basic questions about her background.
The questions Zito wanted to ask were, as she noted, "pretty straightforward and simple."
The name of her hometown
Where was she an adjunct professor and when?
When was she in officer candidate school?
What financial institutions did she work at and when?
When did she move from Virginia to Pennsylvania? (She says in her book bio from 2018 that she lived in Virginia, so what year did she move to Pennsylvania?)
And a confirmation that the college she graduated from was Troy State University.
Former President Donald Trump issued a statement Thursday afternoon, saying: "Kathy Barnette will never be able to win the General Election against the Radical Left Democrats. She has many things in her past which have not been properly explained or vetted, but if she is able to do so, she will have a wonderful future in the Republican Party—and I will be behind her all the way."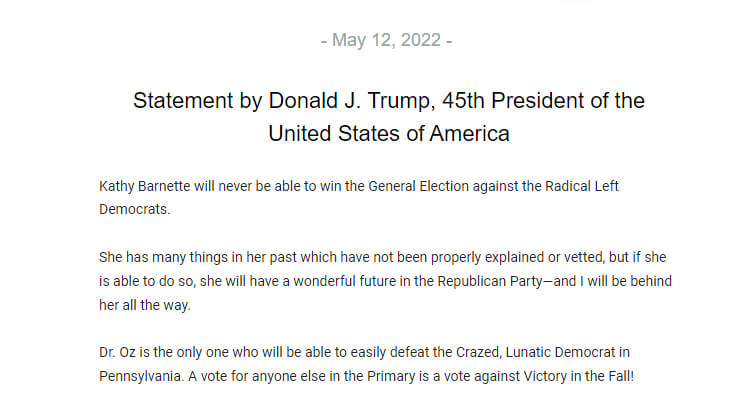 In separate interviews Thursday, Barnette spoke with conservative radio talk show hosts Chris Stigall, Steve Deace, and Rich Zeoli to answer those questions and more.
The candidate explained to Stigall that she was on the road Wednesday when all the knives came out for her. She said she didn't have her military records on hand to provide to Zito, because she doesn't carry them around everywhere she goes "in her back pocket."
She told Stigall that the article was published before she could get back to Zito with her military records, which are now available to view online.
"I've running this race for 13 months and yesterday all of a sudden yesterday, everybody's like 'who is she?!" Barnette exclaimed. The candidate said she has been trying to get the media's attention for over a year, and they are only now starting to pay attention to her.
"I am not trying to hide anything," Barnette said. "I have lived as a very open book."
On her website, Barnette claims to have "served her country proudly for 10 years in the Armed Forces Reserves where she was accepted into Officer Candidacy School."
Stigall asked her if she was ever called to active duty while she was in the Army Reserve or National Guard. An active duty member of the military holds a full-time occupation as part of a military force, while reserve duty service members are enlisted as part timers.
Barnette said she was never called to active duty and has "never made that claim." She said her unit "never got deployed," but she did attend basic training.
Barnette said that she served in the Army Reserves and the National Guard from 1990 to 2000.
Stigall asked Barnette if she was ever issued a DD-214, which identifies the veteran's condition of discharge—honorable, general, other than honorable, dishonorable or bad conduct.
The candidate said she had, and the documents she released are all in order.
BREAKING: Kathy Barnette has just sent me her photos of her military records, both Army Reserve and National Guard pic.twitter.com/pLOHDKndiT

— Jack Posobiec 🇺🇸 (@JackPosobiec) May 11, 2022
She said she's been interviewed by Sean Hannity seven times on his radio and Fox News shows so it seems odd that he would be complaining that she's "unvetted."
"He spoke glowingly about me until Oz came into the picture," she noted.
Barnette later challenged Hannity to invite her back on his show to debate Dr. Oz.
"I'm blocking out 9pm on Monday, just for you Sean," she tweeted.
If @SeanHannity wants to claim his show is "fair and balanced," then bring me on, in-studio with @DrOz and let's have a fair and balanced discussion.

I'm blocking out 9pm on Monday, just for you Sean.

Ratings will be huge! See you then.

— Kathy Barnette (@Kathy4Truth) May 12, 2022
The candidate told Stigall that her hometown was Nichburg, Alabama, which she said is now called Repton, and that she has never lived in Virginia. She said her 2018 book bio contained a typo saying that she lived in Virginia, and she didn't bother to correct it because she wasn't planning at the time to run for office.
Barnett told Stigall that she has lived in Pennsylvania for nine years, and she raised both of her children there.
When asked where and when she was an adjunct professor, Barnette said Justin University in Illinois, but wasn't sure about the date. "Probably 2009," she said.
Barnette said she previously worked at two financial firms, A.G. Edwards and Sons and Bank of America Capital Asset Management and that she graduated from Troy University.
She told talk show host Rick Zeoli that she was accepted into Officer Candidate School when she was in the Army Reserves but decided not to go through with it after she got married.
"I went through their rigorous paperwork, vetting and interviews to be accepted into Officer Candidate School, and I have always said that I did not finish it because I got married," she said, explaining that she wanted to dedicate her life at that point to her family.
Barnette also spoke Thursday with conservative talk show host Steve Deace for his Blaze radio show.
After the interview, Deace said: "Over the course of my career going back to local radio, I have exposed a lot of frauds," Deace said. "But if she's a fraud, she's the best damn one I've ever seen."
Today's @BlazeTV show — Pennsylvania Senate candidate @Kathy4Truth joins us to answer attacks on her campaign. https://t.co/RenJJjM2jP

— Steve Deace (@SteveDeaceShow) May 12, 2022