A judge in Georgia on Friday found that U.S. Rep. Marjorie Taylor Greene (R-Ga.) may run for reelection, rejecting arguments from a group of voters who alleged she was ineligible to run for office due to her involvement in the January 6 protest in Washington D.C.
A national election and campaign finance reform group called "Free Speech for People" filed the complaint on behalf of five Georgia voters.
The voters alleged in the complaint that Green had engaged in "insurrection," and was thus in violation of a seldom-invoked provision of the 14th Amendment that states that any member of Congress who has taken an oath to uphold the Constitution may not hold an office again if they "have engaged in insurrection or rebellion against the same, or given aid or comfort to the enemies thereof."
Administrative Law Judge Charles Beaudrot heard arguments from lawyers on both sides, and listened to Greene answer questions during a daylong hearing last month. State law requires Beaudrot to submit his findings to Republican Secretary of State Brad Raffensperger, who will make the ultimate decision regarding Green's eligibility.
Greene acknowledged encouraging a rally to support Trump but she said she wasn't aware of plans to storm the Capitol or to disrupt the electoral count using violence. Greene said she feared for her safety during the riot and used social media posts to encourage people to be safe and to remain calm.
In his ruling, Beaudrot wrote that there was no evidence that Greene had "engaged" in an insurrection at the Capitol.
"Whatever the exact parameters of the meaning of 'engage' as used in the 14th Amendment, and assuming for these purposes that the Invasion was an insurrection, Challengers have produced insufficient evidence to show that Rep. Greene 'engaged' in that insurrection after she took the oath of office on January 3, 2021," he wrote.
Greene's "public statements and heated rhetoric" may have contributed to the environment that led to the attack, Beaudrot wrote, but her statements are protected by the First Amendment right to free speech and expressing such political views, "no matter how aberrant they may be" before she was sworn in as a member of Congress does not amount to insurrection.
In a tweet Friday afternoon, Green posted a screenshot of Beaudrot's ruling and wrote "ACQUITTED."
ACQUITTED. pic.twitter.com/p8aH6rbm01

— Rep. Marjorie Taylor Greene (@RepMTG) May 6, 2022
Once Raffensperger makes his decision, either side has 10 days to appeal it in Fulton County Superior Court. Raffensperger is facing a Republican primary challenge on the May 24 ballot after he refused to bend to pressure from Trump to overturn Joe Biden's victory in Georgia. Raffensperger has decried the 2021 attack on the Capitol, writing in his book that he found it "highly objectionable" that "people are now trying to minimize what happened on January 6."
Some are speculating that the Sec. of State could try to "exact revenge on former President Donald Trump" by deciding that Greene should be disqualified from seeking re-election. Trump and Raffensperger clashed repeatedly over the 2020 election results in Georgia in the days and weeks that followed the contested election.
During the hearing on April 22, Greene testified that she believed there was "a tremendous amount of voter fraud" in the 2020 election.
"We have investigations going on right now in Georgia. There is investigation going on in multiple states," the Republican congresswoman said.
On Wednesday, Greene attended the premiere at Mar-a-Lago of 2000 Mules, Dinesh D'Souza's documentary of voter fraud in the 2020 election.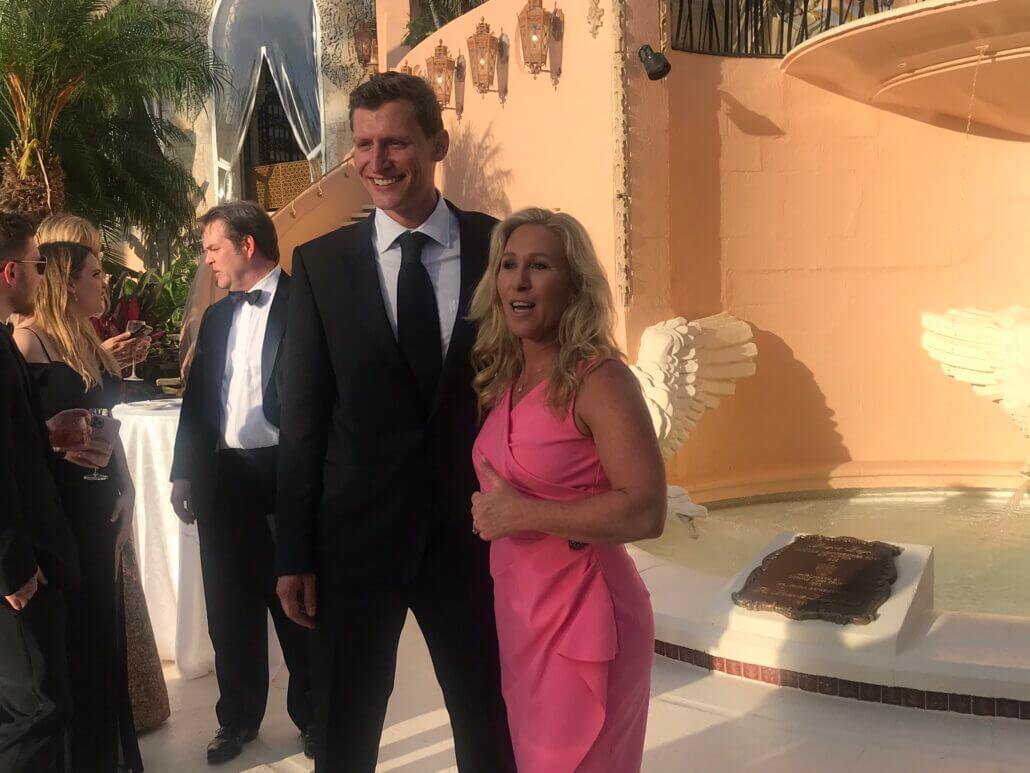 Rep. Marjorie Taylor Green and Republican candidate for Arizona Senate Blake Masters at Mar-a-Lago for 2000 Mules premiere, May 4, 2022.
Trump blames Raffensperger and Governor Kemp for greenlighting a consent decree pushed by Democrats Stacey Abrams and Mark Elias that required the state to send ballots to both active and inactive voters
"The Consent Decree signed by the Georgia Secretary of State, with the approval of Governor @BrianKempGA, at the urging of @staceyabrams, makes it impossible to check & match signatures on ballots and envelopes, etc," Trump wrote on Twitter about a week after the election. "They knew they were going to cheat. Must expose real signatures!" he said.
In a second tweet the then president added: "What are they trying to hide. They know, and so does everyone else. EXPOSE THE CRIME!"
The movie 2000 Mules alleges that left-wing cabals in Georgia and other battleground states used dirty voter rolls to execute the fraud.
"We now know that ineligible voter records contributed to 75,000 of the votes in the General and 45,000 votes in the run-off" in Georgia, True the Vote's Catherine Engelbrecht said in a recent interview.
Trump has endorsed one of Raffensperger's challengers, Congressman Jody Hice, in the upcoming Georgia secretary of state primary election.
"Jody has been a steadfast fighter for conservative Georgia values and is a staunch ally of the America First agenda," Trump said in a March 2021 statement. "Unlike the current Georgia Secretary of State, Jody leads out front with integrity.
The former president continued his feud with Raffensperger this week, blaming him and other Georgia election officials for the "hell" Greene went through due to the lawsuit.
"The Governor of Georgia, Brian Kemp, and Secretary of State, Brad Raffensperger, perhaps in collusion with the Radical Left Democrats, have allowed a horrible thing to happen to a very popular Republican, Congresswoman Marjorie Taylor Greene," Trump said in a statement Thursday. "She is now going through hell in their attempt to unseat her, just more of an election mess in Georgia."
Raffensperger is expected to release his final decision on the matter soon.