A 2017 memorandum of understanding between the Wuhan Institute of Virology and the University of Texas Medical Branch at Galveston gives the Chinese government-owned biological research lab the right to demand the U.S. taxpayer-funded facility destroy documents, a new report reveals.  
According to the MOU: "All cooperation and exchanges documents, data, details and materials shall be treated as confidential by the parties. . . The confidentiality obligation shall be obligatory through the duration of this MoU and after it has been terminated. The party is entitled to ask the other to destroy and/or return the secret files materials without any backups." (emphasis added).
The document was signed by UTMB investigator James W. LeDuc, WIV coordinator Zhiming Yuan, and UTMB senior vice president and general counsel Carolee A. King, an expert in "health care and regulatory law, hospital compliance, fraud and abuse, medical liability, physician practice and clinical research."
U.S. Right to Know, which obtained the memorandum, headlined its story "Wuhan lab can delete data in 'explosive' legal agreement with U.S. lab."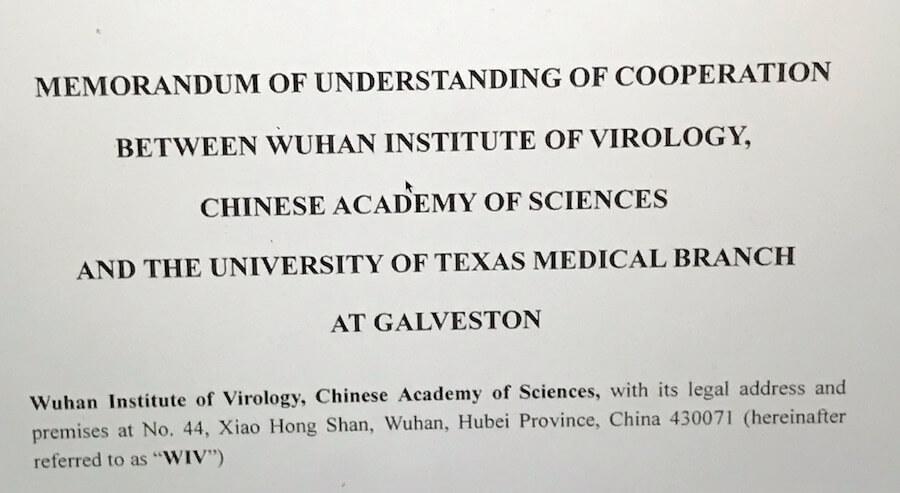 Legal observers had never seen anything quite like it. 
"Anytime I see a public entity, I would be very concerned about destroying records," attorney Reuben Guttman told Right to Know's Emily Kopp. The destruction clause, Guttman said, "is quite frankly explosive." 
The University of Texas is a public institution receiving federal funds, and the lab was established by the National Institutes of Health. Both are subject to state and federal disclosure laws. 
As Kopp noted, the UT Galveston lab in 2009 lobbied the Texas legislature unsuccessfully for an exemption to the Texas Public Information Act to prevent records from being released to transparency and biosafety advocate Edward Hammond. As Kopp explains, the destruction clause "could also risk obstructing congressional investigations into the COVID-19 pandemic." 
The Galveston National Laboratory was a 2008 creation of the National Institute of Allergy and Infectious Diseases (NIAID), the National Institutes of Health division headed by Dr. Anthony Fauci since 1984. In early 2020, Fauci and his collaborators propagated the theory that the COVID virus arose naturally in the wild.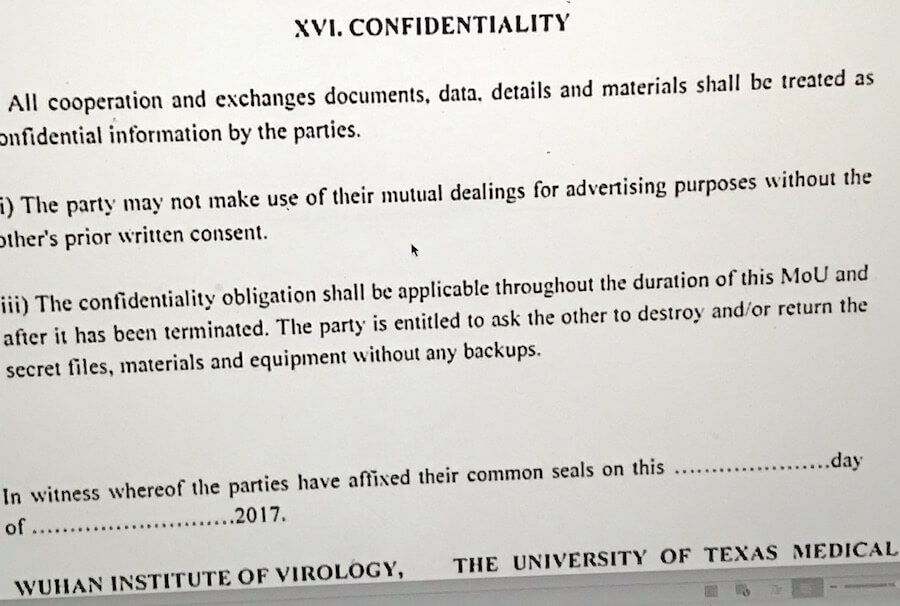 The same Fauci funded gain-of-function research, which manipulates viruses in order to make them more lethal and transmissible, at the Wuhan lab. Yet Galveston lab director James LeDuc seemed to have no clue what was going on at the Wuhan Institute of Virology, controlled by China's Communist Party. In a February 9, 2020, email to Juan Zhiming, Le Duc asked if gain-of-function studies had resulted in the creation of the virus that caused the pandemic. By February 2020, the evidence was mounting. 
"China and Viruses: The Case of Dr. Xiangguo Qiu," a January 2020 paper by Israeli molecular biologist Dr. Dany Shoham, revealed that Qiu shipped a cargo of deadly pathogens to the Wuhan Institute. The shipment included a variety of exotic viruses: Makona, Mayinga, Kikwit, Ivory Coast, Bundibugyo, Sudan Boniface, Sudan Gulo, MA-Ebov, and GP-Sudan Ebolaviruses; Hendra, Nipah Malaysia, and Nipah Bangladesh. 
This deadly cargo came from Canada's National Microbiology Lab in Winnipeg, where Qiu, a Chinese national, ran the special pathogens program. In 2017 and 2018, Qiu made at least five trips to Wuhan. 
In February 2020, Qiu and her husband, Keding Cheng, were removed from the Canadian National Lab on what authorities described as administrative and policy matters. One of their staunchest defenders was Dr. Gary Kobinger, head of the lab's special pathogens biosafety program from 2008 to 2016. Kobinger simply echoed Qiu's claim that it was all a misunderstanding and nothing untoward had taken place. 
That same February, Le Duc retired from his post at the federally funded Galveston lab. The new director of the Galveston National Laboratory is Dr. Gary Kobinger himself.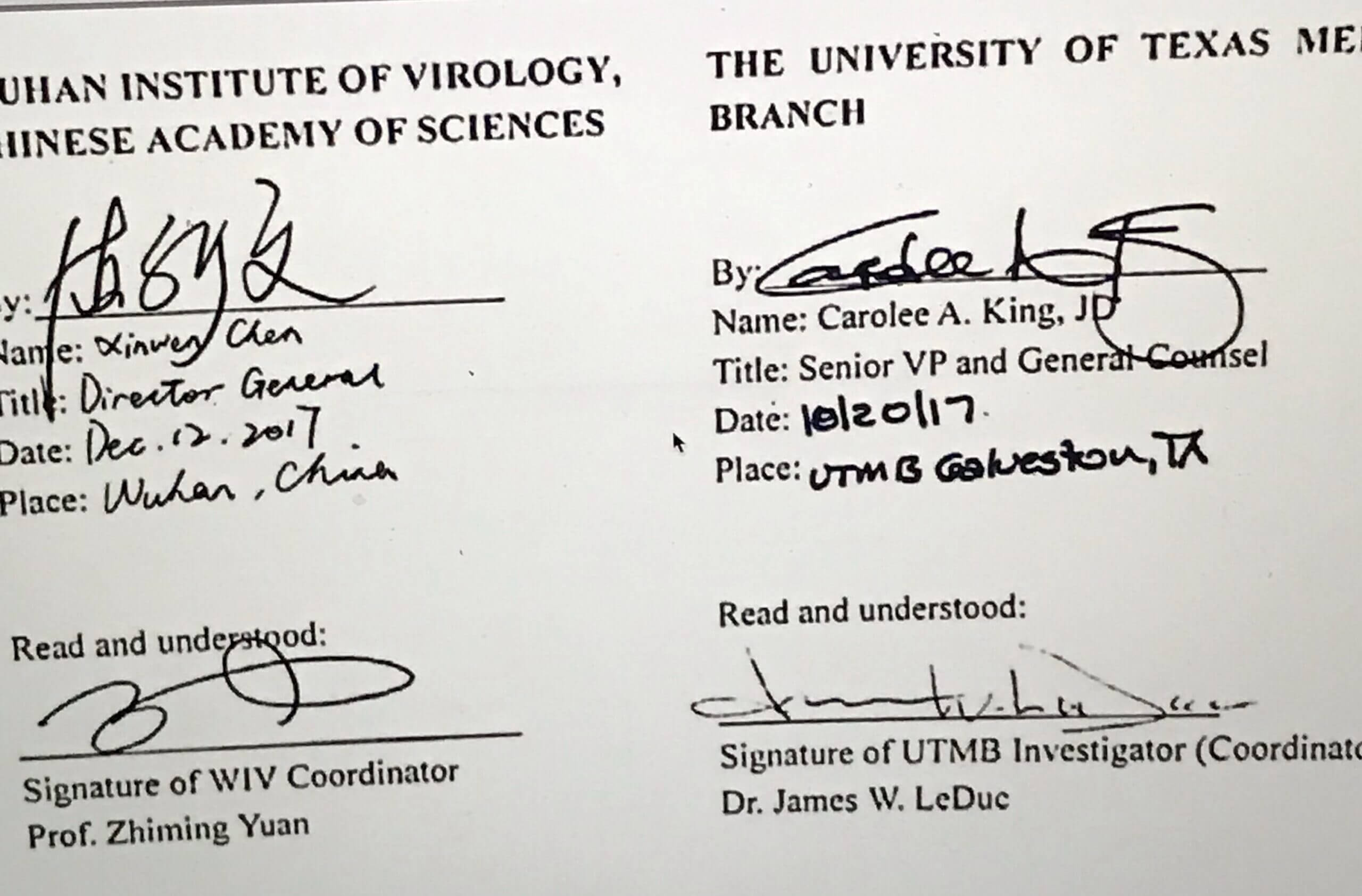 While Fauci maintained the natural origin theory, evidence of a lab leak was mounting. When CDC director Dr. Robert Redfield found evidence that the virus leaked from a Chinese lab, he began to receive death threats. 
"There is no way this virus came from us," Wuhan Institute vice-director Zhiming Yuan told reporters. That was a "conspiracy theory" designed to "confuse people." Zhiming Yuan was a signatory to the deal that allowed the Wuhan facility to demand the destruction of documents, data, details, and materials at the Galveston National Laboratory. That "explosive" measure remains in effect even after the five-year deal ends in October 2022. 
As Emily Kopp also revealed this month, James LeDuc "asked Wuhan Institute of Virology scientists to edit a briefing he prepared for Congressional staff." LeDuc gave a copy of his testimony to virologist Shi Zhengli, China's famous "Bat Woman," and told her to "make any changes that you would like." The deferential LeDuc also kept Wuhan Institute boss Yuan Zhiming in the loop.  
In a similar style in early 2020, the CDC's Dr. Nancy Messonnier delivered a series of briefings that faithfully echoed China's talking points. And in early 2020, Dr. Fauci opposed President Trump's ban on travel from China and praised China's response to the pandemic. 
What did Fauci, Messonnier, LeDuc, and Kobinger know, and when did they know it? What documents, data, details, and materials did the Galveston National Laboratory destroy at the demand of the Wuhan Institute of Virology? What other documents have been kept secret?  
Evidence of a coverup is mounting. If embattled Americans believe China is in charge, it sure would be hard to blame them.