Twitter banned Juanita Broaddrick on Monday, after the platform flagged her tweet challenging the effectiveness of the experimental COVID vaccines.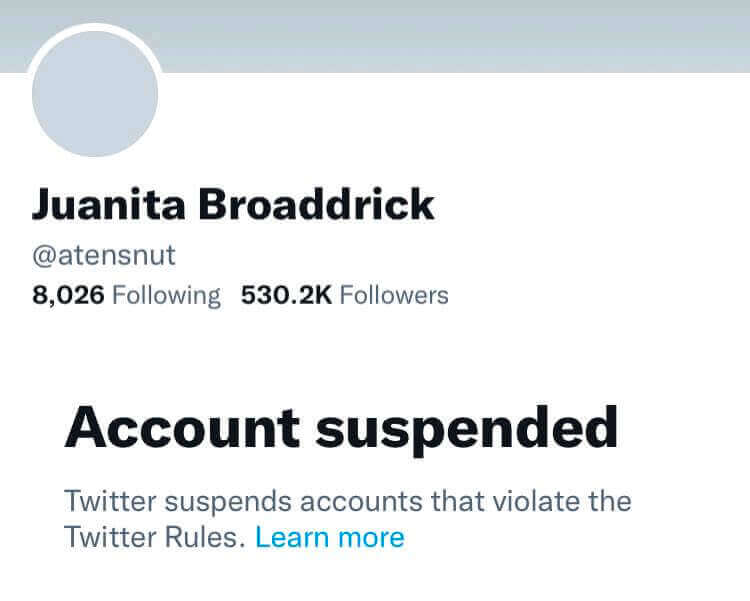 Broaddrick, a former nursing administrator from Arkansas who accused former President Bill Clinton of raping her, told Fox News Digital in an email that Twitter locked her account for allegedly "violating the policy on spreading misleading and potentially harmful information related to COVID-19."
She joins former President Donald Trump, TPUSA founder Charlie Kirk, the Babylon Bee, and thousands of other conservatives who have also been banned from the platform for pushing unapproved narratives.
"I am so devastated. With one click of the delete button Twitter took away over half of my income from book sales," she reportedly told Republican strategist Alex Bruesewitz.
Text message I just received from my friend Juanita Broaddrick who is an 80 year old grandma:

"I am so devastated. With one click of the delete button Twitter took away over half of my income from book sales."

Meanwhile the Taliban can tweet. So wrong!

— Alex Bruesewitz (@alexbruesewitz) April 11, 2022
In the offending tweet, the 79-year-old wrote that the pharmaceutical companies have greatly profited off of ineffective vaccines that "alter DNA."
"When will this vaccine crap be over? Big Pharma has profited enough for the next hundred years. Stop pushing vaccines that don't work and alter DNA," she said in the April 9 tweet.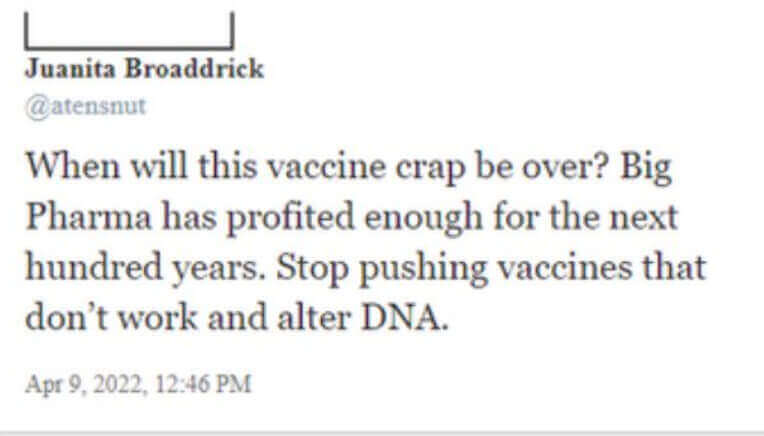 Broaddrick was likely referring to an alarming Swedish study, released in March, that found that the mRNA from Pfizer's COVID-19 vaccine is able to enter liver cells and can be converted into DNA.
The researchers found that when the mRNA vaccine enters the human liver cells, it triggers the cell's DNA, which is inside the nucleus, to increase the production of the LINE-1 gene expression to make mRNA.

The mRNA then leaves the nucleus and enters the cell's cytoplasm, where it translates into LINE-1 protein. A segment of the protein called the open reading frame-1, or ORF-1, then goes back into the nucleus, where it attaches to the vaccine's mRNA and reverse transcribes into spike DNA.

Reverse transcription is when DNA is made from RNA, whereas the normal transcription process involves a portion of the DNA serving as a template to make an mRNA molecule inside the nucleus.

"In this study we present evidence that COVID-19 mRNA vaccine BNT162b2 is able to enter the human liver cell line Huh7 in vitro," the researchers wrote.  "BNT162b2 mRNA is reverse transcribed intracellularly into DNA as fast as 6 [hours] after BNT162b2 exposure."

BNT162b2 is another name for the Pfizer-BioNTech COVID-19 vaccine that is marketed under the brand name Comirnaty.
Famed cardiologist Dr. Peter McCullough discussed the Swedish research at a recent COVID-19 town hall in the Bahamas.
"If this is true, this means people who have taken the vaccine now actually have a permanent alteration in their genes, that they themselves have the code for this dangerous Wuhan spike protein… that they themselves, years later, could potentially produce the spike protein either on a chronic low level to cause disease, or on an inducible level," McCullough said.
"This is far and away the most worrisome paper that has been published since the release of the vaccines. And if it's true, we could be in real trouble because parent cells would pass it on to daughter cells. That means gametocytes, that is sperm and egg [cells], will contain some of this and pass it down to the baby, and we'll never be able to get this spike protein out of the human species," he warned.
Twitter told Fox News that Broaddrick's account was locked for violating it's policy on "spreading misleading and potentially harmful information" related to COVID.
Twitter also said it told Broaddrick that her account can be restored if she deletes her tweet.
"We understand that during times of crisis and instability, it is difficult to know what to do to keep yourself and your loved ones safe," the company said.
"Under this policy, we require the removal of content that may pose a risk to people's health, including content that goes directly against guidance from authoritative sources of global and local public health information."
However, even as "authoritative sources" like the FDA and NIH publicly claim that the COVID shots are safe, they have reportedly been quietly studying numerous neurological disorders seen in people post injection.
Independent media clearly following events of malfeasance and willful blindness as more are injured and some permanently disabled. @OANN pic.twitter.com/6cOIl3ogie

— Peter McCullough, MD MPH (@P_McCulloughMD) April 11, 2022
Increasingly, the adverse events are becoming impossible to ignore, with even sports journalists in highly vaxxed Australia discussing the alarming number of vaccine injuries in sports figures.
This is from a main stream sports channel in Australia pic.twitter.com/HJHWAlEpRg

— Luke Rudkowski (@Lukewearechange) April 11, 2022
Broaddrick first claimed in 1999 that Clinton raped her during a meeting in Little Rock in 1978, when he was the state's attorney general.
Clinton's attorney denied the claim at the time and he was never charged.