Madeleine Albright died last week. She leaves an undisputed legacy as the first female secretary of state, but her impact goes beyond this historic achievement. She was also the architect, along with President Bill Clinton, of the post-Cold War consensus on U.S. foreign policy, which may be described as muscular idealism. 
The world had changed considerably before and during Clinton's first term. The Soviet Union had disbanded. Germany had reunited. As a consequence, the U.S. military was shrinking considerably, turning budget deficits into surpluses. Yet even with this "peace dividend," America stood atop the world as the undisputed and sole superpower. 
There were a host of new problems created by the end of the dual superpower equilibrium. Islamic terrorism grew worse as the Israeli-Palestinian conflict dragged on and the Taliban replaced the former Soviet client state in Afghanistan. Iraq labored under sanctions, arms inspections, and no-fly zones, which proved controversial with the far Left of the Democratic Party. At the same time, China began to grow stronger as it became a manufacturing powerhouse, fueled by Western capital and "most favored nation" trading status. 
Albright Championed American Power
Like so many who advance in Washington, Albright had the golden résumé. She had served with Zbigniew Brzezinski in Jimmy Carter's White House, obtained a doctorate from Columbia, taught at Georgetown, and went on to serve as Clinton's United Nations ambassador. When she was promoted to secretary of state, she replaced the somewhat lackluster Warren Christopher, whose chief achievement was the convoluted Dayton Accords, which ended the civil war in Bosnia. 
Like her mentor Brzezinski, Albright had a central European heritage and saw America's role in the two world wars as its finest hour. For her, America was a great nation, whose greatness consisted not in its Constitution or its domestic life, but in how America shaped the world using its substantial economic and military power to promote democratic values overseas. 
As she grandiloquently put it, "We are the indispensable nation. We stand tall and we see further than other countries into the future, and we see the danger here to all of us."
The Kosovo War
After the end of the Cold War, Serbia became the focus of the first of many "humanitarian" interventions. Serbia's leader, Slobodan Milsovic, remained a hated figure in Washington, D.C., for his general rejection of the Western-supported separatist movements in the former Yugoslavia. When those wars had mostly been resolved—Slovenia and Croatia became independent, and Bosnia was placed under a multinational protectorate in 1995—what was left of Yugoslavia, Serbia, and Montenegro stood as an obstacle to NATO's and the Clinton Administration's plans for a new Europe. 
The pretext of the 1999 war was the Serbian regime's alleged genocide of Albanians in Kosovo. Buoyed by the recent successes of anti-Serb movements in Bosnia and Croatia, mostly Muslim Albanian fighters converged from all over Europe to assist their coethnics in a separatist war, but the Serbian military and police proved to be tough opposition. Kosovo had historic and cultural significance to the Serbs as the site of a major battle against the Ottoman Turks in 1389. Because of irreconcilable claims to the same territory, this became a typical war of separatism, complete with a heavy-handed response by the state's security forces. 
Unable to secure U.N. approval for their actions due to Russia's veto in the Security Council, the United States relied on NATO instead. After demanding that Milosovic stand down with the usual "take it or leave it" rhetoric in the run-up to the war, the United States and its NATO allies proceeded to bomb Serbia for the next 78 days. The Serbian military eventually departed and agreed to a semiautonomous status for Kosovo, not least because Serbia proper was being shelled, including power plants, TV stations, and, inadvertently, the Chinese embassy. The evidence of "mass graves" and genocide of tens of thousands turned out to be completely overblown; when the war was over, the FBI could only find evidence of about 200 civilians killed, some presumably combatants. 
For the next decade, the Albanians of Kosovo proceeded to mistreat their Serbian neighbors, burning down churches and running out the remaining Serbs. Later, in 2007, when Kosovo declared independence, the United States granted recognition, even though Russia and its allies protested. In Georgia in 2008 and now again in Ukraine, Russia belatedly responded to these actions with the application of hard military power against American proxies, frequently invoking the hypocrisy of the Kosovo War as a precedent.
The Serbian War was probably Albright's biggest legacy—I hesitate to call it an "achievement." It was the first purely humanitarian war following the end of the Cold War, and it showed the United States would disregard the U.N. Security Council when it could not obtain its imprimatur. Albright defended the Kosovo War as part of America's duty to promote democracy and human rights, even when the alleged offense was completely confined to another nation's internal borders. Like the later Iraq War, some fudging of the facts caused little consternation or soul searching by Albright and the rest of the foreign policy establishment.
As illustrated by Kosovo—and later by Libya and Syria—foreign policy idealism muddies up the old Westphalian distinction of internal affairs and foreign affairs. In Kosovo, the chief casus belli was the manner in which Serbia dealt with groups within its borders that the whole world had labeled as terrorists only a few years earlier. Of course, the realpolitik motivation of the campaign was obvious: to cut off Russia's last outpost of influence in Central Europe and fully solidify NATO and America's power to call the shots in the Balkans. 
The Kosovo War and the subsequent crisis that led to Milosovic's ouster and prosecution as a war criminal can be understood as the first color revolution. 
The Undiplomatic Diplomacy of the Idealists
Albright also differs from her predecessors in the triumphant and imperial tone of her rhetoric. James Baker spoke warmly of his Soviet counterparts, with whom he negotiated complex matters, including the departure of Soviet forces from Germany and the consolidation of the Soviet nuclear arsenal in the Russian Republic. 
Similarly, while Henry Kissinger was not a warm person, he was a genius, and part of that genius lay in the kind of intellectual empathy that forms the best foundation for true diplomacy. At its highest, diplomacy can educate, nudge, and explain both one's own interests and one's sense of the interests of others. In this way, it can avert preventable wars and avoid nascent conflicts. 
As the nation's top diplomat, Albright, like her successors Condoleezza Rice, Hillary Clinton, and John Kerry, did not really do diplomacy. She proclaimed America's power and right to do as it pleased globally. And she made demands and threats against Iraq and Serbia, as well as other nations. Sometimes these threats garnered compliance, and sometimes they resulted in ill-conceived wars, such as the Kosovo War. 
Foreign policy idealists always retreat to their purity of intention when real world consequences do not live up to the rosy rhetoric. Just as Albright brushed off the reported 500,000 Iraqi children who died as a result of U.S. sanctions, Hillary Clinton as secretary of state shrugged at the brutal murder of Muammar Gaddafi after the NATO-led effort against Libya in 2011. 
The sleight of hand that labels such policies "idealist," masks the ugly reality of military conflict in the pursuit of expansive goals like "human rights" and "unipolarity." War, even so-called humanitarian war, means death and suffering, mangled bodies and hapless refugees, a horror for combatants and civilians alike. Because of its intrinsic and unavoidable evils, it is supposed to be a last resort, proportional to the interests involved, and only employed after other alternatives have been exhausted.
Trump's America First view, while seemingly aggressive at first glance, at its core recognized that our interests have natural limits, and that other nations have interests, concerns, and beliefs, too. In other words, it is a counsel of restraint, a variation of the same kind of successful realism practiced by Kissinger, Baker, and their predecessors. By recognizing and attempting to accommodate the competing and objective interests of states, the sturdy foundation of realism is a more reliable path to tangible objectives like peace, stability, and mutual respect among nations.
Realism is also a useful handmaiden to strategy. Strategy requires priorities, which means discarding some that may be too costly because of economic and other limitations or too remote from the perspective of national interest. An inflated view of America's mission and American power, exemplified by Albright's sobriquet that we are "the indispensable nation," does not allow this prioritization. Instead, it seeks to impose power everywhere and for every reason, all in the name of "human rights" and "democracy." 
This failure to prioritize in general, and the high priority given to humanitarian objectives, have led to a general weakening of America at home and abroad, and have become obstacles to focusing on the biggest foreign policy challenges in the years ahead, including China's emergence as a global power.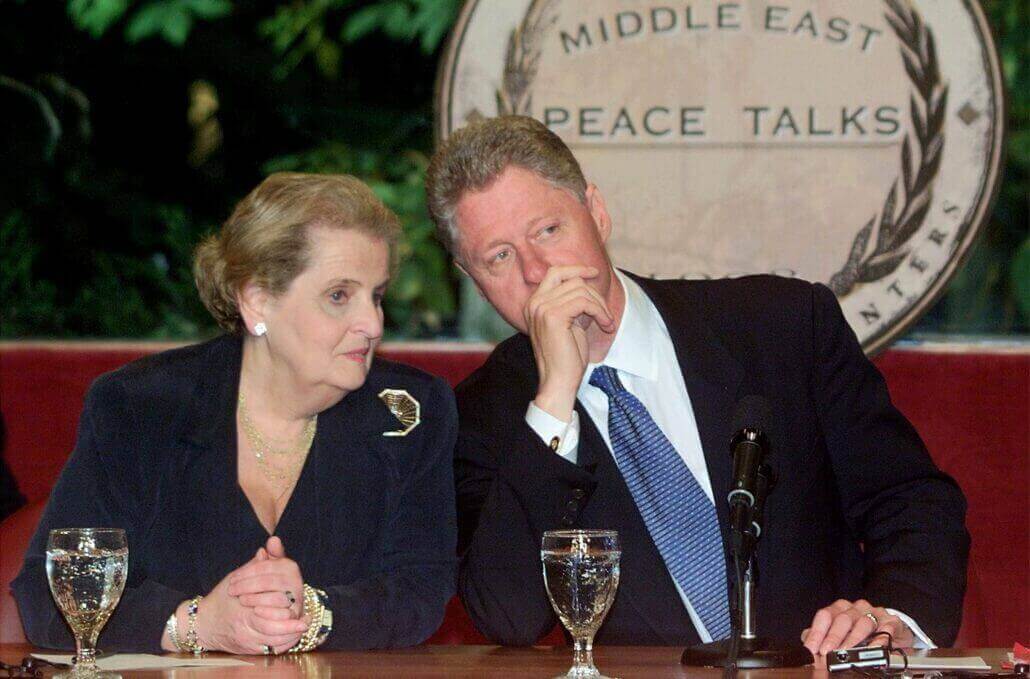 Albright's Shadow Over Ukraine
As secretary of state, Albright had much to do with the expansion of NATO into Eastern Europe, in spite of earlier American promises and Russian protests. Blind to the interests and concerns of other nations, she defended the policy vigorously, noting, "We do not need Russia to agree to enlargement. . . . I do not expect the Russian government to change its mind about NATO's plans to take in new members. We must face this fact squarely, but we should also recognize it for what it is: an issue of perception, not of military reality. NATO poses no danger to Russia, just as Russia poses no danger to NATO." 
Some perceptions are more accurate than others. Two years later, in Kosovo, NATO went from being a defensive alliance to an offensive one. NATO was also the umbrella for the 2011 Libya campaign. 
As with Kosovo, a misplaced idealism has much to do with the current war between Russia and Ukraine. The meddling in Ukraine's internal affairs in the Maidan coup of 2014, along with the recent failure to walk away from Ukrainian NATO membership, created unnecessary ambiguity and functioned together as an implicit threat to which Russia ultimately responded with force. After the invasion was underway, the overly harsh sanctions have encouraged Russia, China, India, and other intermediate powers to become closer to one another. 
Freezing Russian's foreign-held currency reserves has boomeranged, damaging the dollar, and possibly dooming its current status as a global reserve currency. Finally, the decision to send significant armaments to Ukraine after the start of the hostilities, while doing nothing to bring an end to the war, does not seem to have any realistic end state in mind and is particularly risky in light of Russia's paranoia and large nuclear arsenal. 
Love of the United States and admiration for worthy uses of its power—including the liberation of the people of Western Europe in World War II and our contributions to the liberation of the people of Eastern Europe in the Cold War—are healthy and appropriate sentiments for an American secretary of state. But a distorted view of America, one fueled by a disregard for other nations and their interests, has led to long and expensive wars, strategic weakness toward our largest geopolitical competitors, and a continuing worldwide sentiment of anti-Americanism. 
Madeleine Albright, more than any of her predecessors, promulgated the malign tendency in American foreign policy towards the unrealism of humanitarian wars. This allegedly moderate view led to the same meager and immoral results in Iraq, Libya, and Syria, as it did during its trial run in Kosovo. If it were to be attempted in Ukraine, the results could be not merely mediocre, but catastrophic.