Last spring, I found myself sitting in an Adirondack chair on the side of a mountain, surveying the peaks of the neighboring hills and the valley below (so wide was my view). The day was hot and sunny, the skies blue, and the fluffy clouds spun their own tales to the bearer of even the scantest imagination. The book I brought with me to my perch sat unopened on the armrest, taking a backseat to the entrancing sight in front of me. I was alone with my thoughts, the melodies of the birds singing sweetly around me, the hum of a thousand insects, and my God.
Shortly after I took my seat, a woman I had silently labeled "the Hat Lady" sank down in the only other chair on the side of that mountain, about 10 feet away. I had noted her with interest during my stay at the inn, as her plans seemed to have taken her to the same waterfalls and restaurants as me. She was always in some variation of an adorable hat. She looked to be around 65 years old, and she exuded good cheer, energy, and beauty. 
As she sat down, she grimaced over at me and asked if she would be bothering my alone time. I smiled at her and assured her there was plenty of view for the both of us. We sat in companionable silence for a bit, each lost in her own thoughts and admiration of the creation spanning our field of vision.
After several minutes, the Hat Lady turned to me and asked me something inconsequential. Was it about the book on my chair? The weather? The pizza I ate last night? I no longer remember the initial small talk, but I do remember with startling clarity the segue to what became an almost Tolkien-Lewis fireside chat. She asked me what I was doing in that part of the country. Just visiting, I told her. I didn't live terribly far away and had always been interested in the scenery in the area. I turned the question back to her.
"I'm dying," came the immediate reply.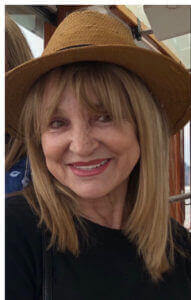 I stared at her for the barest few seconds. "Pardon me?"
She smiled sympathetically at me, for she knew what was coming was going to hurt even a stranger, and she began spinning her tale: a long, childless marriage where alcoholism ruled many a day, a dire diagnosis just a couple of years prior, a decision to not waste a moment of the remainder of an all-too-short life, the saving grace of a merciful Father, and joy unfettered since. 
I murmured, I asked questions, I laughed at the funny parts, and I sat with tears running down my face for the rest. She didn't have long left, she said. The cancer was spreading and her doctors were insisting she return home for scans and treatment. She wasn't sure how she felt about that—she wanted to cross the Rockies in a Jeep, she wanted to learn to pole dance, and she wished to visit Iceland with her friends—and she was pretty sure she didn't have time for all of it.
I had a thousand questions for her and no desire to hold back, and she had the patience and love to answer all of them. For how rare it is, to be able to speak so openly and honestly with someone staring directly into heaven's gates and ask what are you thinking, what are you feeling, how does it feel to die, how are you at peace, what causes you the most suffering, what gives you the greatest joy. I asked every one of those questions and more. She had truly found that which so many of us seek: peace through redemption and a promise of Glory. I mentioned to her the Psalm, "Precious in the sight of the Lord is the death of His saints," and she wept when she heard it.
The hours passed that day—they passed so quickly I was unaware that I was sunburnt and thirsty by the end. The Hat Lady had dinner plans with her sister, and she had to go get cleaned up as well. She gave me a hug and mentioned that she was going to come back to this very place—this pretty little inn on the side of the mountain—and breathe her last with her sisters around her come spring. 
I left early the next morning, but I placed a flower and a note next to the door of her cottage, with my phone number in case she ever needed anything. It was intensely important to me that she knew how deeply our conversation—and her approach to life and death—had touched me. She sent me a lovely text when she arose that morning with promises to stay in touch, and some personal thoughts about what the conversation had meant to her as well. 
Over the next few months, I received a bounty of texts and pictures. The Hat Lady crossed the Rockies in that Jeep (blue), she learned to pole dance with great enthusiasm, she visited Iceland with a grand group of friends. She hiked, she went to church, she made friends everywhere she went, she swam in a beautiful lake. And she praised God for the time and the ability to do all of those things with the days she had left. She also asked me to meet her back at the inn when it was time for her to return to do her last thing on earth. I promised, immediately, to do just that.
It appears that time is drawing close once again to meet with the Hat Lady, and I prepare to do so with much joy but also profound sadness. I am amazed that we can love others whom we really barely know, and I am so thankful God gives us a chance to love others wholeheartedly. 
The lessons I'm taking from her aren't bucket-list type lessons because I don't really think that is the point. There are so, so many other meaningful aspects to be garnered from this story, but the main one for me? Love. Love with everything you've got. Open yourself wide—even to strangers sometimes—and make those connections. Don't be afraid to show everything you've got in a safe place. For in those places, on the sides of those mountains, God is there—above, around, beneath, and before.