Ontario Premier Doug Ford has declared a state-of-emergency for the province of Ontario due to the truckers' freedom convoy in Ottawa and the blockades on the Canada/U.S. border.
During a press conference on Friday, Ford stated that there will be "severe" consequences for the truckers' actions.
"Today, I am using my authority as premier of Ontario to declare a state of emergency in this province," Ford said.
The center-right premier stated that he will convene the cabinet and "use legal authorities to urgently enact orders" that will protect "critical infrastructure," such as international border crossings, highways, airports, bridges, ports, railways, and medical services. He added that the government has "every intention to bring new legislation forward that will make these measures permanent in law."
"I will convene Cabinet to use legal authorities to urgently enact orders that will make crystal clear it is illegal and punishable to block and impede the movement of goods, people and services along critical infrastructure," Ford said.
"We've already started by going after the money funding the illegal occupation," he added.
The convoy's GoFundMe account with $9 million was shut down last week. The Christian crowdfunding site GiveSendGo then stepped in to host a fundraiser for the Freedom convoy, and quickly raised nearly $9 million.
On Thursday, Ford and the Ontario provincial government moved to freeze these funds to stop the transfer of donations to organizers of the protest movement.
In response, GiveSendGo said it will not be following the orders of the Ontario court to stop the transfer of funds to the protesters.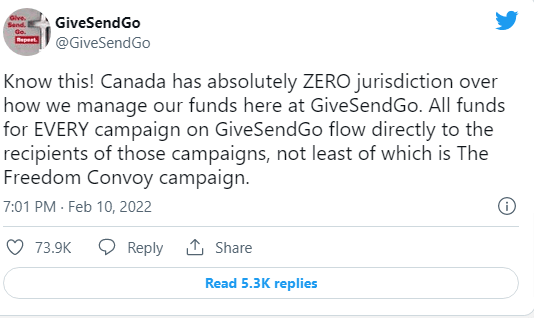 There are an estimated 8,000 to 10,000 truckers and their families currently camped out in Ottawa to protest vaccine mandates and stand up for freedom. Reporter Rupa Subramanya spent ten days among the truckers and interviewed about 100 of them. In a report for the Daily Mail, she said she didn't find a single "insurrectionist, white supremacist, racist or misogynist" among them, but rather "a diverse group of decent people who've had enough."
Stanley and his nephew were also at the protest today. Stanley is here for his son who was a postal worker till he was let go because of his vaxx status and has a three year old and baby to look after. pic.twitter.com/OlvEWm2OEf

— Rupa Subramanya (@rupasubramanya) February 10, 2022
Ottawa residents Alycia @plantbasedb and @SounguiFitness who live in centertown curious about the protests went to check them out and found only love and kindness. Songui brought his mother to the protests. She had only seen the mainstream coverage and she changed her mind. pic.twitter.com/T9UB1DgJkN

— Rupa Subramanya (@rupasubramanya) February 10, 2022
The Ottawa premier nonetheless called the protest an "illegal siege," and said that the government is "strengthening the tools and powers of our police forces to resolve this situation and restore order."
"Fines for non-compliances will be severe" Ford said, with "a maximum penalty of $100,000 and up to one year imprisonment."
"We will also provide addition authority to consider taking away the personal and commercial licenses of anyone who doesn't comply with these orders," Ford said.
Who wrote Doug Ford's speech — Justin Trudeau, Pfizer, or Castro? https://t.co/cdLMlLuEzN

— Ezra Levant 🍁🚛 (@ezralevant) February 11, 2022
Ford also announced on Friday that the province is on track to lift almost all of the government's COVID restrictions, stressing that the Freedom Convoys had "nothing to do" with the decision.
He said the plans had been in place long before the protests.
"We are going to take the advice, which I have, right from day one and we are going to make sure our decisions are based on health and on science. We put these plans together, well before these protests started," he said. Ford didn't provide a concrete timeline for when he plans to lift the restrictions.