New polls conducted by the Trafalgar Group show Joe Biden's approval numbers still in the cellar, and congressional Democrats lagging behind Republicans by over 13 points on the generic ballot.
Of the 1,083 likely general election voters surveyed between 01/12/22 and 01/15/22, just 38.7 percent approved of Biden's performance and 59.2 percent disapproved. Nearly 50 percent of voters said they strongly disapprove of the job Biden is doing.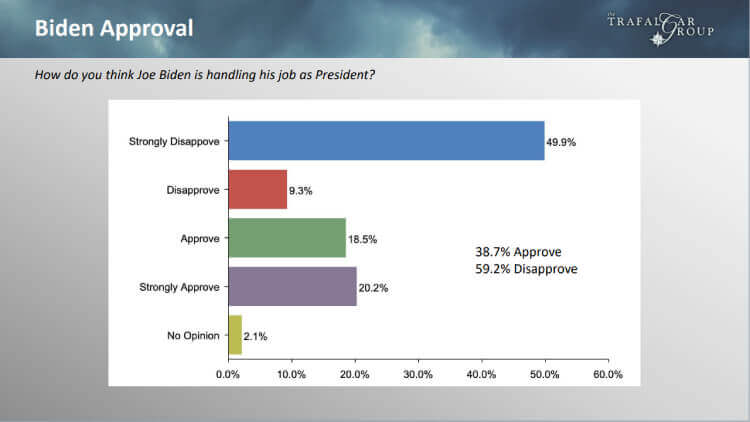 Among Republicans, a mere 10.1 percent approve, and 88.3 percent disapprove. Biden also polled poorly with unaffiliated voters as well, garnering only 30.8 approval versus 67.7 percent disapproval.
Biden still enjoys majority support among Democrats with 71.7 percent approving of his job performance, and 25.6 percent disapproving.
A December Trafalgar poll saw similarly poor numbers, with just 36.3 percent of Americans approving of Biden's performance in the White House, and 59.1 percent disapproving.
Last week, a Quinnipiac University survey found that only 33 percent of voters approved of Biden's job performance.
Trafalgar's party preference poll, conducted between 01/12/22 and 01/15/22, resulted in very ominous numbers for congressional Democrats.
The pollster asked 1,077 likely general election voters, "if the election for Congress were held today, which candidate would you vote for?"
Respondents said they preferred Republicans over Democrats 55.7 percent to 42.2 percent.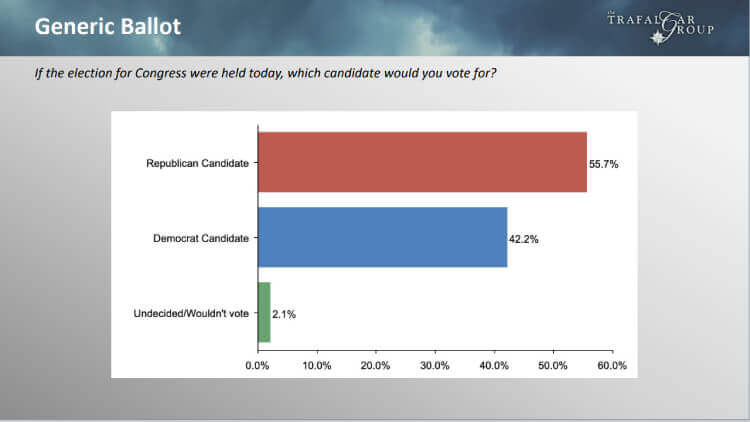 Biden's first year in office was marked by a series of self-inflicted disasters and failures, including his botched withdrawal from Afghanistan, the worsening COVID pandemic that he promised to end, inflation, high gas prices, the border crisis, his executive overreach, his increasingly authoritarian behavior, his intentionally divisive policies, and his declining mental state.
Former President Trump responded to Biden's long and meandering press conference Wednesday on the The Mark Levin Show, agreeing that Biden has indeed made enormous progress—"destroying our country."
"When you look at the border with millions of people coming in, when you look at inflation, you look at no more energy independence, we have a much different country than we had a year ago," Trump said.