Great Britain, the Czech Republic, and Israel are backing away from COVID vaccine mandates amid increasing evidence that the leaky vaccines are making the  pandemic worse.
It is becoming harder to deny the glaringly obvious facts that COVID infection rates are increasing worldwide in proportion with the rate of vaccination, and that the injections have dreadful adverse side effects which may be contributing to a marked increase in all cause deaths.
In light of growing awareness that the vaccines are failing, it should not be a surprise that Moderna and BioNTech stocks are down 8-10 percent this week, 60 percent since August.
"The hedge funds have finally realized there will be no fourth shot," quipped Alex Berenson on Substack.
British Prime Minister Boris Johnson announced on Wednesday that the government will discontinue mandatory COVID vaccine passports and masks in England, citing falling infection levels as the reason behind the move.
Speaking in Parliament today, Johnson announced that the plan B restrictions, issued to control the spread of Omicron, will be allowed to expire on March 24, and possible sooner, Cambridge News reported.
"Our scientists believe it is likely that the Omicron wave has now peaked nationally," the PM said.
He told the House of Commons:
Today's latest ONS data show clearly that infection levels are falling in England and while there are some places where cases are likely to continue rising, including in primary schools, our scientists believe it is likely that the Omicron wave has now peaked nationally.

There remain, of course, significant pressures on the NHS across our country, and especially in the North East and North West, but hospital admissions which were doubling every nine days just two weeks ago have now stabilised, with admissions in London even falling. The numbers in intensive care not only remain low but are actually also falling.

So, this morning, the Cabinet concluded that because of the extraordinary booster campaign, together with the way the public have responded to the Plan B measures, we can return to Plan A in England and allow Plan B regulations to expire.
"As a result, from the start of Thursday next week mandatory certification will end. Organisations can, of course, choose to use the NHS Covid pass voluntarily but we will end the compulsory use of Covid status certification in England.
Coronavirus deaths in Great Britain have reportedly risen dramatically in recent days, but cases have dropped off significantly, wallowing the Prime Minister to drop the restrictions, according to Cambridge News.
There are currently 16,621 Covid patients in hospital in England, down from 17,120 a week ago.
Also on Wednesday, the Czech Republic's new government dismissed the previous government's vaccine mandate requiring older adults and first responders to get vaccinated, ABC News reported.
The previous government, led by Prime Minister Andrej Babis, released an order in early December, making vaccination mandatory for people age 60 and over as well as medical personnel, police officers, firefighters and medical students.

It was due to take effect in March. But Babis' administration was replaced later in December by a new government formed by five parties and led by Prime Minister Petr Fiala.
"We've agreed that vaccination against COVID-19 won't be mandatory," Fiala said.
Meanwhile in Israel, home of the most aggressive vaccine policies in the world, a top Israeli vaccine advisor is throwing in the towel amid rising infection rates.
The Jewish State recently surpassed two million COVID cases since the pandemic began, and notched a record-breaking 72,120 new cases on Tuesday, according to data published on Wednesday by the Health Ministry.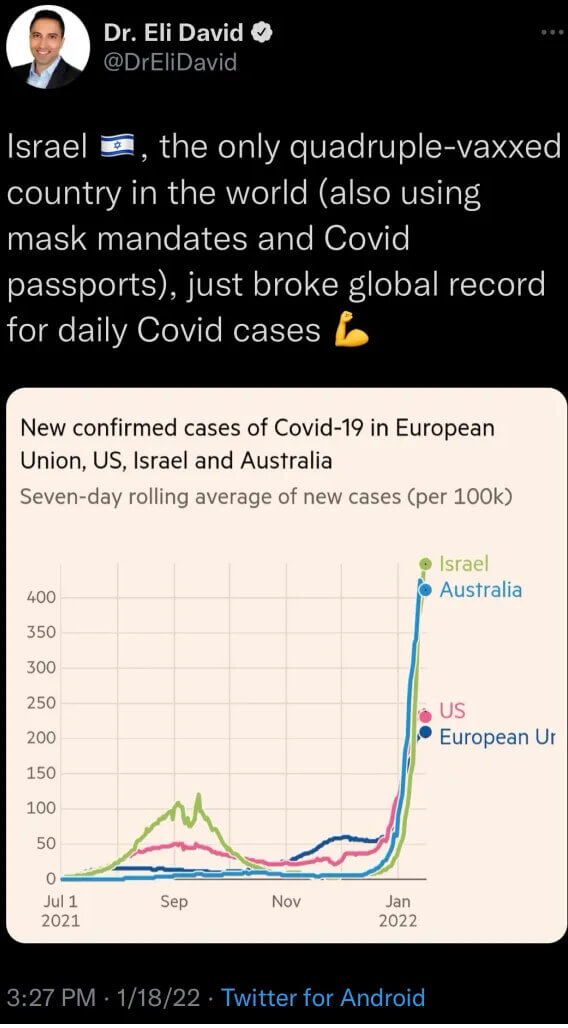 As of Wednesday, over 14,048 IDF personnel were sick with the novel coronavirus, according to the Jerusalem Post.
Bow, Professor Cyrille Cohen, the head of Immunology at Bar Ilan University and a senior vaccine advisor to the Israeli government, is calling for the country's vaccine "Green Pass" passport system to be "phased out" as it is no longer relevant in the Omicron era.
During an interview with Unherd's Freddie Sayers, Cohen said he and his colleagues were surprised and disappointed that the vaccines did not prevent transmission.
At the end of the day, he said, "the vaccines are not protecting us, are not causing what we call sterilizing immunity."
Cohen told Sayers that the government made serious mistakes, including the closing of schools which he considered the biggest mistake of the pandemic.
The immunologist said that widespread infection is now an inevitable part of future immunity — otherwise known as "herd immunity."
Finance Minister Avigdor Liberman also called for an end to the "Green Pass" proof of COVID vaccination to enter certain locations, according to i24News.
"There is no medical or epidemiological logic in the Green Pass, many experts agree," said Liberman. "There is, however, direct harm to the economy, to daily operations and a not insignificant contribution to daily panic among the public."
Liberman said he was working with "all the authorities"  to get rid of the Green Pass and "maintain a normal life routine for all of us."