No actor embodied the essence of the film noir genre or being cool more than Robert Mitchum (1917-1997). Upon his death, director Martin Scorsese said that Mitchum wasn't just a representative of the genre, "Mitchum was film noir." 
Mitchum's attractive looks, bad boy image, sleepy eyes pretending he doesn't care about anything while— in fact—being completely aware of the battle between good and evil, and that special blend of American masculinity and vulnerability were just a few things that made Mitchum stand out as an actor. His mere, wordless presence on screen was enough to convey the interior struggle and intensity of a character. 
In Jacques Tourneur's "Out of the Past" (1947), Mitchum further defines the noir genre. He plays Jeff Bailey/Jeff Markham, a private detective hired by Whit Sterling (Kirk Douglas), an extremely well-spoken and refined gambler. Whit's girlfriend, Kathie Moffat (Jane Greer) has disappeared, along with $40,000 that belongs to Whit. Before she took off to God-knows-where, Kathie shot Whit but failed to kill him.
Nobody double-crosses Whit. What bothers him more than money is the fact that Kathie chose to leave him. There is a need for revenge, which may result less from Kathie's murderous impulse than from Whit's compulsive need to control both her and every situation in which he finds himself. Everyone who surrounds him should be subservient to his criminal charms, and Douglas' refined, clean looks, when contrasted with his character's vileness (which he masks with mocking humor) put everyone on edge. 
Jeff thinks this will be just any other gumshoe job: ask around, find the dame, bring her back, and collect the money. But the long journey into darkness turns out to be a badly dealt card of Jeff's destiny. Trailing Kathie takes him as far as Acapulco, where he finds her in a cafe called, "La mar azul," drinking Cuba Libre alone, but it's not yet clear whether she's lonely. Jeff approaches her, and thus begins their love affair. Choosing not to report to Whit that he found his woman, Jeff and Kathie spend days and nights together. When Kathie tries to prove her innocence about Whit's claims, Jeff interrupts her. "Baby, I don't care," he says quickly, grabs her in his arms, and kisses her.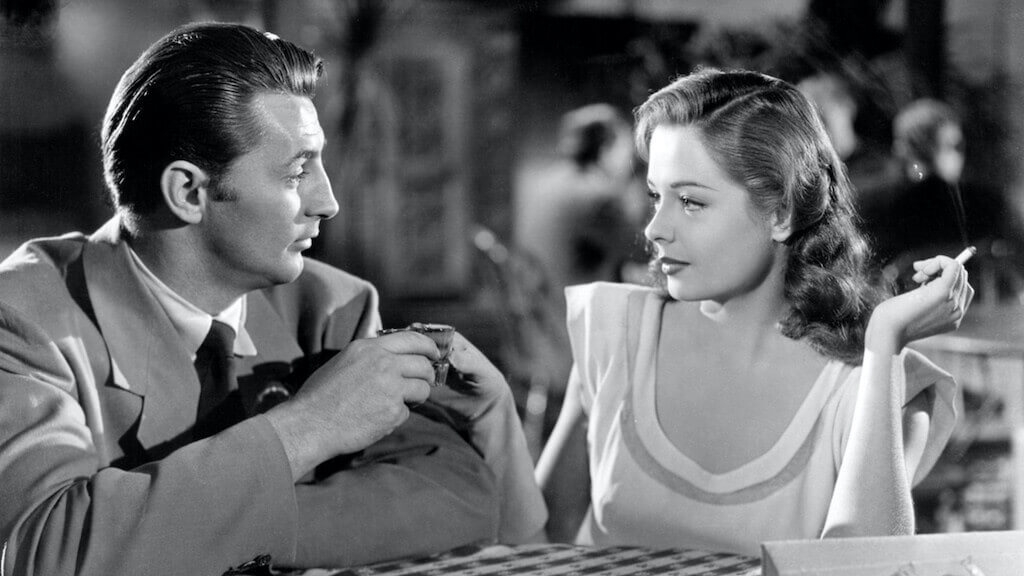 The two lovers end up being on the run from Whit, and even manage to have a semblance of a normal life. But things sour when Jeff's former detective partner, Jack Fisher, sees them at a horse race. Being the lowlife that he is, a man whose loyalty changes based on who can give him more money, he threatens to tell Whit of their whereabouts. In the midst of fist fight between Jeff and Fisher, Kathie pulls a gun and kills Fisher. Jeff is surprised by her lack of care. She's trigger-happy, it appears, and this is the moment when Kathie's loving disposition begins to change. Leaving Jeff to clean up her mess by burying Fisher's body, she engages in yet another disappearance act and drives off into the foggy night. 
All of this is told in a flashback. Jeff bares his soul to Ann, the woman he loves in a town that's far away from Los Angeles or San Francisco, away from his troubles and his past. He loves her and wants to keep her but the past keeps reappearing and he can't outrun it. Whit's clean-up boy, Joe Stefanos, finds Jeff and tells him he has no choice but to see Whit about another assignment. Jeff is somewhat surprised to see Kathie, who has crawled back into Whit's brutish arms. He knows he can't extricate himself out of this problem, and so goes along with Whit's scheme. But Jeff also knows that they are trying to make him a fall guy for Whit's personal problem called tax evasion. Jeff knows he's "in the frame."
"Out of the Past" is a unique noir because it has several phases. Most characters oscillate between being good and bad. Kathie appears to be a damsel in distress at the beginning, but her real nature is revealed when she leaves Jeff holding the bag and resumes her destructive relationship with Whit. The rivalry between Jeff and Whit is palpable (as there was some harmless tension between Mitchum and Douglas), yet what unites them in the end is their deep hatred of Kathie. 
Kathie's femininity as well as her standing as a woman caught between two men is entirely rejected. Her femme fatale image loses its potency as the film progresses because of Jeff and Whit. They are disgusted by her, and in two separate scenes, Jeff and Whit make sure to tell her what they really think of her, despite the fact that 10 years ago, Whit has "left his feelings somewhere" and doesn't know where. 
Instead of inducing a magic, erotic spell, she produces a geyser of anger from both men. "Boy, you really know how to turn it on and off, Kathie," says Jeff. Whit calls her a "phony," and with a brute swiftness, he slaps her across the face. In many ways, this is reminiscent of Raymond Chandler's private detective in The Big Sleep, Philip Marlowe, in which he callously throws out the femme fatale out of his living quarters ("I'll give you three minutes to get dressed and get out of here. If you're not out by then, I'll throw you out—by force. Just the way you are, naked. And I'll throw your clothes after you into the hall. Now get started."). 
In a strange way, it is the femme fatales who end up being cast aside in many noir films, and this is certainly true in "Out of the Past." The women are reminders to men to preserve their masculinity, yet this female erotic nuisance is also what propels their manliness. Without it, both Jeff and Whit cannot exist in their form, which is why Jeff is an entirely different man in the company of kind-hearted Ann. He is split, and no matter how hard he tries, he cannot escape his past. When Kathie pleads with Jeff that she doesn't want to die, Jeff coldly replies, "Neither do I, baby, but if I do, I want to die last."
Mitchum's Jeff isn't just a masculine brute who some women, rather heedlessly, might find attractive. He's a man who is completely aware of good and evil, and ambivalence is not an option for a man like him. His sense of being a lost boy who needs to be tended to, a strong man always on the verge of releasing vulnerability—but never truly and fully—is what makes Mitchum's screen presence so intense and hypnotic. He is always in control, even if he is smitten by Kathie or loved by Ann. It is Mitchum's intoxicating masculinity that brings us into the fold. He loves you kindly and passionately, all the while he doesn't give a damn. He can be a lover or an ascetic. He can take you or leave you, but the imprint will last forever.