Joe Biden has reached a new low in popularity according to a new poll released on Wednesday.
Despite the corporate media's liberal bias, only 33 percent of voters approve of Joe Biden's job performance, according to a Quinnipiac University survey.
Spelling doom for Democrats, only 25 percent of independent voters approve of Biden. Congressional Democrats have uniformly supported Biden's radical agenda.
Among Democrats in the poll, 75 percent approve, 14 percent disapprove and 11 percent did not offer an opinion, down 11 points from two months ago.
The poll also showed that Biden is deeply unpopular with white men and women, young voters and with Hispanics.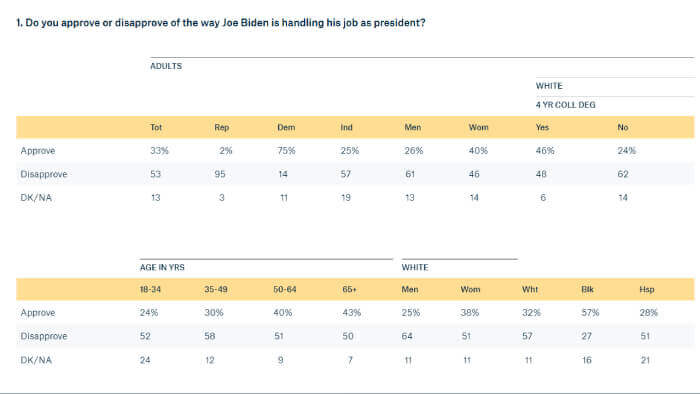 In a November 2021 Quinnipiac poll, Americans gave Biden an abysmal 36 percent job approval rating with 53 percent disapproving and 10 percent not offering an opinion.  In the Nov. poll, 87 percent of Democrats approved, 7 percent disapproved and 6 percent did not offer an opinion.
A December Trafalgar poll saw similarly poor numbers, with just 36.3 percent of Americans approving of Biden's performance in the White House, and 59.1 percent disapproving.
As "Securing Democracy" cofounder Glenn Greenwald noted on Twitter, President Trump faired better in the same poll during the same time in his presidency. In Jan. of 2018, after a year of constant media attacks, Trump's approval rating was only 38 percent, but it was still 5 points higher than Biden's.
More people approved of Trump's handling of the economy a year in, as well: "48 percent approved of Trump's handling of the economy after his first year versus 34 percent for Biden: a 14-point gap," Greenwald wrote.
The Quinnipiac poll found 49 percent of U.S. adults said Biden is doing more to sow divisions among Americans, compared to 42 percent who said he's doing more to unite the country.
"Those numbers are shockingly bad, especially given the fact that Quinnipiac is notorious for issuing polls that are absurdly favorable to Democrats," the Federalist's Sean Davis pointed out on Twitter.  "In 2020, for example, Quinnipiac claimed Biden would win FL by 5 and OH by 4 (Trump won FL by 3 and OH by 8)."
Biden's first year in office saw a series of self-inflicted disasters and failures, including his botched withdrawal from Afghanistan, the worsening COVID pandemic that he promised to end, inflation, high gas prices, the border crisis, his executive overreach, his increasingly authoritarian behavior, his intentionally divisive policies, and his declining mental state.
"Joe Biden's historic unpopularity is horrible news for vulnerable Democrats. He will be an anchor around every single Democrat in the country," National Republican Congressional Committee (NRCC) Spokesman Mike Berg said in a statement Wednesday.