When it comes to the American film noir tradition, Henry Hathaway's 1953 film "Niagara" falls into an unusual category. Now streaming on the Criterion Channel, "Niagara" (unlike other noir films) was filmed in Technicolor, which created a different cinematic mood in this tale of deceit, revenge, and murder. It stars Joseph Cotten as George Loomis, a war veteran haunted by his military past, who can't seem to go beyond his internal suffering. 
George's wife, Rose (Marilyn Monroe) is dissatisfied with him and their marriage. While they're vacationing in Niagara Falls, she has an affair with another man. George and Rose have been together for a few years, and they've both grown tired of each other. She feels that the grass is always greener somewhere else, and George's anxiety, depression, and anger are in the way of life itself. He knows that Rose has not been faithful, or at the very least, he suspects infidelity, yet he is unable to let her go and move on.
Witnessing their fights and marriage troubles is another couple, Ray and Polly Cutler, played by Max Showalter and Jean Peters, respectively. Ray and Polly are visiting Niagara Falls for their delayed honeymoon because, after all, Niagara Falls is the "Honeymoon Capital of the World!" Ray is a bit of a square but with a thousand-watt smile. He is someone for whom everything is "swell" but he's not exactly an easygoing guy. In fact, he is a self-centered salesman who is more interested in impressing his boss than tending to his wife, whom he sees as "the little woman." Yet despite the fact that both get tangled in the tragic web of Rose and George's marriage, Polly is much smarter than Ray gives her credit for. 
Rose's deceit reaches the heights of the Falls themselves when it becomes clear that she has persuaded her current lover to murder her husband (a perennial theme of film noir). Things don't go as planned, and it is George who gets the last word when, in a fit of rage, he strangles Rose. George looks over her lifeless body, bathed in shadows and light, her black dress perfectly juxtaposed to the yellow scarf that she was clinging to right before her demise.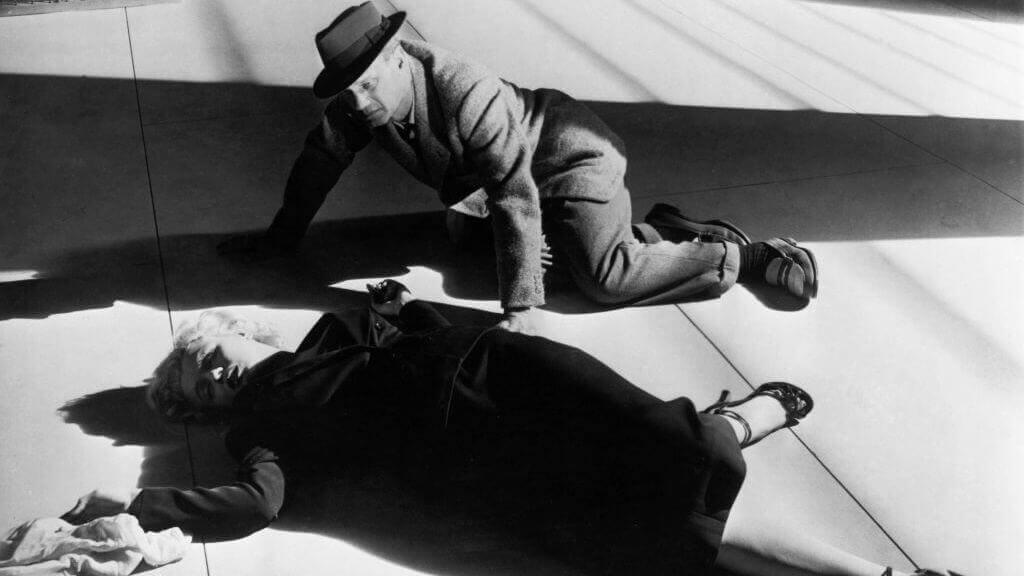 One of the fascinating aspects of "Niagara," and indeed many noir films, is the blending of serious themes with aesthetically stylized female eros. In this case, we witness George's post-traumatic stress disorder and Rose's unmistakable sultriness that is unrepeatable. Cotten is a solid actor, who can swiftly change from honorable man seeking truth in "The Third Man" (1949) to a ruthless murderer in "Shadow of a Doubt" (1943), and here, to a man who is incapable of evading interior suffering, who cannot get out of his own way in order to live a productive life. 
Cotten's performance oscillates between strong masculinity and childlike weakness, and he gives George depth that goes beyond his superficial anger. This man carries wars and disappointments with him, and perhaps those are the reasons why he would be stuck with a woman like Rose. They are both drifters, wanderers through life, running away from themselves, not really knowing the causes of their own actions. The unlikely pairing of Cotten and Monroe fits perfectly with the fragmented relationship of George and Rose.
In almost every role she ever had, Monroe obviously brought a certain sex appeal but focusing on her external beauty would be missing the point of Monroe's complexity as an actress and human being. Even when she smiles suggestively, even when her Rose has no remorse, even as she alluringly sings Lionel Newman's "Kiss," Monroe's eyes betray a certain sadness and loneliness that go beyond mere acting. 
In his 1987 autobiography, Vanity Will Get You Somewhere, Joseph Cotten reflects on his experience of filming "Niagara" and his encounters with Monroe. "She was outgiving and charming," writes Cotten. "If you wanted to talk about yourself, she listened. She was defensively shy. If you wanted to talk about her, she blushed. If you wanted to sing, she joined the chorus." Yet underneath this charm, there was a great interior struggle that somehow cemented her character and persona as the eternal Marilyn. 
Cotten continues: "At times she glowed with the joy of discovery and then, suddenly, her focus would move into outer space, thrusting her into a cloud of blankness . . . At the time, it seemed to me that she was cursed with less than her share of confidence and more than her share of insecurity, both dark synonyms for fear." That interior sadness and vulnerability would remain untouched and it is something Monroe always brought to the screen, even in her comedic roles and moments. 
It seems impossible to imagine Marilyn Monroe growing old. She remains perpetually enshrined in Hollywood, yet even in her death, she evades any categorization or power that big Hollywood studios may have had over her. The ineffable beauty of Marilyn Monroe transcends sultriness because her interiority, known only to herself, supersedes the triteness of sexual objectification. No matter how many femme fatales she played, it is Marilyn Monroe's eyes that are timeless. They are portals of complexity, beauty, and sorrow that demand attention, create intrigue, and rest in the ineffable.