A former DARPA official claimed in a letter to the Inspector General of the Department of Defense last summer that "a synthetic spike protein chimera" was created at the Wuhan Institute of Virology to inoculate bats in caves, but it escaped from the lab before it was ready, causing the COVID-19 pandemic instead.
New documents reveal that Dr. Anthony Fauci's NIAID went ahead and funded top secret research dubbed "Project Defuse" at the Wuhan Lab after the Defense Advanced Research Projects Agency (DARPA) rejected the project because it violated a gain of function research moratorium.
"The proposal does not mention or assess potential risks of Gain of Function research,"  the Defense Advanced Research Projects Agency (DARPA) said in its rejection letter.
In Senate testimony, Dr. Fauci has repeatedly denied under oath that the NIH and NAIAD were involved with EcoHealth Alliance's gain-of-function research.
A newly released report written by a U.S. Marine Corps officer who formerly worked at DARPA provides further evidence that EcoHealth Alliance president Peter Daszak conducted the risky research that led to the COVID pandemic. The research was conducted at the Wuhan Lab in China and at several sites other across the US, according to the whistleblower.
Project Veritas published Major Joseph Murphy's bombshell letter to the Inspector General of the Department of Defense, Monday night.
"When synthesized with the EcoHealth proposal, US collections confirm EcoHealth Alliance was performing the work proposed," Murphy wrote in his August 13, 2021 report that was sent to the DoD IG.
In the report, Murphy sheds light on Fauci's alleged COVID-19 gain of function program, the concealment of documents, the suppression of early treatments, the uselessness of masks, and the reason the vaccines are failing.
Murphy contends that the "Project Diffuse" documents were hidden in a top secret shared drive at the DARPA Biological Technologies Office. Now they are being held by the Marine Corps Intelligence Activity (MCIA), he said.
In its March 2018 proposal, EcoHealth described in detail how it planned to inoculate bats with the coronavirus spike proteins "to enhance their immune memory against specific, high risk viruses."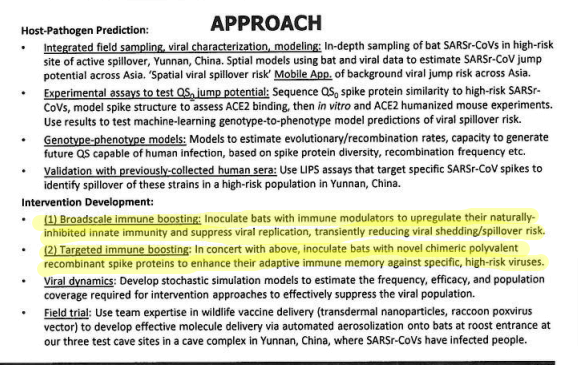 "SARS-CoV-2 is a synthetic spike protein chimera engineered to attach to human ACE2 receptors (proteins that provide the entry point for the coronavirus) and inserted into recombinant bat SARSr-CoV backbone," Murphy wrote. "The reason the disease is so confusing is because it is less a virus than it is engineered spike proteins hitch-hiking a ride on a SARSr-CoV2 quasispecies swarm."
According to the Marine, the project was meant to prevent a deadly SARS CoV outbreak, but it leaked from the lab—causing the deadly SARS CoV pandemic.
"It leaked and spread rapidly because it was aerosolized so it could efficiently infect bats in caves, but it was not ready to infect bats yet, which is why it does not appear to infect bats," Murphy wrote.
The Marine explained that the reason the vaccines work so poorly is because "they are synthetic replications of the already synthetic SARS CoV WIV spike proteins, and possess no other epitopes (the part of a biomolecule—such as a protein—that is the target of an immune response).
"The nature of using a spike protein vaccine with one epitope against a spike protein vaccine with a quasispecies [SARS CoV2] may explain the unusual (and potentially detrimental) antibody response amongst the vaccinated to new COVID variants," Murphy wrote in his letter last summer, foreshadowing the situation the vaccinated are clearly in today with the Omicron variant.
The Marine explained the reason he knew something nefarious was going on was because of the government's "massive Manhattan Project level of information suppression" which was executed with the help of its willing accomplices in the media through the "Trusted News Initiative."
"The lab-leak hypothesis and squabbling between Senator Paul and Dr. Fauci suggested that the cover-up was more localized," he wrote.  Suspecting that the paperwork would be well hidden, Murphy said he presumed that classified files would be concealed on a higher network, and found them where I expected them to be. I understood what they were, and their content, pushed the files off-site, and compiled this report," he said.
It is telling that five months later, no actions appear to have been taken by the DoD's Inspector General's office in response to this whistleblower's report.
Asked for comment, DARPA's Chief of Communications told Project Veritas: "It doesn't sound normal to me. If something resides in a classified setting, then it should be appropriately marked. I'm not at all familiar with unmarked documents that reside in a classified space."
"Who at DARPA made the decision to bury the original report?" Project Veritas president James O'Keefe asked. "They could have raised red flags to the Pentagon, the White House, or Congress, which may have prevented this entire pandemic that has led to the deaths of 5.4 million people worldwide and caused much pain and suffering to many millions more."
It is telling that five months later, no actions appear to have been taken by the DoD's Inspector General's office in response to this whistleblower's report.
House Committee on Oversight and Reform Ranking Member James Comer (R-Ky.) and House Committee on the Judiciary Ranking Member Jim Jordan (R-Ohio) on Tuesday called for a transcribed interview with Dr. Anthony Fauci regarding his efforts to conceal information from government officials about the origins of COVID-19.
"We write to request a transcribed interview of Dr. Anthony Fauci, Director, U.S. National Institute of Allergy and Infectious Diseases (NIAID). Excerpts of emails we are making public today reveal that Dr. Fauci was warned of two things: 1) the potential that COVID-19 leaked from the Wuhan Institute Virology (WIV) and 2) the possibility that the virus was intentionally genetically manipulated. It is imperative we investigate if this information was conveyed to the rest of the government and whether this information would have changed the U.S. response to the pandemic," wrote Ranking Members Comer and Jordan.
Excerpts of emails released today reveal the following:
January 27, 2020: Dr. Fauci knew NIAID had funded EcoHealth Alliance, the WIV was a subgrantee of EcoHealth, and EcoHealth was not in compliance with its grant reporting, in particular a grant that NIAID knew had gain-of-function potential on novel bat coronaviruses.
February 1, 2020: Dr. Fauci, Dr. Collins, and at least eleven other scientists convened a conference call to discuss COVID-19. On the conference call, Drs. Fauci and Collins were first warned that COVID-19 may have leaked from the WIV and may have been intentionally genetically manipulated.
February 4, 2020: After speaking with Drs. Fauci and Collins, four participants of the conference call abandoned their belief the virus originated from the Wuhan lab and authored a paper entitled "The Proximal Origin of SARS-CoV-2." Prior to final publication in Nature Medicine, the paper was sent to Dr. Fauci for editing and approval.
April 16, 2020: More than two months after the original conference call, Dr. Collins emailed Dr. Fauci expressing dismay that the Nature Medicine article—which they saw prior to publication and were given the opportunity to edit—did not squash the lab leak hypothesis and asks if the NIH can do more to "put down" the lab leak hypothesis.
April 17, 2020: After Dr. Collins explicitly asked for more public pressure, Dr. Fauci cited the Nature Medicine paper from the White House podium likely in an effort to further stifle the hypothesis COVID-19 leaked from the Wuhan lab.
"Rather than be transparent with the Committee, HHS and NIH continue to hide, obfuscate, and shield the truth. By continuing to refuse to cooperate with our request, your agencies are choosing to hide information that will help inform the origins of the ongoing pandemic, prevent future pandemics, respond to future pandemics, inform the United States' current national security posture, and restore confidence in our public health experts. HHS and NIH's continued obstruction is likely to cause irreparable harm to the credibility of these agencies," concluded Ranking Members Comer and Jordan.
Update:
During a Senate Health Committee hearing, Fauci strenuously denied that the NIH and NIAID funded the EcoHealth research at the Wuhan Lab after Sen. Roger Marshall (R-Ks.) questioned him about the Project Veritas story.
"You Know Senator, it really pains me to have to just point out to the American public how absolutely incorrect you are," Fauci said. "What came out last night on Project Veritas was a grant that was submitted to DARPA, then it distorted and said, we funded the grant. We have never seen that grant, and we have never funded that grant. So once again, you are completely, and unequivocally incorrect."
Update:
Famed physician and inventor of mRNA technology Dr. Robert Malone weighed in on the Project Veritas scoop on Steve Bannon's War Room Pandemic podcast, Tuesday morning.
"If these documents are verified, then this is truly a smoking gun of historic proportions," Malone said. "This is a bombshell."
The doctor read a statement from Senator Ron Johnson (R-Wis.) who just announced this week that he will run for reelection amid constant attacks from Democrats and their media allies over statements he's made about the vaccines.
Malone noted that Johnson will take over the Permanent Subcommittee on Investigations in 2023 if the Senate flips.
"I have been investigating all of these issues related to the coronavirus and federal agencies' involvement in funding gain of function and other dangerous research, as well as our response to COVID," Johnson said. "I've sent dozens of oversight letters, and my investigation is ongoing."