During a speech Tuesday afternoon, Joe Biden said fully vaccinated Americans should feel comfortable celebrating the holidays with their families, while warning unvaccinated Americans that they are at a higher risk of ending up in the hospital and dying. Biden repeatedly urged vaccine holdouts to get the jab, saying it is the patriotic duty of every American, and stressing that the shots are "free."
Biden announced that starting next month, insurance will start covering at-home COVID tests, and the government will provide free tests to those who don't have insurance. He also said the government would set up emergency testing sites in COVID hot spots around the country.
The regime's new measures to curb the virus come as Biden faces his lowest approval numbers yet in a new PBS/Marist poll.
Just 41 percent of Americans approve of the job he has been doing as president, according to a new PBS NewsHour/NPR/Marist poll. Support among independents alone dropped eight points in a week.

Overall, more than half — 55 percent — of Americans disapprove of Biden's performance, including 44 percent who strongly disapprove. His disapproval ratings have jumped 20 points since he took office, reaching a record high this month. The number who strongly disapprove jumped 6 points since a Marist poll conducted just one week earlier.
A subsample of Hispanic showed disastrous numbers for Democrats: only 33 percent of 224 Hispanics approve of Biden's performance, which is seven points lower than whites.
The Biden White House also saw a tidal wave of disapproval after White House COVID-⁠19 Response Coordinator Jeff Zients told unvaccinated Americans during a press briefing last week, that they are "looking at a winter of severe illness and death for yourselves, your families, and the hospitals you may soon overwhelm."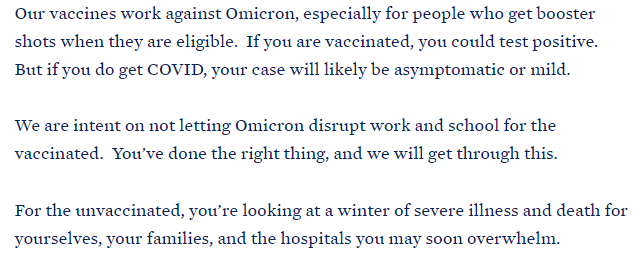 During his speech, Biden parroted that harsh warning, telling unvaccinated Americans that they risk serious disease and death, while assuring Americans who've gotten their shots that they are safe, and can gather with their families over the holidays.
Biden said that the unvaccinated should be "very concerned" about Omicron—which by all accounts, is the mildest COVID variant—because they are at "a high risk of getting sick."
"And if you get sick, you're likely to spread it to others, including friends and family," he said, without noting that the vaccinated can also get sick and spread the disease.
"The unvaccinated have a significantly higher risk of ending up in the hospital or even dying," Biden added.
The omicron variant has surged to 73 percent of all COVID-19 cases in the U.S., up from around 3 percent last week, according to the latest federal estimates. The more lethal Delta variant, which was the dominant form of the virus in the U.S. just last week, has now receded to roughly 27 percent of cases.
"Almost everyone who's died of COVID-19 in the past many months, has been unvaccinated," Biden claimed. "If you're among the majority of Americans who are fully vaccinated, and especially if you've gotten the booster shot, you have much, much less reason to worry."
Biden allowed that "some" fully vaccinated Americans could catch the Omicron virus because it spreads so easily, but stipulated that those people will likely not become seriously ill.  According to the CDC, the vast majority of people getting sick with the Omicron variant are fully vaccinated.
He went on to recommend that everyone, despite vaccination status wear a mask while indoors in public settings because masks offer protection "for you and those around you."
Biden went on to suggest that Americans are looking toward the government to give them permission to celebrate the holidays with friends and family.
In answer to this burning question, Biden said U.S. citizens can celebrate Christmas "if you and those you celebrate with are vaccinated—particularly if you've gotten your booster shot."
Biden stressed that the fully vaxxed should feel comfortable celebrating. "If you are vaccinated, and follow the precautions we all know well, you should feel comfortable celebrating Christmas and the holidays as you planned it. You know, you've done the right thing," he said.
As for the unvaccinated, Biden said that they have an "obligation" to themselves, their families, and their country to get the experimental jabs.
"It's free!" he whispered. "I honest to God believe that it's your patriotic duty," he added. He went on to urge double vaxxed Americans to get their booster shots to protect against COVID, and for everyone to wear a mask.
"Folks, the booster shots are free," he repeated.
Multiple studies have shown that natural immunity from having had the virus is much stronger and long-lasting that what the vaccines offer, therefore, the government's one size fits all approach to vaccination is not appropriate, many experts argue. Moreover, there are multiple treatments available that have proven to be effective at fighting COVID, but the government has chosen to ignore therapeutics like Ivermectin and Hydroxychloroquine, in favor of the vaccines.
Dr. Geert Vanden Bossche, Geert Vanden Bossche, an independent virologist and vaccine expert, who was formerly employed at GAVI and The Bill & Melinda Gates Foundation, has argued for nearly two years that mass vaccination with "leaky" vaccines would be a disaster, accelerating escape mutants.
Finally, many experts, like famed cardiologist Dr. Peter McCullough, argue that the genetic vaccines are not sufficiently safe or effective for the public.
In the U.S., the Vaccine Adverse Event Reporting System (VAERS) shows nearly 20,000 deaths from the vaccines, which many experts say is just the tip of the iceberg because the database only collects a small portion of adverse events to the vaccines.
"We have 31,000 now that are permanently disabled. That is unacceptable for a medicinal product in the United States," McCullough said during a recent speech. "And it's unacceptable for our agencies not to review safety for us. And it's unacceptable for our FDA or CDC or NIH and our White House Task Force. It's unacceptable for them not to provide a safeguard for our citizens."
The doc said mass vaccination campaigns should be paused for a safety review.
"I don't think anybody had a problem with vaccines a year ago. But we now know as they're broadly used in the general population, like many new products, it has not worked out and we have seen unacceptably high rates of death that occurs after vaccination," McCullough said. "About 50 percent of the deaths that are recorded happen within 48 hours, 80 percent within a week."
Biden on Tuesday announced that he will send 500 million free coronavirus test kits to homes of Americans who request them, and beginning next month will dispatch the military to assist overwhelmed U.S. hospitals.
In recent weeks, hospitals around the country have seen a mass exodus of workers, who quit, or were terminated over vaccine mandates. A Centers for Disease Control and Prevention (CDC) survey in September found that 30 percent of staffers at more than 2,000 hospitals across the country were unvaccinated. "Applied to a nationwide healthcare workforce of some 22 million according to the Census Bureau, that would equal nearly seven million who have yet to get inoculated," Fox Business reported.
Biden took a few questions from the media, before saying, "I'm not supposed to be having this press conference," and leaving the podium.
Psaki: "He takes questions multiple times a week"

Biden: "I'm not supposed to be having this press conference right now"

What is going on in the White House?? pic.twitter.com/vLBF4Of3CG

— Mercedes Schlapp (@mercedesschlapp) December 21, 2021