"President Biden voiced the deep concerns of the United States and our European Allies about Russia's escalation of forces surrounding Ukraine," announced the White House after Joe Biden's hapless December 7 Zoom meeting with Russian President Vladimir Putin. 
Everyone knows nothing strikes fear into the heart of a KGB operative like the "deep concerns" of polite and orderly caretakers of America's decline. Biden proved the opposite, cautioning the Russian president against taking aggressive action against Ukraine, while Putin responded with forceful demands that Ukraine never join NATO or host offensive weapons.
Predictably these days, it was the Russian president who held all the cards. By the time of the meeting, Putin had amassed nearly 100,000 troops on Ukraine's borders, in positions that suggested preparations for a pincer-style Blitzkrieg attack aimed at Kiev. Supported by air and naval forces equipped with the latest battlefield tactical missile technology, some estimates hold that a Russian invasion could cripple Ukraine's armed forces within 30 to 40 minutes. Despite $425 million in U.S. military aid delivered this year alone, Ukraine's top military commanders insisted they could not hold out against Russia without massive foreign—that is, American—assistance.
Fresh from his humiliating debacle in Afghanistan, Biden hardly inspired confidence by almost immediately disclaiming any possibility of unilateral U.S. military action, which he and his advisers—no great poker players, they—volunteered were "off the table." Biden's response has been a tired and repetitive invocation of possible economic sanctions, which have produced virtually no effective results in any targeted country at any time in recent history. He has also offered a diplomatic solution, advanced from what Russia clearly and correctly understands to be a position of weakness that the Biden Administration not only accepts but fetishizes.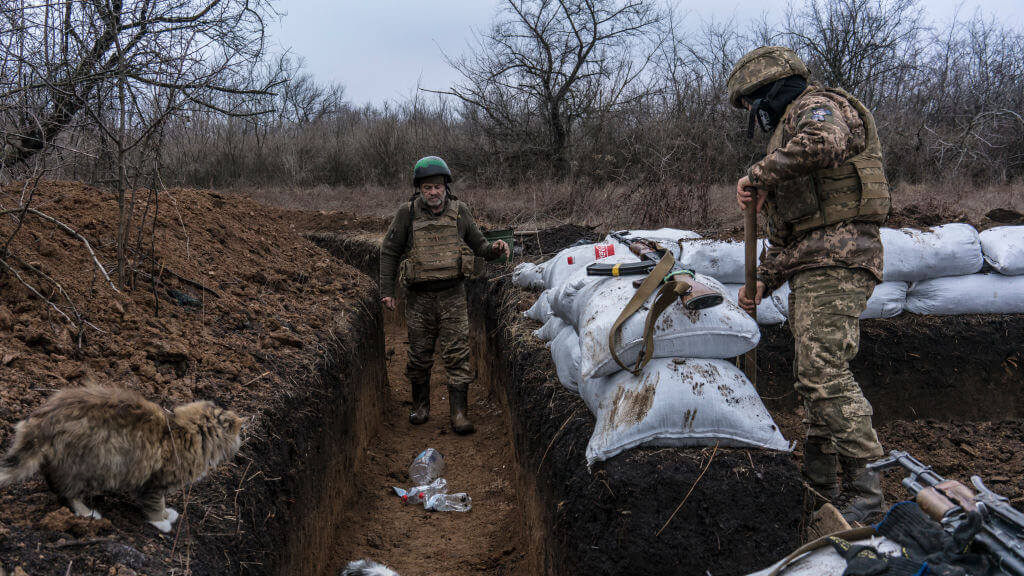 Sanctions imposed after Russia annexed Crimea and launched a military incursion into Ukraine's eastern provinces in 2014 reversed neither of those actions. As Yuri Ushakov, a top Putin adviser and former ambassador to the United States, put it, "sanctions are not a new thing for Russia." But now that Russia has increased its foreign currency reserves to over $620 billion, and created an independent electronic financial transfer system to skirt international banking restrictions the West might impose, new sanctions, no matter how ambitious, would likely have even less effect.
With U.S. intervention ruled out and no NATO ally suggesting collective military action, Kremlin strategic planners have easily surmised that their aggressive posturing worked and that any escalation on their part would go unopposed on the ground. Unsurprisingly, they have now both increased their aggressive posturing and escalated on the ground. 
In a draft treaty delivered to NATO on Friday, Russia demanded an end to all significant NATO military activity in Eastern Europe and Central Asia, including in NATO member-states, regardless of the wishes of the governments concerned. More significantly, Russia also demanded a roll-back of all military installations placed in East European NATO member-states since 1997, a list that includes Poland, Hungary, the Czech Republic, Slovakia, Romania, and Bulgaria—all former satellite nations of the Soviet empire—as well as the former Soviet republics of Lithuania, Latvia, and Estonia, several former Yugoslavian republics, and Albania.
In security terms, Putin wants nothing less than a return to the status quo before 1990. To show he means business, in the two weeks since the December 7 Zoom call he has nearly doubled the troop deployments on the Ukrainian border, while his advisers suggest he may go farther in the coming weeks. Russia has also signed a new agreement with China that aligns the two countries more closely than at any time since 1950, though Moscow describes their closeness as "unprecedented."
This de facto revival of the Cold War Sino-Soviet alliance is directed partly against foreign interference in what Moscow and Beijing define as their "internal affairs" and explicitly supports their respective security concerns. For Russia, that means defending a newly declared security zone extending as far west as Prague. For China, which just extinguished Hong Kong's freedoms with barely a "deep concern" letter from Washington's corridors of powerlessness, that means taking Taiwan, now a realistic goal in light of the Biden Administration's manifest weakness.
Western officials have stated their opposition to Russia's actions and demands, but one thing is clear: the crisis in Ukraine is no longer about Ukraine, if ever it really was. Thanks to Joe Biden, the security of the entire West—and a significant part of Asia—is now haphazard. And Vladimir Putin has yet to fire a single shot.