Big Tech and America's woke military care deeply for the feelings of America's child molesters.
At least this is what my recent suspension from Twitter would suggest. Last Thursday, Jack Dorsey and company suspended me for seven days for suggesting that if pedophiles received the death penalty, there would be fewer incidents of child abuse.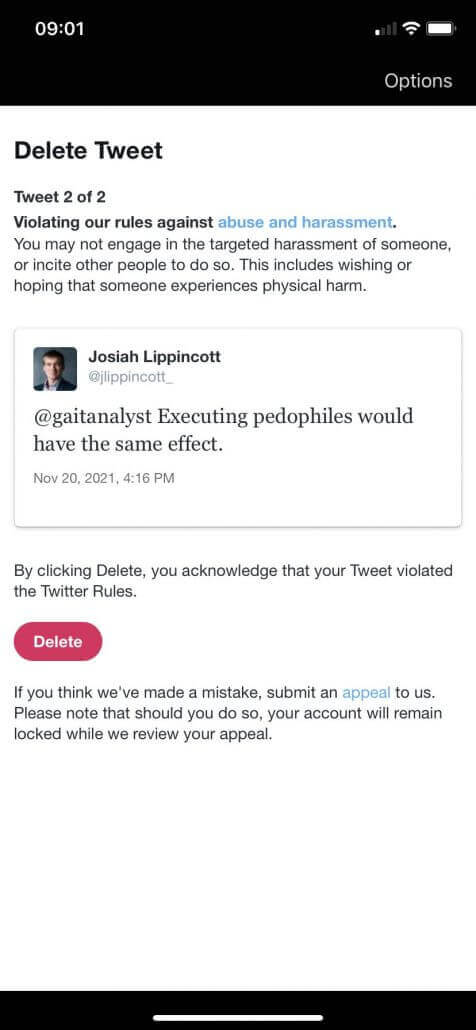 The Silicon Valley commissars didn't like that one bit. They also didn't act alone. Uniformed members of the U.S. military have been waging a coordinated campaign to silence my account by flagging it for "inciting violence" and "targeted harassment." These military officers on Twitter are upset at my criticisms of their political activities in and out of uniform.
The ringleader is Major Justin Rose of the U.S. Army Reserves. Two months ago, I wrote a piece condemning the vaccine mandate for the Department of Defense. Major Rose took issue with my work. I had never interacted with him on Twitter before, but he decided to attack my article, stating that I was a "fucking moron" who wasn't "hazed" enough as a "boot" (a term for a young Marine).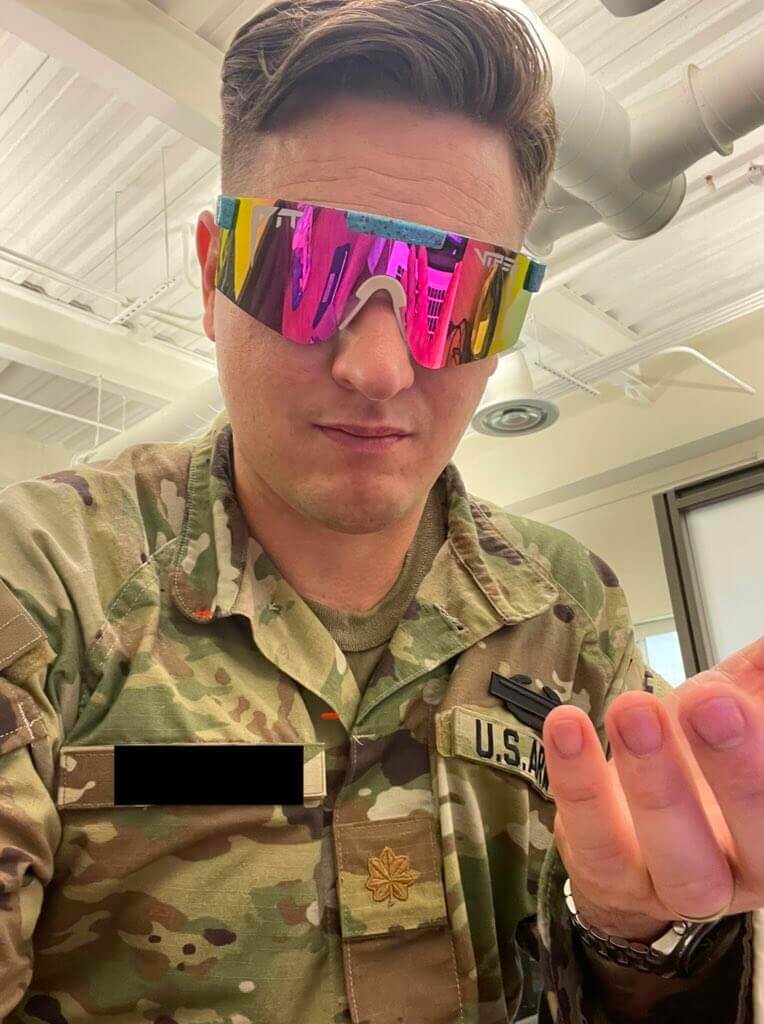 Defending hazing and launching profanity laced tirades against civilian critics is unseemly, but when I responded, Rose amped up the viciousness of his attacks. He posted photos of my family that he found on personal Facebook accounts to Twitter, and made lewd insinuations about a female family member.
Vitriol on Twitter is nothing new. But it is truly a "mask-off" moment to see commissioned officers currently serving in the United States military attack critics of the Department of Defense so openly.
Rose didn't stop there. Over the ensuing weeks, he continued dogging my account and my writing. Most concerning of all, he published parts of my official personnel file from the Marine Corps database. He leaked my physical fitness scores, incorrectly suggesting they disqualified me from criticizing General Mark Milley for being out of shape.
This leak of "Official Use Only" documents from internal Marine Corps systems raises the question of what my critics can access to harass other Americans. If my personnel file can be leaked at will, then what is to stop other bad actors within the federal government from doing the same to other Americans who dare challenge the military-industrial complex?  
Rose's actions are unacceptable for a commissioned officer. He has a duty to the American public, the taxpayer, and to the Army itself to be professional in his conduct on social media. But Rose is not alone in his bad behavior. He is simply one example among many of uniformed officers in the American military attacking civilian critics and promoting strident ideological viewpoints using social media.
What makes Rose unique is that he is working openly to censor my ability to speak. Over the past several weeks, he has coordinated a mass reporting campaign against my account on Twitter.  Rose and his more than 2,000 followers, many of them liberal veterans and woke service members, have reported every one of my tweets. This campaign has been successful. Twitter has suspended me multiple times in the past two weeks on ridiculous premises, including defending Kyle Rittenhouse and calling for harsh punishment for child molesters.
I was suspended from Twitter for the first time for stating that Kyle Rittenhouse did nothing wrong after the jury had acquitted him on all charges. I wrote an article for The Federalist pointing out that Twitter had defamed Kyle Rittenhouse's character by refusing to acknowledge the outcome of his jury trial. Twitter, rightly, got nervous, and lifted the suspension of my account.
No matter. The mass reporting campaign from the woke liberals of MilTwitter struck another blow. My most recent suspension has been the most egregious. I suggested that pedophiles should receive the death penalty as punishment for their heinous crimes. Twitter said I had engaged in "abuse and harassment" of these poor child molesters. Rose celebrated.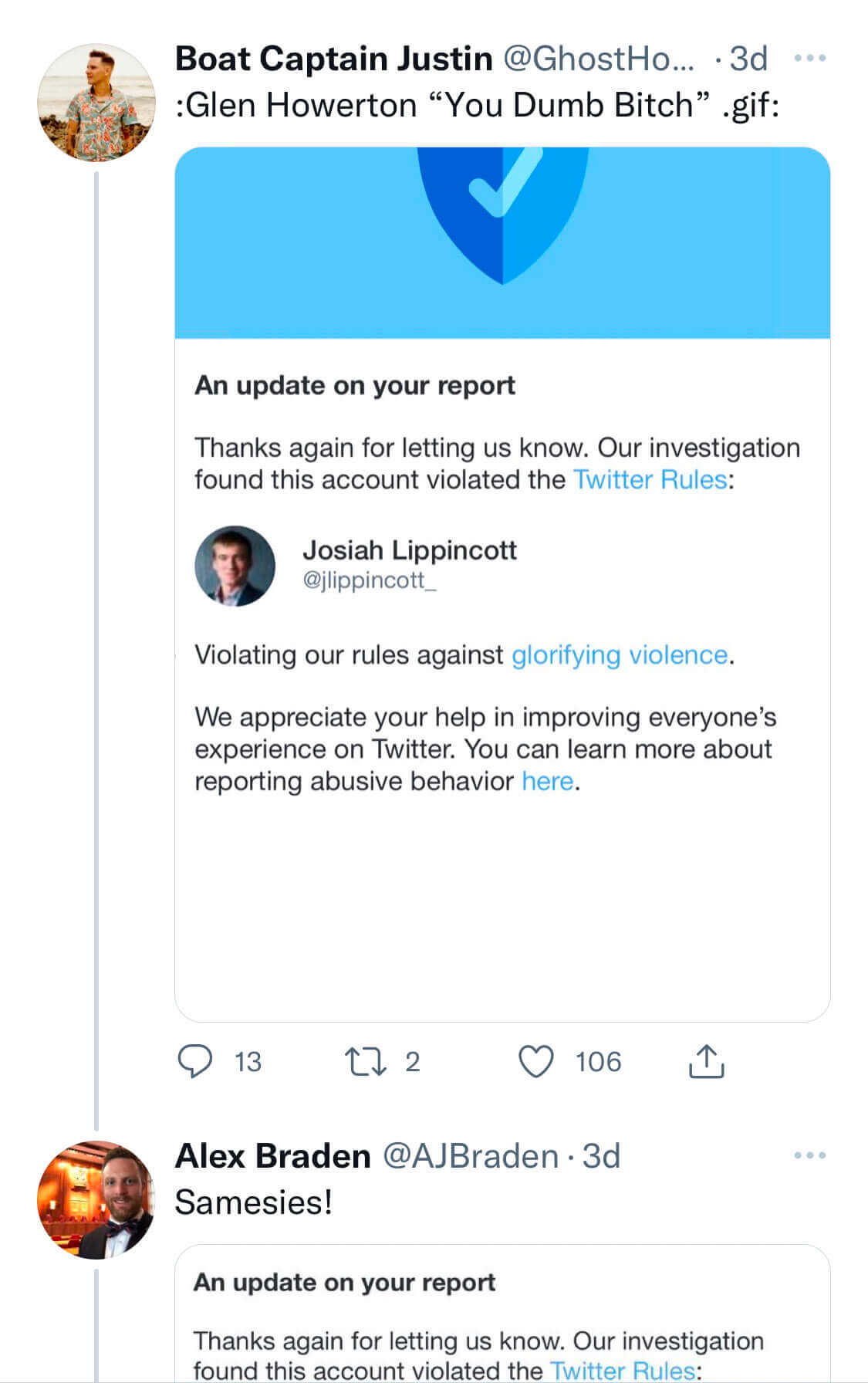 This is the world we live in: Big Tech working with the woke military to silence critics in the name of protecting the feelings of the literal scum of the earth. Enough is enough. Congress needs to investigate. The House and Senate Armed Services Committees should call hearings and subpoena the leading generals of all the services regarding social media usage by flag officers and senior officers.
Major Rose and his reporting campaign against me didn't come out of nowhere. He receives unofficial encouragement from the network of accounts operated by liberal senior leaders on Twitter.
At the forefront are America's out-of-control woke generals. This past summer, I sparred with two-star general Patrick Donahoe on Twitter over COVID policy. Donahoe is the godfather of MilTwitter. In 2019, he participated on a panel at an Association of the U.S. Army conference that encouraged senior military leaders to start using social media more. In the audience was Fred Wellman, a former Army public affairs officer and senior advisor to the Lincoln Project. Wellman and Donahoe frequently interact together on Twitter, despite the fact that Wellman is a known partisan operator and, at the time, was an intense critic of President Donald Trump.
MilTwitter and the Lincoln Project have close informal ties. Which raises questions for conservative representatives in Congress: Are you comfortable with uniformed military officers publicly sidling up to hard Left activists and trying to undermine a sitting president of the United States? Where exactly does this fit in the rubric of acceptable civilian-military relations?
Also on the 2019 AUSA panel was First Lieutenant Kelsey Cochran. Cochran, at the time, ran a popular Twitter account called "Lady Loves Taft" that chronicled her time as a young Army officer. Donahoe and his allies saw in Cochran a model for how officers should engage with social media—which is why this young officer was singled out publicly and her profile elevated. During the talk, General Donahoe, who is five ranks above Cochran, gave her a fist bump.
This is bizarre behavior. In the military, professional standards dictate that senior leaders and young officers have only the most professional of relationships. A general, after all, might one day need to order that young lieutenant to go to her death. He is also responsible for evaluating the officers under his command fairly. Avoiding favoritism is the bedrock of good order and discipline. But MilTwitter plays by a different set of rules. Cochran's chummy relationship with Donahoe is part of a concerning pattern of male senior army officers closely engaging with, following, and favoring young female officers with a large social media presence. 
To give another example, I recently called out Colonel Daniel Blackmon, the commanding officer of the 434th Field Artillery Brigade out of Fort Sill, Oklahoma for having an unprofessional relationship on Twitter with one of the young female officers on his staff. Male senior leaders should never single out for favorable treatment any of the officers under their command and certainly not on social media and with a member of the opposite sex. The appearance of impropriety degrades martial discipline. 
Blackmon, like Donahoe, doesn't care. Apolitical professionalism and good order and discipline escape these woke leaders. Blackmon, for instance, ordered the creation of a unit t-shirt for the 434th that featured the Pride flag as part of its design. This overt celebration of leftist causes is just part and parcel of the modern American military.
Blackmon isn't the only senior leader making his political beliefs known. Major General Johanna Clyborne recently posted a quote from Ruth Bader Ginsburg stating that it was better for people to call a woman a "bitch" than a "mouse" in a comment thread started by a female first lieutenant (a woman five ranks below Clyborne). This general has tweeted liberal cringe before. Back in October, she posted a photo of her removing her nail polish and attacking Army grooming regulations that prevent her from wearing a French manicure while in uniform.
Our woke generals are more concerned with their manicures than the men under their command.
General Clyborne, like General Donohoe, Colonel Blackman, and Major Rose, view Twitter as a way to advance their ideological goals. Whether those goals be feminist empowerment, antiracism, or shilling for draconian COVID policies, the attention-seeking military of today feels compelled to make these pronouncements. This is a massive problem and these limited examples don't capture the full extent of the threat.
General Mark Milley's "white rage" comments this summer—an implicit attack on conservatives who reject critical race theory—shocked many Americans who have come to believe that our military is professional and nonpartisan. Nothing could be further from the truth. America's military today, as evidenced by the disastrous retreat from Afghanistan, is incapable of winning wars, successfully accomplishing the policy goals assigned to it by political leaders, or of defending the country. Instead, our generals and their lackeys spend their time waging ideological warfare against the American people and critics of their failure. They appear to be compensating . . . for something.
It is time for the people's representatives to intervene. Congress needs to pass legislation prohibiting the military's senior leaders and generals from using public social media in uniform. America's generals and senior leaders do not need to be social media influencers. They need to do their job and defend the country. They should be on "Twitter time-out" until they learn how to do so. 
Moreover, Congress and the military service chiefs should crack down on military members who are engaging in unbecoming conduct on social media—especially conduct that targets and censors critics. The unholy alliance between the federal government and Big Tech should be shattered. The American military should be defending free speech, not attacking it.