After a full day of deliberation, the jury in the Kyle Rittenhouse trial in Kenosha, Wisconsin, was unable to reach a verdict, some say due to their concerns over the threat of violence and unrest.
Human Events reporter Jack Posobiec reported on Twitter Tuesday afternoon that two jurors were holding up a not-guilty verdict, and were "outright citing" their concerns about a backlash.
According to Posobiec's source, a US Marshal in Kenosha, the pair are worried that the media will leak their names, putting their lives, and the lives of their loved ones in danger. Reportedly, a number of anarchist groups have overtly threatened to dox the jurors.
Two jurors holding decision up, outright citing backlash, per US Marshal in Kenosha

— Jacek Posobiec 🇺🇸🇵🇱 (@JackPosobiec) November 16, 2021
Including doxxing threats from 'anarchist groups'

— Jacek Posobiec 🇺🇸🇵🇱 (@JackPosobiec) November 16, 2021
Last week, a Black Lives Matter agitator with links to the New Black Panther Party, claimed to know that activists were in the courtroom taking pictures of the jurors in the trial. A few days later, Judge Bruce Schroeder informed the jury that someone had been caught taking pictures of them.
"This morning at the pickup there was someone there [who] was video recording the jury—which the officers approached the person and required him … to delete the video, and returned the phone to him," Schroeder said.  "I've instructed if it happens again they [police] are to take the phone, and bring it here,"  the judge added.
Last April, the Minneapolis Star-Tribune was blasted after it released revealing biographical information about all twelve jurors plus the two alternates in the trial of former Minneapolis police officer Derek Chauvin. Chauvin was ultimately found guilty on all counts in the murder of George Floyd in May of 2020.
Without naming the jurors, the Star-Tribune reporters published enough details about their lives that internet sleuths and local snoops could figure out who they were.
Far left groups, meanwhile are calling for riots in Kenosha if Rittenhouse is acquitted.
The Socialist Rifle Association have publicized their intention to "mobilize" in the city to support "medics" (the left's euphemism for antifa street agitators).
Radical leftist groups & fake medics have announced their intention to mobilize to #Kenosha, Wisc. as the Kyle #Rittenhouse verdict nears. Gaige Grosskreutz, who also claimed to be a street medic, went to the riots armed with an illegal gun when he was shot in the arm last year. pic.twitter.com/ucNtkVvGDL

— Andy Ngô 🏳️‍🌈 (@MrAndyNgo) November 17, 2021
Earlier on Tuesday, left-wing agitators gathered outside of the courthouse with signs calling the two antifa agitators who were shot and killed by Rittenhouse "heroes." Joseph Rosenbaum was a convicted child rapist, and Anthony Huber a convicted domestic abuser.
Gaige Grosskreutz, who was shot in the arm after pointing his gun at Rittenhouse, is also a convicted felon.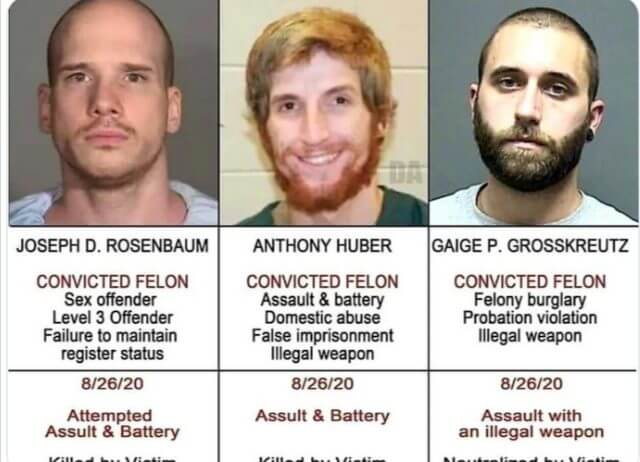 Leftist protesters have signs calling convicted child sex offender Joseph Rosenbaum & convicted domestic abuser Anthony Huber, "heroes" outside the courthouse in #Kenosha. Video by @RebsBrannon. #Rittenhouse pic.twitter.com/j3RzrBz2zd

— Andy Ngô 🏳️‍🌈 (@MrAndyNgo) November 17, 2021
The left-wing mob shouted down and physically intimidated a counter-protester who was holding a sign that read: "BLM & Antifa are here to intimidate."
Angry leftist protesters surround & scream at a woman holding a sign that reads, "BLM & Antifa are here to intimidate" outside the #Kenosha courthouse. Video by @RebsBrannon. #Rittenhouse pic.twitter.com/5qz8Gy5AQD

— Andy Ngô 🏳️‍🌈 (@MrAndyNgo) November 17, 2021
The Revolutionary Communist Party advocated for revolution to "get rid of this whole system that has white supremacy built into it."
— Andy Ngô 🏳️‍🌈 (@MrAndyNgo) November 17, 2021
"We ready for change" chants from a group of Revcom (Revolutionary Communist Party) demonstrators outside the courthouse this afternoon #Kenosha pic.twitter.com/5rUcRcYRfE

— Brendan Gutenschwager (@BGOnTheScene) November 16, 2021
On Fox News Tuesday night, host Tucker Carlson argued that mob rule is threatening to take over the nation's justice system.
"In a typical trial, the average jury reaches a verdict in just a few hours, so these jurors are taking much longer than most," Carlson said. "But it's probably not because that the evidence they heard is confusing them."
Carlson noted that in a typical trial, an honest observer can see both sides of the story.
"But that is not true here," he declared.
"From the very first moments of this trial, it was obvious that Kyle Rittenhouse never should have been indicted in the first place," he said, arguing that it should be obvious that Rittenhouse acted in self defense.  "The question is, why is it taking so long for this jury to produce a very obvious verdict?"
Carlson said to find the answer, all one has to do is look outside the courtroom.
#Thread Tucker Carlson's Monologue On The Mob Taking Over Of Our Justice System

"The mob threatens violence, the rest of us tremble & pretty soon the mob controls our justice system. Pretty soon the enemies of civilization, which is what they are, are in charge of the country." pic.twitter.com/g9xfc3lixo

— The Columbia Bugle 🇺🇸 (@ColumbiaBugle) November 17, 2021
Democrat Governor Tony Evers announced this week that he has mobilized around 500 National Guard members to be on standby if riots break out following the verdict.
"Kenoshans are strong, resilient, and have worked hard to heal and rebuild together over the past year," he wrote on Twitter on Tuesday.
"Any efforts to sow division and hinder that healing are unwelcome in Kenosha and Wisconsin. Regardless of the outcome in this case, I urge peace in Kenosha and across our state," he added. Evers didn't explain why he failed to call up the National Guard last year, to prevent the "peaceful protests" from devolving into violent riots.