Americans never bought House Speaker Nancy Pelosi's "insurrection" narrative about the January 6 violence at the Capitol, and the majority believe the incident was not as serious as portrayed, according to a new pair of polls.
More Americans identify the mayhem as a "riot" or as "protests" rather than an "insurrection," armed or otherwise, according to polls published in June and October.
The Center for Security Policy commissioned the polls with TIPP in May and September, asking the same respondents for multiple answers to identify precise public perceptions about the riot that occurred during the January 6 protest.
As the congressional January 6 committee began hearings in late September, the percentage of Americans who agreed with the insurrection narrative had declined since spring. 
More Americans describe January 6 events as "unlawful entry" and "vandalism" than Pelosi's favored term "insurrection."
In June, a survey of 1,308 adults showed that only 13 percent identified with the "insurrection" term, and 14 percent with "armed insurrection." Those views decreased to 10 and 12 percent respectively by early October.
Rejection of the insurrection narrative is strongest among Republicans, independents, and people of color. 
The poll results show no majority view as to what Americans call the events of January 6.
In June, nine percent of Republicans and 13 percent of independents identified with the "insurrection" label, and five and 13 percent with the "armed insurrection" term. By October, those numbers had decreased.
Democrats held the strongest views, with 18 percent choosing "insurrection" in June and 15 percent in October, and "armed insurrection" at 22 and 19 percent, respectively. 
Blacks and Hispanics showed more skepticism about the insurrection narrative than whites. The June poll showed that 11 percent of people of color agreed with the "insurrection" label and nine percent with "armed insurrection." For months later those numbers held steady at 10 percent and nine percent respectively.
One-Third of Democrats Call It  "Domestic Terrorism"
The term chosen most often by respondents to describe January 6 was "domestic terrorism," at 25 percent in June and 23 percent in October. 
That was not the term of choice for Pelosi, and the  Justice Department has not charged any January 6 suspect with terrorism-related crimes, but the opinion is strong among the sizeable minority that favors the description.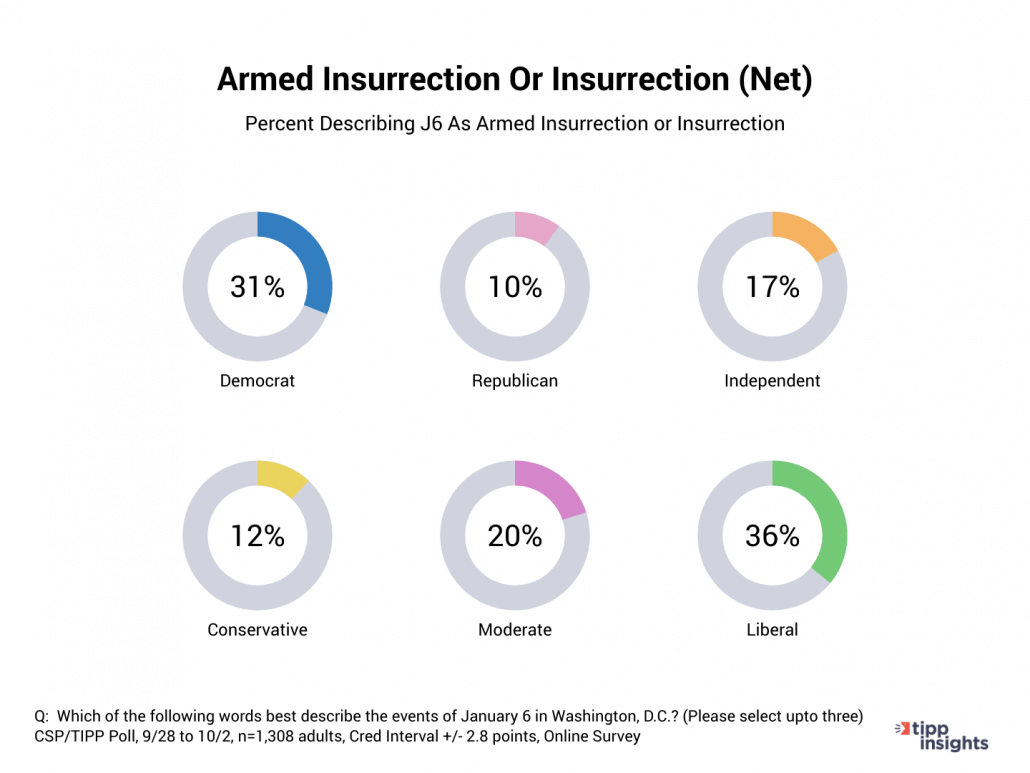 Variations were small in both polls among race and sex, with the sharpest differences being according to political affiliation: 34 and 33 percent of Democrats in both polls called January 6 "domestic terrorism," compared to 14 and 11 percent of Republicans, and 21 and 22 percent of independents.
Fewer people of color than whites called it "domestic terrorism" in June (21 percent among blacks and Hispanics and 26 percent among whites), but practically matched in October (24 and 23 percent respectively).
Most Consider January 6 as Less Serious Than the Narrative Alleges
As the House of Representatives convened its committee hearings in late September, total descriptions of less serious offenses outnumbered the grave offenses by almost two-to-one.
Respondents, when given a broad set of choices, overwhelmingly did not agree with the dominant narrative of "insurrection" or even "domestic terrorism," even though those terms, plus "armed insurrection," made up three of the six most popular responses.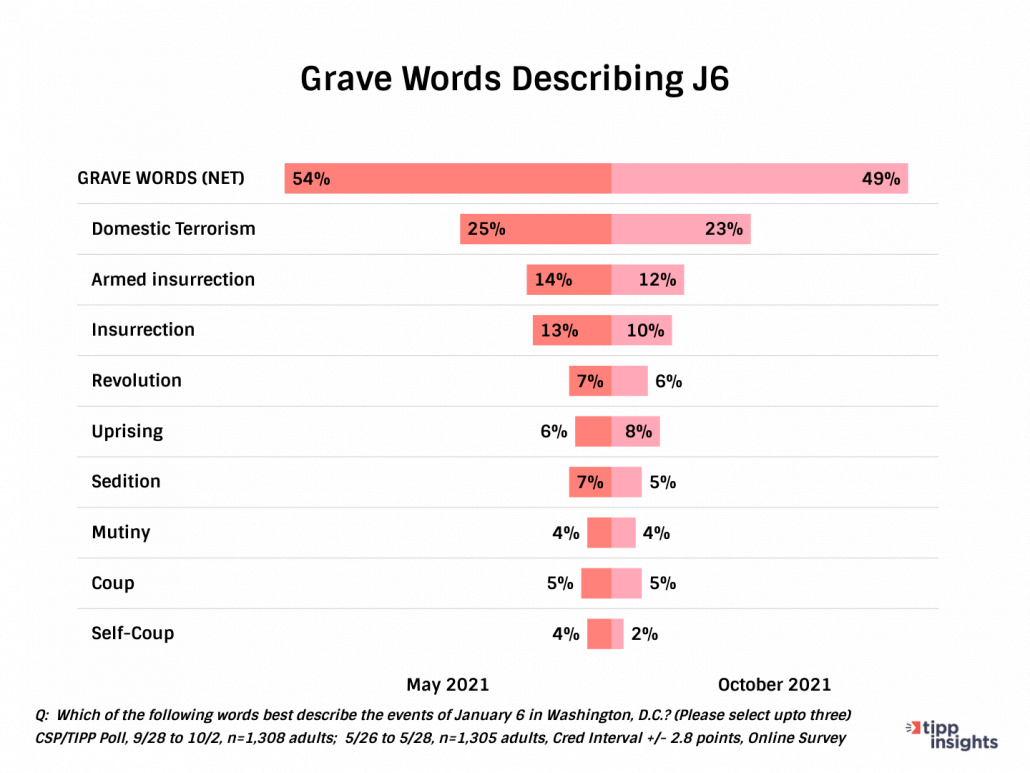 The number of respondents who were "not sure" about what to call January 6 (13 percent in June and 14 percent in October) was equal to and greater than those who called it an insurrection.
"Civil disobedience" and "insurrection" got roughly equal responses in the poll, with more choosing civil disobedience in October, just outside the poll's margin of error.
Ditto for "unlawful entry" (13 in June and 14 percent in October) versus "armed insurrection" (14 and 12 percent).  
Seven percent of respondents in June and 5 percent in October described the events of  January 6 as "sedition."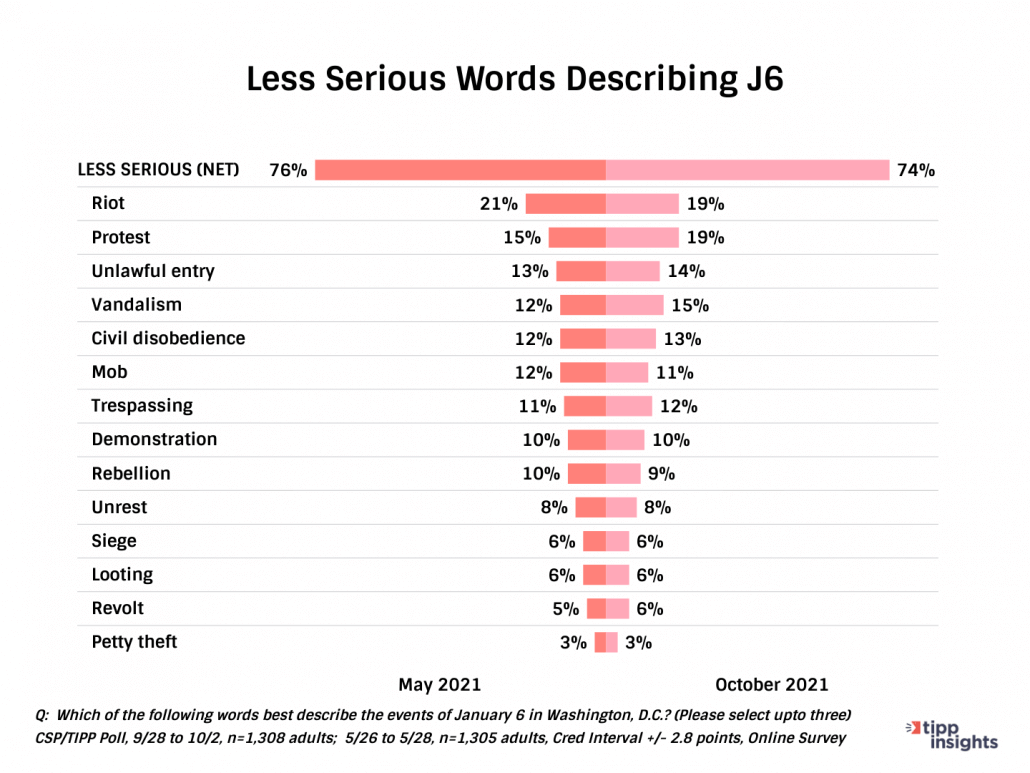 The "coup" narrative never got traction, with numbers unchanged in June and October at 5 percent of total respondents.
Methodology of the Polls
The polls were designed to gauge with precision the public's opinion about the January 6 events by inviting up to three answers. 
About 1,300 respondents in the June and October polls were asked in an online questionnaire, "Which of the following words best describe the events of January 6 in Washington, D.C.? (Please select up to three.)" 
So a triple-voting system was allowed to measure mood in a more nuanced way than single answers would provide. For this reason, the total percentage of answers far exceeds 100 percent, so one can safely conclude significant overlap among responses. The polls have a margin of error, or "cred interval," of 2.8 percent.