I am 19 years old, and I am a former cadet at the United States Military Academy at West Point. On October 21, I signed my resignation from the Army, and left West Point for good, giving up a $400,000 education and a career serving in our nation's Army. I left over a vaccine and an unlawful order.
If someone had asked me six months ago how I felt about the Army and West Point, my answer would have been completely different. Over the months since the vaccine became available at our school, I have been judged, slandered by officers and cadets alike, called names, discriminated against, and oppressed over my simple decision not to subject my body to an experimental drug.
As a soldier, I was told simply to believe the "science," despite the fact that many young and healthy cadets were consistently coming down with terrible illnesses and body aches, all deemed "harmless symptoms" of the COVID vaccine. An "optional" vaccine grew to look more and more mandatory.
The coercion and ridicule only worsened during summer training. I was placed in a platoon of other unvaccinated cadets for field training. The fact that I was one of four females did not seem to faze our leadership, as we four girls were lumped into an overcrowded tent with 30 males. Normally male and female cadets live separately. We had to place a tarp on the ceiling to separate us girls from the boys, and when they finally moved us into an actual building, we were forced to share a bathroom with the males.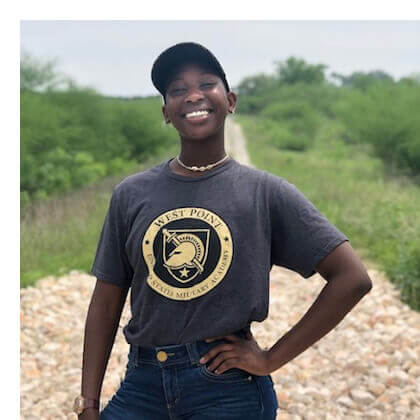 We were intensely ostracized. Cadets pointed and laughed, called us the "sick platoon," "diseased," or coughed obnoxiously and mockingly as we walked past them because we had to wear masks and they did not, even though we were outside.
By the time the academic year arrived, there was a persistent sense of dread and anticipation among the remaining 50 unvaccinated cadets (out of 4,400 total). Deep down, we knew that a mandate would soon be put in place for us to get the unsafe, ineffective COVID-19 vaccine.
We had to attend mandatory COVID testing every Monday and Thursday at 6:00 a.m., just us "susceptible" cadets, even though it is a well-known fact that being vaccinated does not prevent a person from contracting COVID.
We were not allowed to travel more than 75 miles beyond West Point or out of the state, while vaccinated cadets were granted all off-campus pass privileges.
I was kicked off the women's rowing team, because apparently it was too high of a risk for me to participate in physical activities outside, but sitting in class right next to other cadets and eating at mandatory lunches side-by-side was not a problem.
I knew it was only a matter of time before I would have to choose between the shot or my education, my future career as an officer, and everything I had put into this institution. I dreaded the idea that all my hard work could go to waste over this vaccine.
A Sad Day of Reckoning
The infamous day I had anticipated finally arrived on September 27. The unvaccinated cadet population had dwindled to 30, as the coercion had not stopped throughout the semester. We were brought into a small auditorium to be briefed and ordered to take the COVID vaccine by the brigade tactical officer.
Cadets questioned the lawfulness of the order, as the vaccine we were offered was not the FDA-approved brand but was issued under an Emergency Use Authorization, which legally must be taken voluntarily with informed consent. The FDA authorized Pfizer's brand Comirnaty, which was not available because it hasn't been manufactured. If you are harmed by an EUA vaccine, you can't sue the pharmaceutical company.
Cadets were silenced and told that the lawfulness of the order was nonnegotiable. We were told that we could speak to lawyers about our concerns after the briefing, but they were conveniently "unavailable" while we were told to sign a document.
Roughly 10 cadets got the vaccine that day, and the rest applied for either religious or medical exceptions. I did neither, and refused a direct order from my superior officer. My tactical officer told me the consequences of this decision included a very bad mark on my military record (a "General Officer Memorandum of Reprimand") and potential honorable or other-than-honorable discharge from the Army.
It was on this day that I made my decision to leave West Point (with an honorable discharge), as I did not want to risk any negative repercussions of being other-than-honorably discharged from the U.S. Army in the civilian world.
Everything I had worked so hard to attain since high school was gone, including the hours I put into studying and building my physical and mental endurance.
I wanted to dedicate my life to protecting the freedoms of American citizens and defending the U.S. Constitution as an officer, but I was having my freedom to choose and my bodily autonomy taken away. The Army I thought I knew had completely betrayed my rights and its doctrine of "the citizen soldier."
Now I have to start over. The increasing stress of finding a new school, paying for it, and starting a new career path have hit me like a truck. A choice is no longer a choice when someone is backed into a corner. I feel cheated out of my education, my goals, and my aspirations. I thank God I am still young and had nothing to pay back to the Army. I only pray that no one else has to go through what I went through, and that others do not have to endure the unethical, immoral implications and effects of the COVID-19 vaccine.