Over five months after a federal grand jury indicted a California man for threatening to kill Rep. Matt Gaetz (R-Fla.) and his kids, the Department of Justice have finally made the arrest.
The DOJ have arrested longtime television and film cameraman Eugene "Gene" Huelsman for leaving a menacing voicemail for Gaetz on January 9, 2021.  Huelsman told the Florida Republican  to watch his back, and his children's too, because he was coming for them.
"I'm going to put a bullet in you and I'm going to put a bullet in one of your f—king kids too," Huesman said, adding, "I hate you."
Gaetz recently married and has an adopted adult son.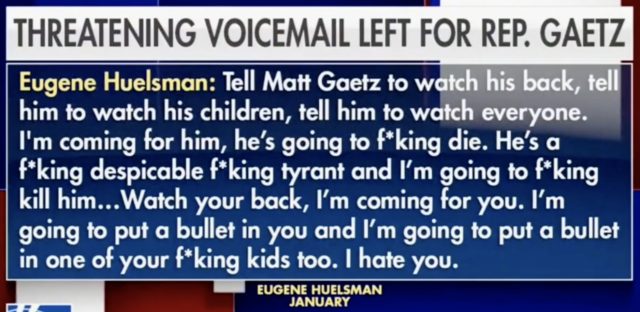 According to IMBD, Huelsman has done camera work for Saturday Night Live, Late Night With Conan O'Brien, the Ellen DeGeneres Show, and numerous T.V. series, award shows, and specials, including FOX's "New Year's Eve Toast & Roast 2021."
Fox News reporter Kevin Cork told Fox News host Tucker Carlson that Huelsman has worked for ABC, NBC, and CNN.
The cameraman has almost 30 years experience in television and film production, according to his profile on LinkedIn.
He was arrested over the weekend in the Los Angeles area, Cork reported.
The DOJ has not yet detained the deranged man who threatened to kill Gaetz on Twitter earlier this month, and who allegedly traveled to Washington D.C. to fulfill his mission. These threats have happened as the Justice Department has executed the biggest and most aggressive dragnet in its history to arrest political dissidents.  As Carlson noted, the feds have managed to arrest "hundreds and hundreds and hundreds" of Trump supporters who trespassed in the Capitol on January 6.
Cork told Carlson on his show Tuesday night that federal law enforcement usually takes threats to congressmen very seriously, especially in light of the congressional baseball shooting of June 2017 that nearly killed Rep. Steve Scalise (R-La.).
"In this case, authorities have acted, albeit belatedly," Cork noted.
BREAKING: Eugene "Gene" Huelsman, a longtime camera operator for CNN, ABC, NBC, and others, has been ARRESTED for threatening to kill Matt Gaetz and his family.

Another man who recently threatened Rep. Gaetz is still free after the DOJ blocked USCP's recommendation for arrest. pic.twitter.com/JbIe3LJAY5

— Rep. Matt Gaetz (@RepMattGaetz) October 27, 2021
In a floor speech last week, Gaetz drew attention to a disturbed individual who had been threatening him on Twitter.
"I think someone may be trying to kill me, and if they're successful, I would like my constituents and my family to know who stopped their arrest," Gaetz said, going on to explain that that a man with the Twitter handle @CIABOBISATYOURDOOR had threatened to kill him, and was on his way to D.C.
"Lookie here pal. I lived in Portland. Portland has ordered a hit on you. I accepted the contract. Have a good day," "CIA Bob" wrote in one tweet.
Despite the Capitol Police's recommendation that the individual be arrested, the DOJ refused, according to Gaetz.
The congressman said that he found this out from a source in the Investigations and Threat Assessments section of the Protective Services Bureau.  According to Gaetz, an official named George DeSesso told him that "the Capitol Police had recommended the arrest of this individual, and that the Department of Justice refused to do so."
BREAKING: A man traveled across the country with the explicit goal of killing me in Washington, D.C.

Capitol Police recommended arrest. They were blocked by DOJ. https://t.co/4nxMzJVycZ pic.twitter.com/ZejSezYHOC

— Rep. Matt Gaetz (@RepMattGaetz) October 20, 2021
Correction:
A previous version of this story indicated that Rep. Gaetz is not married, and has an adopted teenage son. In fact, the congressman married his girlfriend Ginger Luckey in August, and his son, Nestor Galban, is no longer a teenager.