A deranged lefty traveled to Washington D.C. after stating a desire on social media to kill Rep. Matt Gaetz (R-Fla.), and after the Capitol Police recommended that he be arrested, the Biden Justice Department refused to do so, Gaetz alleged on the House floor Wednesday.
"I think someone may be trying to kill me, and if they're successful, I would like my constituents and my family to know who stopped their arrest," Gaetz began.
The Florida congressman went on to explain that on October 8, 2021, an individual with the Twitter handle @CIABOBISATYOURDOOR threatened him.
"Lookie here pal. I lived in Portland. Portland has ordered a hit on you. I accepted the contract. Have a good day," "CIA Bob" tweeted.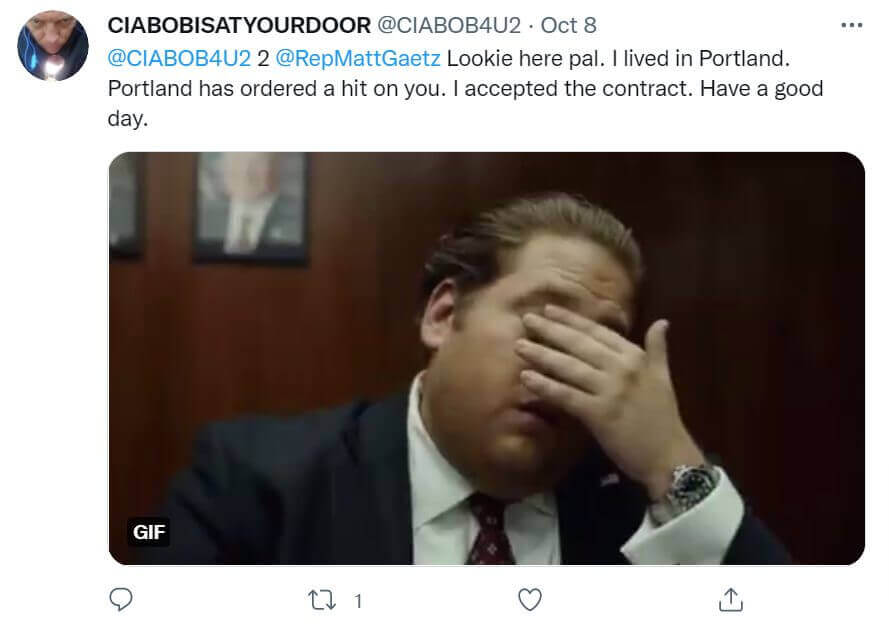 The individual also tweeted on Oct. 8 that he planned to wipe Gaetz "off the surface of the earth."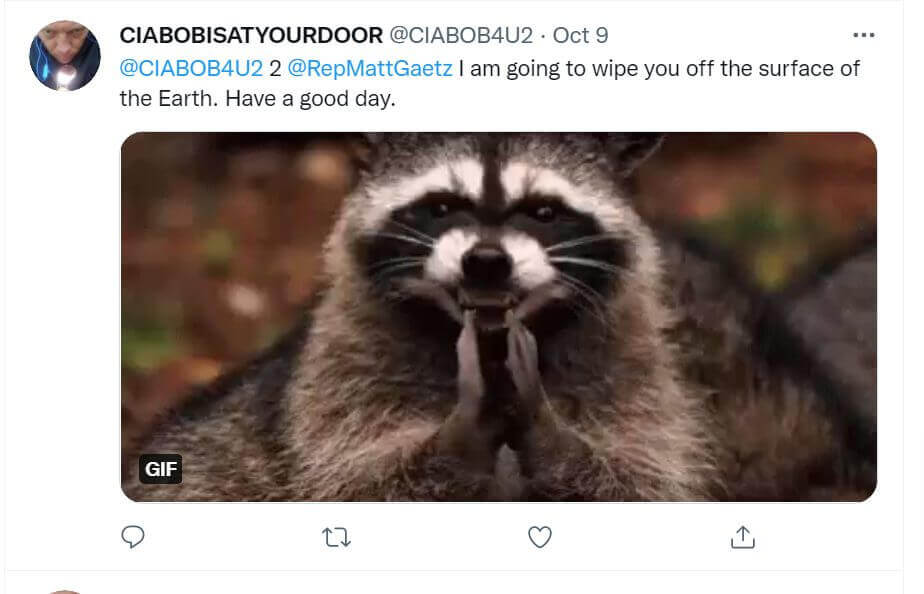 In subsequent tweets, CIA Bob" told Gaetz "You will meet me," "run and hide," and "last rights are according to me." 
He also tagged Gaetz in a Tweet in which he shared a menacing selfie.
@CIABOB4U2 2 @RepMattGaetz pic.twitter.com/tzRCmDqRjV

— CIABOBISATYOURDOOR (@CIABOB4U2) October 8, 2021
Update: Twitter suspended CIABOBISATYOURDOOR's account Thursday morning for violating the platform's rules. Screenshot below: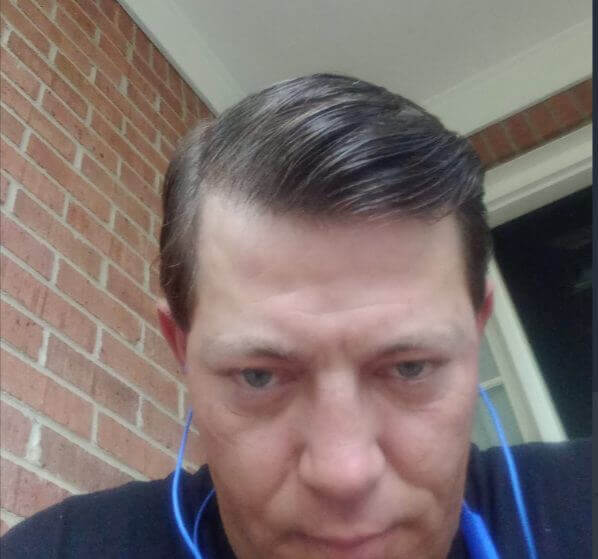 Gaetz said that following the threatening tweets, "this individual traveled to Washington D.C., and the Capitol Police recommended his arrest."
The congressman said that he had just learned this from the Investigations and Threat Assessments section of the Protective Services Bureau, specifically from an official named George DeSesso."
He explained that DeSesso had told him that "the Capitol Police had recommended the arrest of this individual, and that the Department of Justice refused to do so."
Gaetz noted that this alarming episode happened the eve of Attorney General Merrick Garland's testimony before the House Judiciary Committee on Thursday.
Garland is expected to face intense questioning over his controversial school board memo, the January 6 political prisoners,  and other ongoing crises during the oversight hearing.
"It is yet another example of the Department of Justice having a double standard," Gaetz argued.
"If my name weren't Gaetz—if it were Omar, or Tlaib—you can bet this person would have been arrested because that's what the Capitol Police recommended, but the Department of Justice really doesn't seem to care so much when it's Republicans" he said.
Gaetz, who is a member of the House Judiciary Committee, is sure to bring up the threat during what promises to be a contentious hearing.
BREAKING: A man traveled across the country with the explicit goal of killing me in Washington, D.C.

Capitol Police recommended arrest. They were blocked by DOJ. https://t.co/4nxMzJVycZ pic.twitter.com/ZejSezYHOC

— Rep. Matt Gaetz (@RepMattGaetz) October 20, 2021
Just a little over four years ago, it should be remembered, a leftwing activist from Belleville, Illinois, traveled to Washington D.C. with the intention of killing as many Republicans as he could.
A horrific shooting ensued at an Alexandria, VA park where 24 Republican congressmen had gathered to practice for the next day's Congressional Baseball Game for Charity.
James Hodgkinson, 66, shot U.S. House Majority Whip Steve Scalise, U.S. Capitol Police officer Crystal Griner, congressional aide Zack Barth, and lobbyist Matt Mika. A ten-minute shootout took place between Hodgkinson and officers from the Capitol and Alexandria Police before officers shot and killed Hodgkinson.