An alleged domestic abuser from Minneapolis who was bailed out of jail a month ago thanks to a bail fund supported by the Biden Campaign and Kamala Harris, has been arrested again on murder charges, Fox News reported.
George Howard, 48, was released on August 6 after the Minnesota Freedom Fund (MFF) paid his $11,500 bond on charges of domestic abuse. He was charged with murder several weeks later after he allegedly shot another driver on an I-94 entrance ramp during a road rage incident on August 29, according to police.
.
Oh, George Howard had been in jail on a domestic assault charge since Aug. 5 and the @MNFreedomFund bailed him out 18 days before he shot and killed Luis Martinez Ortiz at Dowling and I94 last Sunday.

Ya picked another winner, MFF, bravo. Thanks so much.
.
. pic.twitter.com/wwErKyLagm

— CrimeWatchMpls (@CrimeWatchMpls) September 3, 2021
Surveillance video recorded the moments when the driver of a blue BMW confronted Howard, who was driving a white Volvo, according to St. Paul's KSTP-TV. The victim can be seen punching Howard, then collapsing.

The victim, later identified as Luis Damian Martinez Ortiz, 38, got back into his car, then drove into the median. He was pronounced dead at the hospital with a gunshot wound to the chest, according to city officials.
Howard was charged with two counts of second-degree murder that same day.
In a series of now deleted tweets, the Minnesota Freedom Fund acknowledged it's role in putting an alleged domestic abuser back on the streets.
The MFF said in the tweet thread (preserved by the Internet Archive):
"We are aware of reports of the tragic and fatal shooting in Minneapolis earlier this week allegedly involving George Howard, an individual the Minnesota Freedom Fund had previously provided with bail support. MFF believes that every individual who has been arrested by the law enforcement is innocent until proven guilty, and if a judge deems them eligible for bail, they should not have to wait in jail simply because they don't have the same income or access to resources as others."
The organization said it was reviewing its policies "to ensure that we are being responsive to the safety needs of our community," and were "closely monitoring" the Howard case.
"Under new leadership, MFF has implemented changes to its policies and procedures, and we will continue to assess them to ensure that we are being responsive to the safety and needs of our community," the group wrote.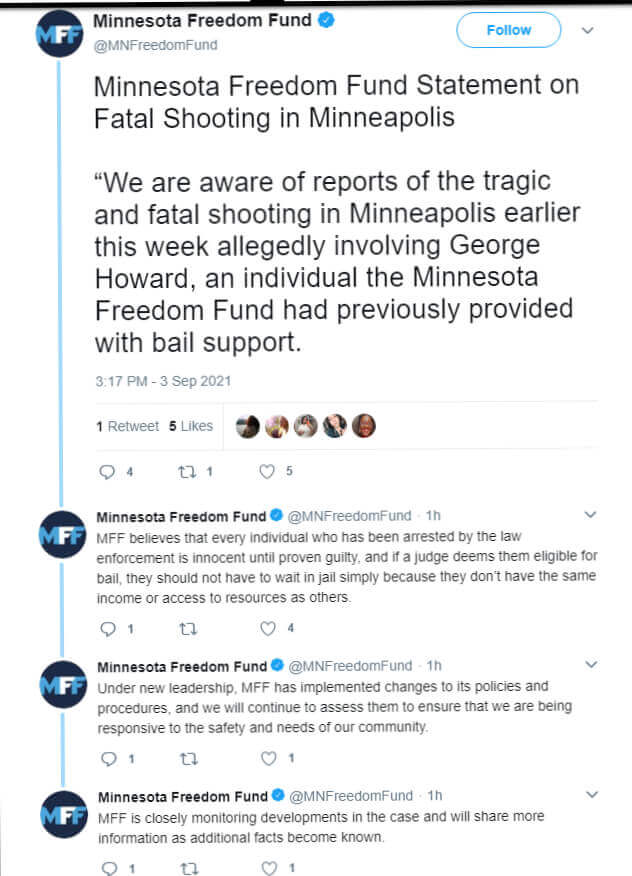 Harris promoted the radical bail group during the 2020 campaign, urging her Twitter followers to donate to the MFF "to help post bail" for violent Black Lives Matter and antifa agitators arrested in Minneapolis for rioting in the wake of career criminal George Floyd's death in police custody. A spokesperson for Harris declined to give Fox News a comment Tuesday.
"If you're able to, chip in now to the @MNFreedomFund to help post bail for those protesting on the ground in Minnesota," she wrote, linking to the group's donation site on ActBlue, a Democratic PAC.
If you're able to, chip in now to the @MNFreedomFund to help post bail for those protesting on the ground in Minnesota. https://t.co/t8LXowKIbw

— Kamala Harris (@KamalaHarris) June 1, 2020
A spokesperson for Harris declined to give Fox News a comment Tuesday.
In addition to Harris, at least thirteen campaign staffers for Joe Biden made donations—possibly in coordination with the campaign—to the group to bail out Black Lives Matter and antifa agitators during the spring of 2020, according to Reuters.
The Biden staff members made a point of tweeting on a Friday and Saturday in late May that they were donating to the Minnesota Freedom Fund.
Campaign spokesman Andrew Bates said in a statement to Reuters that Biden opposed the institution of cash bail as a "modern day debtors prison."
But the campaign declined to answer questions on whether the donations were coordinated within the campaign, underscoring the politically thorny nature of the sometimes violent protests.
Since they've been in the spotlight, the MFF has drawn criticism for repeatedly bailing out violent criminals, including rapists, murderers and pedophiles.
Last March, Hans Olson, who was brutally assaulted in August of 2020 by a suspect bailed out by the Minnesota Freedom Fund, and his wife provided harrowing testimony to a Minnesota Senate committee in support of a bill to regulate charitable bail organizations.
Olsen's wife, Jessica Sweeney, struggled through tears as she recounted how she felt when she first saw him in the hospital after the assault. Olsen had suffered a traumatic brain injury with brain bleed after being randomly attacked by a violent repeat offender. He said he was in the hospital for three days, and it was five months before he was medically cleared to return to full time work.
"I have supported many causes over the past year to increase social justice in Minneapolis, especially after the George Floyd incident," Olsen testified. "However, I never imagined that money donated to support peaceful protesters who have been jailed would ever be reallocated to release a repeat violent offender."
In a statement on Tuesday, Minnesota Rep. Paul Novotny (R-Elk River), a retired 30 year veteran of the Sherburne County Sheriffs office, and member of the House Public Safety Committee, called on the Minnesota Freedom Fund to immediately halt bail payments on behalf of violent offenders.
"I am calling on the MN Freedom Fund to immediately halt bail payments for violent offenders, especially for those with histories of domestic violence. It's unconscionable to be putting victims back in harms way by bailing out their abusers and putting lives at risk by putting dangerous criminals back on the streets," Novotny said.
"As a longtime member of law enforcement, I have defended our constitutional principles of due process for my entire career. But the MN Freedom Fund's decision to bail out any and all criminals, regardless of criminal history, gives those individuals a blank check and zero accountability to follow the law and show up for their court date once out on bail. Violating the terms of their release has no consequence financially for those individuals, and it has devastating consequences for families who will never see their loved one again, victims who live in fear when their abuser is released from jail, and more. While the MN Freedom Fund has the legal right to use the millions of dollars they raise from celebrities and Democrat politicians — including Vice President Kamala Harris — they should pause and reflect whether their opposition to bail outweighs the need to keep Minnesotans safe."
The Minnesota Freedom Fund confirmed reports this weekend George Howard, who was arrested and charged with the murder of Luis Martinez Ortiz in a road rage incident last month, was an individual bailed out by their organization. #mnleg See full statement: https://t.co/Xq1hq5y9kD pic.twitter.com/mConVmpTEE

— MN House Republicans (@mnhousegop) September 7, 2021