"I don't know about you guys, but this is pretty special right here," X vocalist and bassist John Doe told an enthusiastic sold-out crowd in Orange County, California. "When was the last time you were gathered somewhere with 8,000 people?" 
Politicians and public health officials are fretting about the resurgence of COVID-19, with the Delta variant reportedly spreading fast among the vaccinated and unvaccinated alike. But few among the nearly 8,000 fans gathered last Sunday at the Pacific Amphitheatre to hear the Blasters, Los Lobos, and L.A. punk rock pioneers X seemed too concerned. The overwhelming majority of the audience—people mostly in their 50s and 60s, from what I could tell—didn't wear masks, perhaps reasoning that the cool ocean breeze would keep errant viruses from lingering very long. 
Or maybe they'd had enough fear and just wanted to have a good time again. 
And it was a great time. All three bands played with new energy. People were on their feet dancing and singing. "We never thought we'd see this day," X singer Exene Cervenka said as the band exited the stage. It's fair to say, many of the people in the audience agreed with her.
The Last Hurrah
To answer Doe's question, last Sunday's show was the first time I'd attended a large gathering of any kind since March 2020. Most of the dozen or so concertgoers I spoke with—people in the row sitting on either side of me; people in line for t-shirts and concessions—said the same. 
(I have no idea whether any of them were vaccinated. I didn't ask.)
The sense of relief was palpable—and heartwarming. I saw old friends greet and embrace each other for the first time in what must have been 17 or 18 months. It was beautiful to see so many people smiling again. Have you tried smiling "with your eyes" behind a mask? It doesn't work very well. It felt good to feel that old human connection among strangers once more.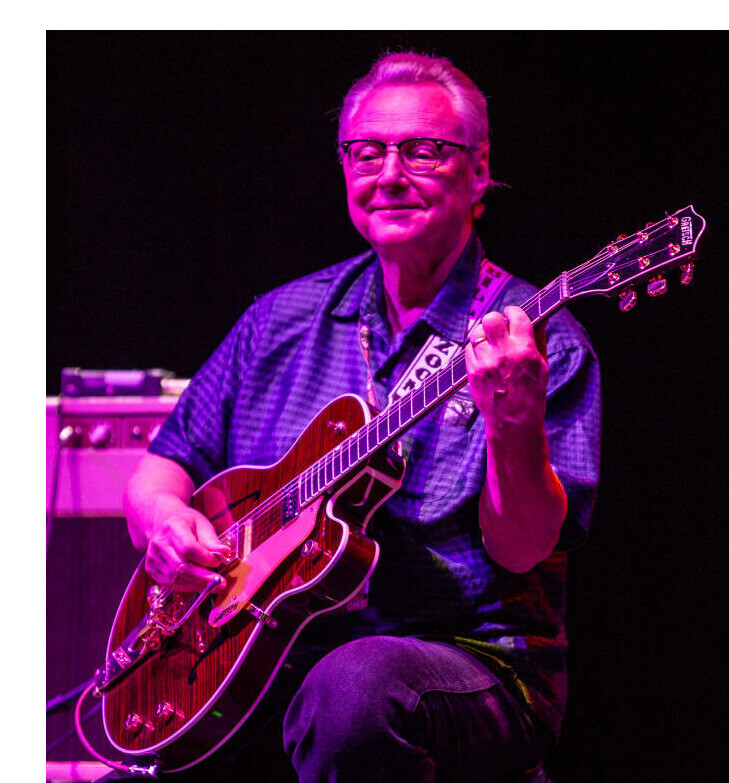 Given everything we've heard about the spread of COVID-19, it must have been a miracle my friends and I didn't get sick last year when around 1,000 people packed into Hollywood's Avalon Theater to hear an all-star group of musicians and comedians pay tribute to AC/DC's Bon Scott. Nobody in the crowd could have known that nine days later, Governor Gavin Newsom would issue a two-week "stay-at-home" order that not only ended live shows but also closed schools and churches and shut down any "nonessential" economic activity in an effort to slow the spread of the virus. 
It's difficult to remember clearly now, especially after a summer of riots and the most contentious presidential election of our lifetimes, but those were strangely mordant days ahead of the "15 days" that lasted about 15 months and felt like 15 years. Toilet paper shortages had already become a punch line. I recall nervous laughter rippling through the Avalon audience when one comic cracked a joke about so many people crowded together in the room and, as if on cue, somebody near the stage loudly coughed. 
If there had been an opportunity for a "superspreader" event as the virus was ramping up, the Avalon would have been prime real estate. Nobody socially distanced. Nobody wore masks. (Why would they? The expert opinion at the time was that masks were unnecessary.)  Everybody should have gotten sick. Yet I heard nothing afterward about an outbreak among the performers or audience members. My friends and I didn't suffer so much as a sniffle. 
Just lucky, I guess.
Another Lockdown Coming?
I can't help but feel like the X concert was another "last hurrah" before another round of lockdowns. But it's just a feeling. In the absence of good information, we're left with rumors and conjecture.
Some California counties have reimposed certain restrictions, but without the same zeal as before. Los Angeles County officials on July 15 reinstated an indoor mask mandate, but the county sheriff said his department would not enforce it, saying the rules are "not backed by science." Other county health departments have merely "recommended" or "advised" that people should go back to wearing masks, regardless of their vaccination status. Businesses, of course, are free to require or not require masks. In the small mountain community where I live, a few have but most have not. 
It's possible that Newsom may be hesitant to issue another "stay-at-home" order. He faces a tough recall election in about a month. Among voters who favor booting Newsom from office, 34 percent point to his COVID restrictions, 13 percent blame business shutdowns, and 4 percent cite school closures. Notably, 10 percent refer specifically to Newsom's dinner last year at the tony French Laundry in Napa, at a time when California restaurants were not allowed to have indoor dining and many businesses were closing for good.
Even if Newsom (or his possible replacement) decided to lock down the state again, it's hard to believe that people would be quite as willing to go along. 
A prevailing misconception about California's COVID "lockdown" is that 30 million people were under virtual house arrest for months at a time. We all saw the pictures and heard the stories. We watched the videos of screeching harridans harassing mothers who let their kids play in mostly empty parks. Among the most preposterous was the scene of Los Angeles police converging on a lone paddleboarder near the Malibu Pier. 
But the reality was much different, depending upon where you lived. Like the L.A. County sheriff today, many county sheriffs refused to enforce state diktats, which meant most people could come and go as they pleased. In spite of rules that limited social gatherings to no more than five people, many people discreetly formed "bubbles" and went about socializing as they did before, just in smaller circles. 
And Americans asserted their liberties when they saw fit, as they've always done. Recall the media's horror as the sky over Southern California lit up with illegal pyrotechnics on July 4. Not only would all that smoke play hell with the region's air quality, but think of all those people disregarding the scientific experts' edicts and putting their lives at risk! 
Some people got sick two weeks later. Some people died. But all of them took a calculated risk—as is their right. 
The Shows Must Go On
Millions of Americans also took a calculated risk and got the experimental COVID vaccine with the promise they could resume their normal lives and breathe freely again. (I was one of them.) They could return to church. They could go back to restaurants and bars. They could see live concerts again without anxiety.  
Now that promise appears to be in jeopardy. After more than a year of often contradictory advice and seemingly senseless rules and restrictions, otherwise concerned citizens—people who certainly would not put other people's lives at risk wantonly—might be tempted to throw up their hands and say to hell with it.  
We had over a year of this pandemic regime. Men and women in authority, some with Rs and some with Ds behind their names, did incalculable damage to the economy, to a generation of school children, and to the very legitimacy of the institutions they supposedly serve. And most of them will pay little or no price for their decisions. 
X wound down their electrifying set with a new song, "Goodbye, Year, Goodbye," from their latest album, "Alphabetland," one of the few pleasant surprises of annus horribilis 2020. It's a fitting anthem for what we just went through: 
Oh so happy, awful sad
Chocked so full for less than empty
My bank account is down and out and overdrawn
I could go on and on and on and on and on
Goodbye, year, goodbye
Please don't make us cry
So long year, so long
We'll sing you out with a song . . .
Last Sunday, 8,000 people bid goodbye, COVID year, goodbye—with tears of joy. And good riddance. At long last, let's say hello again to living.