The only video Ashli Babbitt's mom has seen of her daughter on January 6 is a clip of her walking from Donald Trump's speech to Capitol Hill. "That brings me peace," Micki Witthoeft, Ashli's mom, told me by phone on Wednesday. "She was in her zone, so happy, having a great day."
"Until that son-of-a-bitch shot her."
Nearly seven months after a United States Capitol Police officer shot Ashli Babbitt in the Capitol building on January 6, the government and subservient corporate news media still refuse to confirm the name of the federal officer who killed her. (Investigative journalist Paul Sperry recently reported the shooter likely is USCP Lt. Michael Byrd.) The Justice Department closed its investigation into her shooting in April and announced the unnamed officer would not face criminal charges.
Three USCP officers participated in an overdramatic public hearing before the January 6 select committee on Tuesday, often referring to protesters as "terrorists," "insurrectionists," and "traitors," though not a single person arrested in the aftermath has been charged with terrorism, insurrection, or treason. They repeatedly claimed they thought they would be killed by the protesters. USCP officer Harry Dunn asked for a moment of silence in honor of Officer Brian Sicknick to once again promote the falsehood that he was killed in the line of duty.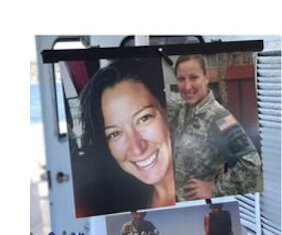 But there was no moment of silence for Babbitt, an Air Force veteran and Air National Guardsman with eight deployments overseas, including to Iraq and Afghanistan, who actually was killed on January 6. There were no tears and table-pounding from crisis-actor cops or emotionally-fragile lawmakers mourning her premature death. Babbitt was just 35.
In fact, no one bothered to mention her name.
Witthoeft, 57, described her oldest child as "determined and strong willed." A "tomboy" of sorts, Ashli always was up for adventure. While in high school, Ashli decided she wanted to join the military; Witthoeft said she signed a notarized document to allow Ashli to enroll in the Air Force at the age of 17. "September 11 strengthened her conviction to serve," Witthoeft said. 
Ashli graduated from El Capitan High School in Lakeside, California in 2003 and entered the U.S. Air Force. On her 21st birthday, Ashli sustained serious injuries in an explosion at Camp Bucca detention facility in Iraq and was airlifted to a hospital in Germany.
Ashli's adventurous spirit, Witthoeft explained, is what motivated her daughter to travel alone from California to Washington, D.C. so she could listen to Donald Trump's speech on January 6. "She was an avid Trump supporter, she knew that's where she had to be," Witthoeft said. "She went to all the [Trump] rallies if there was one nearby. She was the political one at our house." At the time, Ashli and her husband, Aaron, were operating a pool cleaning company in southern California.
Video shows Babbitt with several other people, including police officers, outside the Speaker's Lobby on the afternoon of January 6. Babbitt is seen yelling at officers stationed in front of a set of double doors, one with a broken window. USCP officers stepped aside a few moments later; people started to smash the glass of the locked doors. Babbitt then attempted to climb through one of the windows.
That's when the officer, wearing gloves, lifted his firearm and shot her in the neck. She died almost immediately.
Witthoeft remembers getting the call from her daughter-in-law at work. "We knew from the news reports that someone had been shot and killed at the Capitol. So when she called to say Ashli was shot, I just knew. I could tell in her voice. We hoped there was time to pack a bag and get to D.C., but there wasn't."
Witthoeft said "red tape" and the military-style lockdown in the capital caused a long delay in getting Babbitt's body back home. In February, Babbitt was cremated and her remains scattered into the Pacific Ocean near her favorite dog park.
Three days later, after sleeping on her belongings awaiting her return, Babbitt's beloved German Shepherd died.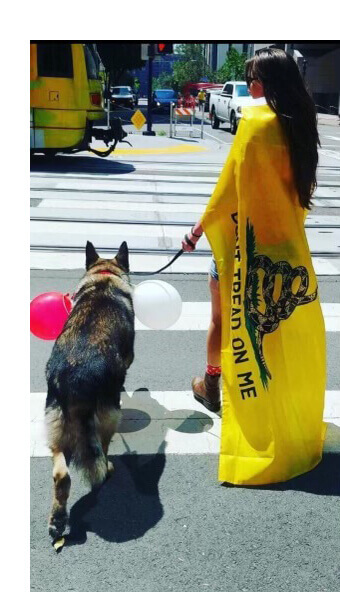 "She didn't have to be killed, there were other options," Witthoeft said of her 110-pound, 5-foot-2 daughter. (Babbitt was unarmed.) "Then they dragged her out like an animal, cleaned up the mess, and went about their business." 
A few weeks after Ashli was killed, Witthoeft said she finally took her head off her pillow and started making calls. A staffer for Senator Dianne Feinstein's (D-Calif.) office at first hung up on her, insisting he didn't know who Ashli Babbitt was. Witthoeft called again; the same staffer answered. She asked to speak with her senator for two minutes. "Ma'am, I am sorry for your unfortunate situation but if your daughter hadn't stormed the Capitol, she wouldn't have been shot," Witthoeft said the staffer told her. "Dianne Feinstein will never have two minutes for you."
Donald Trump called Witthoeft on July 1. He spoke very warmly about Ashli and talked about the political prisoners held without bond in a D.C. jail for months awaiting trial or plea offers. The people who went to Washington on January 6, Witthoeft said, were "true patriots doing what [the president] told them to do. They believed this was a stolen election."
Witthoeft said Babbitt's four brothers are struggling to cope with their loss as is her own husband of 33 years. "He's not her biological father but this has brought him to his knees," she told me. Some days are better than others. "Ashli was a problem solver. I guess it sounds weird to say as her mom but I always looked to her for guidance."
Her family's grief has been compounded by the media's grotesque portrayal of their loved one as a "QAnon conspiracy theorist," or worse, a traitor who got what she deserved. And such vile comments aren't coming only from Democrats or leftist nutjobs such as Keith Olbermann. This week, Senator Kevin Cramer (R-N.D.) told a caller on a Fargo radio station that Babbitt was a "criminal" and the public is not entitled to know the identity of the federal officer who killed her. "[W]hat would be the purpose of releasing that officer's name?" Cramer fumed at the caller's demand to release his name. "What do you need to know the officer's name for?"
The first-term Republican senator said he is "grateful" for the officer who shot Babbitt.
Representative Markwayne Mullin (R-Okla.) defended the shooting in a C-SPAN interview this week. Recalling his interaction with the officer after Babbitt was killed, Mullin said, "I gave him a hug and I said, 'sir, you did what you had to do.'" Mullin never mentioned Babbitt's name.
"It's infuriating," Witthoeft told me. "She was there exercising her First Amendment rights. This country was founded on brave men and women and I feel like that's what our patriots were doing," Witthoeft also said she sings the National Anthem every night at 6:00 p.m. Pacific Time in solidarity with the January 6 detainees held in a D.C. jail, who sing the song every night at 9:00 p.m. in the East. "We're fighting for justice for all of them."
Witthoeft, however, is comforted by the outpouring of love and support from so many Americans "lifting up Ashli's name." She hopes it results in a "betterment of America."
And her message to those who smear her late daughter's name? "You only have awful things to say? Well, my daughter fought for your right to say them."
"You're welcome."