The man who angrily berated Fox News host Tucker Carlson at a Montana fly fishing shop, and then posted a video of the confrontation on his Instagram page, formerly worked with The Asia Foundation, a non-profit created by the CIA in the 1950s explicitly for political warfare.
Ok, this is kinda odd. pic.twitter.com/2uVg2kg19y

— JLaw (@yoopermomma) July 25, 2021
In the now viral video, the man, Dan Bailey, called Carlson the "worst human being known to man," and accused him of killing people with vaccine misinformation and supporting "extreme racism."
Carlson, an avid fly fisherman, was in Livingston, Montana, on vacation with his family, when he was confronted by Bailey in Dan Bailey's Outdoor Company, which despite sharing the same name, claims to have no affiliation with the irate customer.
The 34-second clip begins with Bailey talking to Carlson about vaccines. After Carlson told Bailey his daughter was with him in the store, Baily responded,  "I don't care, man. Dude, you are the worst human being known to mankind."
Carlson quietly said, "I appreciate that," and "I'm not gonna debate," as Bailey continued his rant: "I want you to know that. What you have done to this state, to the United States, to everything else in this world. I don't care that your daughter's here. What you have done to people's families, what you have done to everybody else in this world…"
Carlson, after spotting the videographer and laughing, then told Bailey, "Settle down, son," and walked away with Bailey in close pursuit. "Son?" he shot back. "Don't call me son…"
The video ends with Bailey still ranting at Carlson.
Fox News said in a statement: "Ambushing Tucker Carlson while he is in a store with his family is totally inexcusable — no public figure should be accosted regardless of their political persuasion or beliefs simply due to the intolerance of another point of view."
In a statement, Dan Bailey's Outdoor Company said the business has no affiliation with the Dan Bailey shown in the video and stressed: "To be clear, we treat every customer equally and respectfully. Our staff was professional and cordial to Mr. Carlson, as we are with all of our customers."
Bailey touted the video of the July 23, 2021 incident on his Instagram page, feverishly describing Carlson as a racist fascist who is "ripping the country apart," and tagging several left-wing media personalities on his post.
It's not everyday you get to tell someone they are the worst person in the world and really mean it! What an asshole! This man has killed more people with vaccine misinformation, he has supported extreme racism, he is a fascist and does more to rip this country apart than anyone that calls themselves an American. #fucktuckercarlson #stayoutofmontana #democracywillprevail #trumplost @podsaveamerica @hacksontap @maddowshow @ mollyjongfast @lpontheleft @kascellen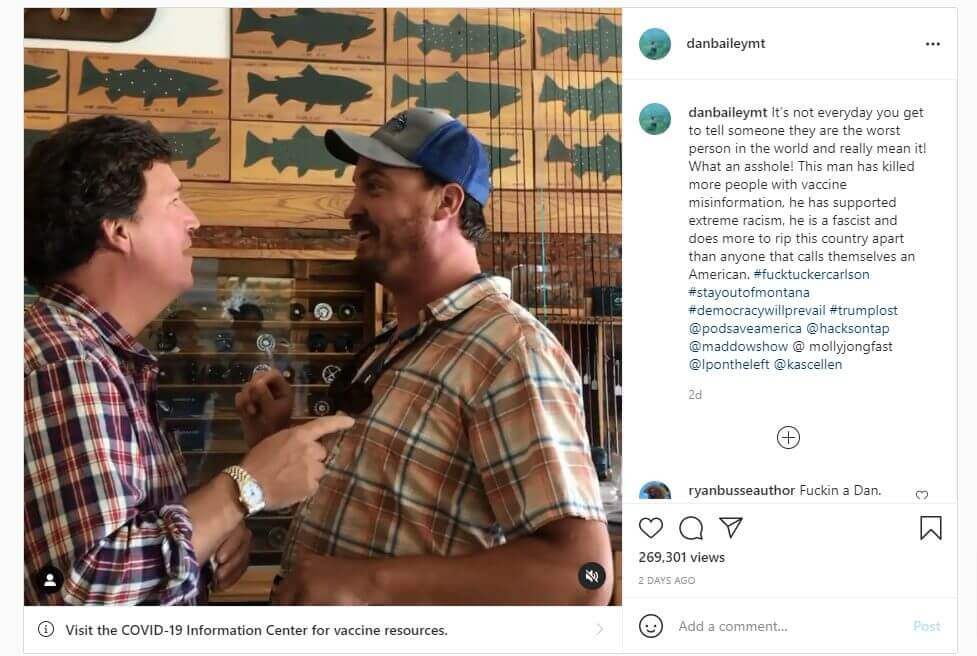 The left-wing disinformation outfit "Occupy Democrats" picked up the video and posted it on social media.
A fly fishing guide just confronted @TuckerCarlson to his face, telling him, "You are the worst human being known to mankind. I want you to know that!" Let's make this go VIRAL! pic.twitter.com/T98wD8Kp9I

— Occupy Democrats (@OccupyDemocrats) July 24, 2021
The mainstream media then picked up the "story," giving them an opportunity to hype an angry outburst of disgust against the popular Fox News host, and slam his coverage of the coronavirus vaccines.

The Week, for example, offered in its "report" a carefully crafted paragraph designed to back up Bailey's unhinged accusations.
Throughout the pandemic, Carlson, the most-watched host on Fox News, has downplayed the coronavirus and stated, falsely, that it's possible the vaccine doesn't work but scientists just aren't telling the truth about it. He's also been slammed by organizations like the Anti-Defamation League for making xenophobic remarks and accused of promoting white supremacist conspiracy theories.
The article doesn't include a link to show Carlson making the claim that "the vaccine doesn't work," nor does it include any examples of his allegedly xenophobic, or white supremacist remarks/conspiracy theories.
Bailey, it turns out, has an impressive background in government-linked conservation projects that includes working with The Asia foundation (TAF). Interestingly, the Asia Project was created by the CIA in 1951, reportedly as a "propaganda machine and a front for covert activities including psychological warfare."
According to Heavy: "Bailey graduated from Montana State University-Bozeman with a bachelor's degree in land resource analysis and management. He then graduated from the University of Montana in 2013 with a master's degree in resource conservation, he wrote on LinkedIn."
He previously worked as the Montana regional representative for Pheasants Forever, a 501 non-profit conservation organization dedicated to conserving wildlife habitat for pheasants, Heavy reported.
Since 2019, Bailey has worked as the Yellowstone Program Manager for the National Parks Conservation Association in Livingston, according to his LinkedIn profile.
Bailey got his start as a conservationist in 2007, when he began working as a river ecologist in Mongolia with The Asia Foundation's 'Securing Our Future' project.
Bailey has also been involved in conservation efforts in Mongolia, including as a board member for the Taimen Fund. According to its website, "The Taimen Fund was established in 2013 to continue earlier efforts by The Tributary Fund, ecotourism fly fishing companies, and international anglers to protect Mongolia's wild taimen. Whereas taimen were once fishable by permit in Mongolia as recently as the mid-2000s, conservation efforts have since resulted in comprehensive taimen laws and regulations. In December 2005, the Mongolian government registered the taimen as a 'rare' species, a species whose population is in severe decline and threatened with extinction. Since 2008, the law has mandated catch and release practice and required the use of single barbless hooks for all anglers fishing for taimen."

The Taimen Fund website says, "Dan began his work in Mongolia during the summer of 2007 as a river ecologist working on the Asia Foundation's 'Securing Our Future' project. During his first field season Dan performed numerous river assessments across Mongolia with a team of Mongolian and American scientists. If you ask Dan the real reason behind his trip to Mongolia it was for a chance at the elusive taimen. 'I saw a photo of a taimen when I was 14 and knew from that date forward I would catch one of these beautiful fish.'"

The fund adds, "Following his work with the Asia Foundation Dan began guiding on the Delgermörön, where the perilous situation that confronted taimen in Mongolia was experienced first-hand. As a result he started working on a project that was intended to inform foreign anglers about taimen conservation and protection. This project was the foundation for a master's degree from the University of Montana, which Dan completed in 2013."
According to an in depth investigation by Muckrock, the Asia Foundation is only on the surface a private non-profit that contributes to the development of Asia. "In reality, since it was created by Central Intelligence Agency in 1951, TAF has engaged in a decades long campaign to misrepresent its origins, purpose, and funding," Muckrock reported.
Filings show that in 2014, TAF received more than 85% of its funding from the USG. While the Asia Foundation Act provides funding to cover TAF's core operational expenses, their government supported budget goes well beyond that through grants and other government programs. The year before, it had received nearly 93% of its funding from the USG and 90% the year before that. As shown in the chart below, in the past fifteen years, TAF had only received such a small portion of its funding from non-USG sources in 2001, and again in 2005.
According to Muckrock, TAF has never lost touch with the CIA, nor lost its support.
TAF portrays itself as having been created "with the approval of the National Security Council" and later being funded by, but remaining functionally independent from, the CIA. In reality, it was a weapon crafted by CIA explicitly for political warfare. Armed with CIA propaganda products, guided by CIA priorities, staffed with CIA contract employees and former CIA staffers, TAF spent the first 16 years of its existence under the direct control of the Agency. For more than a year after that, it relied on funds that the Agency had covertly provided. TAF did not lose touch with the Agency in the following decades, nor did it lose its support.