There is an old saying, supposedly a Chinese curse. "May you live in interesting times." One of the most "interesting" aspects of our time is the intelligence community donning the "woke" warbonnet as it circumambulates the altar of social justice. 
In a spat with politically homeless journalist Glenn Greenwald, John Sipher, a veteran of the CIA's National Clandestine Service, posited that organizations committed to progress, as the agency claims to be, cannot, by definition, be the bad guys. "What's wrong with you?" Sipher asked Greenwald, who had the gall to criticize our modern-day praetorians. "Do you truly believe that a large organization of educated and diverse Americans are tyrants and support authoritarians?" 
The short answer is: yes, emphatically so. Not long ago, the agency allegedly strung up a diverse American named Enrique "Kiki" Camarena when his patriotism flew him too close to the sun.
Camarena's name recently reentered the popular psyche thanks to printed profiles, documentaries, and narco dramas. But his origins are far less glamorous than Hollywood legend.  
He grew up poor in Mexico before immigrating with six siblings to California. Destitution followed them. His parents divorced; one brother died a Marine in Vietnam, the other had problems with the police and drugs. After his own stint with the Corps, Camarena joined the police in Calexico, California, where he worked the seedy underbelly of Imperial County as a narc. When the Drug Enforcement Agency opened its doors in 1973, Camarena was among the first wave of enlistments. By all accounts, he was a stellar, fearless agent. 
When a post at a field office in Guadalajara, Mexico, opened just ahead of the Latin American drug trade's explosion, Camarena transferred to the City of Roses with his wife and three sons. He arrived there in 1980, just in time to witness the bloody birth of the modern cartel from the wild womb of Mexico.
Camarena became a holy terror to narcos, creating informants, organizing drug raids, all while standing above the corruption so common in the trade. "Nobody else in the Guadalajara office could match Kiki's charisma with informants," wrote Elaine Shannon, an investigative journalist. "He had a way of convincing a man to screw up his courage and venture where he never dreamed he would go." His pièce de résistance was the destruction of a single marijuana plantation sprawled over 200 acres of Mexican desert. He was 37.
On February 7, 1985, as Camarena headed to meet his wife for lunch, five armed men surrounded him, crammed him into a car, and drove off in broad daylight. For all the trouble he gave them, narcos interrogated and tortured Camarena for nearly two days. They crushed his skull, cracked his ribs, shattered his jaw, smashed his cheekbones, and broke his nose. A doctor reportedly injected drugs into Camarena's heart to keep him conscious throughout the ordeal. 
They left his body wrapped in plastic outside the quiet little town of La Angostura, where it was discovered, badly decomposed, on March 5, 1985. 
Until recently, blame for Camarena's death fell on the shoulders of narcos and corrupt Mexican authorities, including the Federal Security Directorate (DFS), a Mexican intelligence agency set up, in part, by the CIA and modeled on the FBI.
But the CIA likely played a more direct role in Camarena's death.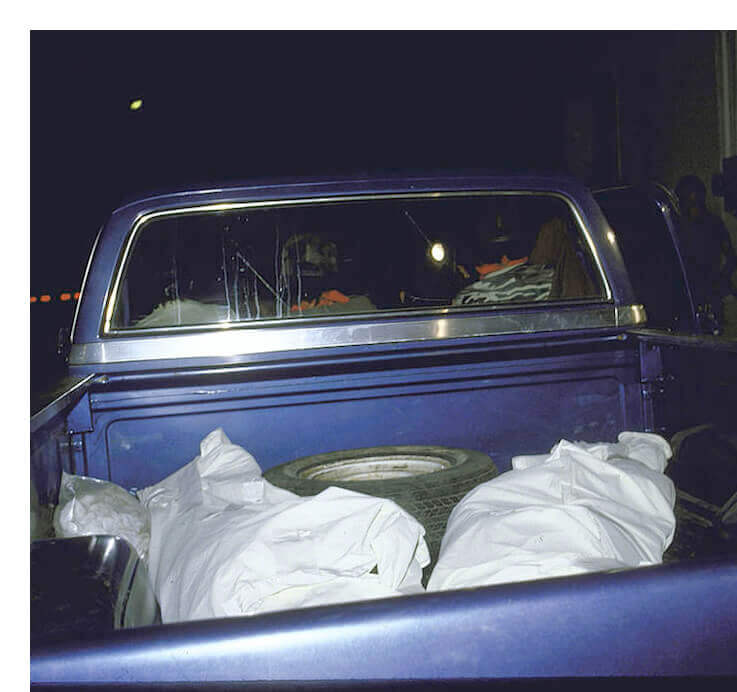 Camarena's scorched earth tactics were inadvertently treading on the agency's alleged funding mechanism for the Contra rebels in Nicaragua. According to an investigation by the Mexican magazine Proceso, the CIA gave the Guadalajara cartel the green light to run drugs for distribution in the United States while the DEA was conducting anti-narcotics efforts south of the border. In exchange, the agency would take a share of the profits to finance the Contras—drug money for a black budget to fund black operations.
When Kiki's rampaging in Mexico struck a little too close to home for the CIA, Camarena became expendable. The agency reportedly participated in his interrogation and murder.
Corroborating this narrative are Phil Jordan, the former director of DEA's El Paso Intelligence Center in Texas; former DEA agent Héctor Berrellez; and Tosh Plumlee, a veteran who claims to have flown drugs and guns for the CIA. Berrellez led a DEA investigation into Camarena's death. 
A handful of Berrellez's informants mentioned a conspicuously white man working with DFS whom they believed knew something about the murder. Berrellez's team found the man, Lawrence Harrison, hiding and afraid in the mountains of southern Mexico. He claimed to have worked as a CIA plant at the Autonomous University of Guadalajara, where he played the part of an English instructor, identifying student militants that would invariably disappear. Harrison told Berrellez that he had lost the nerve for espionage. 
At first, the DEA thought Harrison was crazy. "But a crazy person doesn't have two identities—at least not two that are recognized by the federal government," wrote Jason McGahan in L.A. Weekly. "And Harrison had two identities. After his fingerprints revealed him to be Lawrence Harrison, he had Berrellez run them under a different name, George Marshall Davis." 
In 1990, an article in the Washington Post, "Trial in Camarena Case Shows DEA Anger At CIA," mentions witness "Lawrence Victor Harrison, 45, an American who testified that he installed communications equipment, including electronic eavesdropping devices, for both the DFS and the Guadalajara drug cartel in the early 1980s."  
George Marshall Davis turned out to be as real a person as Harrison. "That name also was a match," added McGahan. "The man sitting in Berrellez's office existed in the federal database under two separate but legal identities." Harrison claimed both governments had enabled the narcos, and what Berrellez heard deeply offended his sense of patriotism. "Héctor," Harrison said, "the CIA killed Camarena."
"Three days of polygraph testing, no deception indicated," Berrellez concluded. "He was telling the fucking truth."
This is more than can be said for John Sipher, who thinks that just because the CIA has embraced the virtue of the dilator, sports a new website with poindexter nonwhite models, and showcases its "cisgender millennial" agents in recruitment propaganda, we ought to simply forget about the agency's sins. 
There is another saying, not Chinese but Jeffersonian. "The tree of liberty must be refreshed from time to time with the blood of patriots and tyrants." The "interesting" thing about our time is that the blood of patriots refreshes a tree not of liberty but of tyranny, whether their blood is spilled in Afghanistan or in the presence of CIA operatives in Guadalajara.