Tim Hale-Cusanelli might not be the easiest January 6 protester to defend.
Some of the memes investigators found on his cell phone mock black people. Hale seems to have an odd fixation with Adolf Hitler, even sporting a haircut and moustache to resemble the Nazi leader.
Those close to him say he's a comedian of sorts and insist his videos are satire not intended to hurt anyone. But a cursory view of the government's evidence against him raises eyebrows. 
They do not, however, make him a criminal.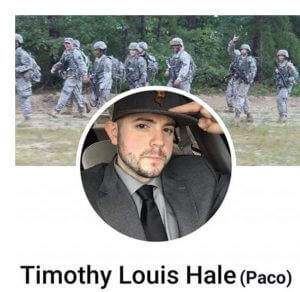 Hale, an Army reservist for 11 years, was honorably discharged after he was arrested for participating in the Capitol protest on January 6. At the time, Hale was a security contractor at the Naval Weapons Station in New Jersey but quickly became ensnared in the Justice Department's "shock and awe" campaign that rounded up at least 100 Americans before January 20 to stop people from going to Washington, D.C. to protest the inauguration of Joe Biden.
The very government Hale served honorably, however, has turned on him in a dishonorable, destructive way.
Before getting into the details of the Justice Department's case against Hale, it's important to note upfront that Hale is not charged with any violent crime. He's not accused of attacking law enforcement or vandalizing any property. Hale didn't bring a weapon to Washington, which is important because, according to government charging documents, he had access to "a variety of munitions" at his workplace. Hale wore a suit and tie, not Trump garb, to the protest.
His charges, like so many against January 6 defendants, relate to trespassing, obstruction, and disorderly conduct. Hale also faces the laughable charge of "parading, demonstrating, or picketing in a Capitol building," an offense always cheered as heroic when the rabble-rousers are Democratic activists.
Hale is nothing more than a scapegoat, a political prop to help bolster the narrative that "white supremacists" attacked the Capitol on January 6.
The case against him was manufactured by the Naval Criminal Investigative Service and included the use of an informant whom Hale considered a friend. Daniel Meyers, a special agent with NCIS, worked with a confidential human source (CHS) the week after Hale returned to New Jersey to gather information on him secretly.
The source told NCIS that Hale "is an avowed white supremacist and Nazi sympathizer who posts video opinion statements on YouTube proffering extreme political opinions and viewpoints." The source then used an "NCIS-approved recording device to record a conversation" with Hale.
Hale was arrested on January 15 after waiving his Miranda rights and speaking with agents from both the FBI and NCIS for more than five hours, during which he "confessed" that he "intended to interfere with the Certification of the Electoral College vote." They seized as evidence two books from Hale's extensive book collection: Mein Kampf and the Turner Diaries.
Even though a local judge allowed for his release, the Justice Department intervened and the chief judge of the D.C. District Court ordered Hale held pending his trial. He was transported to six different jails, including one in Oklahoma, before he arrived at one in Washington, D.C. on February 3, where he has remained ever since.
Two months after his arrest, Joe Biden's Justice Department detailed its bill of particulars against Hale. Not only did the government wire an informant, but investigators interrogated nearly four dozen of Hale's co-workers. 
"The Special Agents asked them a defined set of pre-written questions regarding Defendant's actions on January 6, 2021 [and] Defendant's expression of a white supremacist ideology," government lawyers wrote in a March filing seeking Hale's extended incarceration. "[T]hirty-four (34) of the forty-four (44) interviewees described Defendant 'as having extremist or radical views pertaining to the Jewish people, minorities, and women.'"
Under the subhead, "Defendant's White Supremacist Ideology," prosecutors included quotes from people the agents had questioned as part of their invesigation into Hale's personal and political views. 
"When asked questions about Defendant's ideology, the majority of interviewees acknowledged that Defendant was a White Supremacist and/or gave examples, many of which were violent," prosecutors wrote.
Some of Hale's comments, if true, are inarguably disturbing, including his remark that "Hitler should have finished the job," and other alarming observations about blacks, women, and Jews. (It is difficult to understand why, if Hale said all of these things in the open and so routinely, he was not reported to authorities before January.)
Memes found on his personal cell phone also contain offensive material and racial slurs. (A screenshot of a George Floyd meme was included in the government's filing.) Prosecutors claim one particular photo of Hale proves beyond a reasonable doubt he's a white supremacist. "The photograph below, which was digitally extracted from Defendant's cellular telephone, shows him displaying the 'OK' hand gesture, commonly utilized by White Supremacists to indicate 'White Power.'"
But having memes with racial slurs on a cell phone and making crude, derogatory comments, no matter how offensive, are not against the law. (Yet.)
Further, Hale, 31, has no criminal record. There's nothing to support the government's claim that his "White Supremacist and Nazi Sympathizer ideology appears to be the driving force in his life." He has served in the U.S. military for more than a decade among people of all races and religions without incident. 
None of that matters, of course. Instead, the government delves into batshit conspiracy-theory territory to show Hale is a danger to society. 
"Without more, Defendant's White Supremacist, Nazi Sympathizer ideology would not be grounds for pretrial detention. However, Defendant's statements to CHS make it clear that his ideology is the driving force behind his stated desire for a Civil War. Given that Defendant's desire for a civil war makes him a danger to the community, this Court can and must consider Defendant's ideology within the context of his dangerousness." 
(Hale, who twice asked his friend if he was wearing a wire based on his leading questions, mentioned that he thought a civil war was "inevitable.")
Seriously? There's nothing new or even alarming about people speaking in private about whether America is nearing "civil war." Polls repeatedly show most Americans believe we are headed for a new civil war, including people on both sides of the political aisle. Is the FBI going to start rounding them up, too?
Federal prosecutors dole out even more silliness. Hale's shout-out to someone carrying an "America First" flag near the Capitol on January 6 also makes him a menace, the government alleges. "This flag is the most notable symbol of the 'Groyper Army,' a loose network of alt-right supporters of white supremacist and 'America First' podcaster Nick Fuentes," prosecutors wrote. (Fuentes' Twitter account was suspended last week.) 
The offensive flag can be purchased on Amazon, by the way.
The entire case against Hale has nothing to do with protecting the community or seeking justice. In one sentence, the Justice Department revealed its real purpose in prosecuting Hale. "If nothing else, the events of January 6, 2021, exposed the size and determination of right-wing fringe groups in the United States, and their willingness to place themselves and others in danger to further their political ideology."
In April, the court denied Hale's release. A federal judge said that if he were "just looking at what [Hale] did on January 6, he would be a free man right now." But his "animus" toward certain groups of people made him a danger.
Hale's lawyer appealed. Last week, Hale's pretrial detention was upheld by the D.C. Court of Appeals. Three appellate judges, including Trump appointee Neomi Rao, concluded the lower court hadn't erred in ordering Hale incarcerated until his trial, which won't start until the spring of 2022 at the earliest.
In all likelihood, Hale will spend more than a year in jail before his trial for nonviolent crimes related to January 6 even begins. In the meantime, his case will be used to add fodder to the notion "white supremacists" attacked a building filled with mostly white lawmakers involved in a proceeding led by the whitest man on the planet—Mike Pence—who were poised to certify the election of another white man.
None of it makes any sense—but it doesn't have to. The Biden regime is getting exactly what it wants from the manhunt for Capitol protesters who opposed Biden's election and supported Donald Trump. People like Timothy Hale are merely collateral damage.