In reviewing Tal Bachman's insightful articles about "unsucking" the Republican Party, I was struck by his opinion of Ronald Reagan's famous 11th commandment: "Thou shall not speak ill of a fellow Republican." 
While true in Reagan's day, the contemporary GOP's business-as-usual-disease, which seems to infect a large number of elected Republican officials, invites consideration of means outside of speaking ill of the "slower" Republicans. The problem with those "slower" Republicans is that they tend to be sturdy, stout, and have wonderful capabilities. But they are stubborn and set in their ways. You know, like their equine counterpart, the mule. 
Therefore, this thought: What would Ronald Reagan do with an obdurate mule? Answer: Consider the fishtail spur.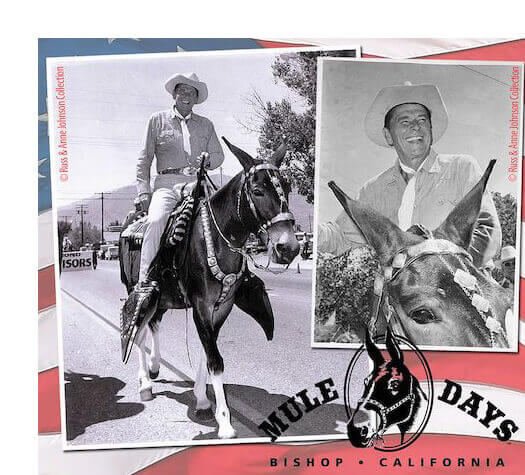 Reagan, who once hosted a television series called "Death Valley Days," knew a lot about mules: Each episode would open with a scene of a 20-mule team hauling a set of heavy wagons across the desert. 
The future governor and president would even ride a big male mule in parades to promote the program. But you will note that in the picture, Reagan is wearing fishtail spurs. Juusssst a little motivation to convince the recalcitrant beast to keep moving forward.
In that light, I thought I would apply Reagan's practical philosophy and Bachman's scintillating ideology to my own congressman, the Honorable Alexander Xavier Mooney.
Like Reagan's mule, Alex Mooney is sturdy, stout, and has wonderful capabilities. He has a degree in philosophy from Dartmouth; he speaks Spanish fluently; he is a Trumpian conservative. But he is stubborn and set in his ways. 
He continues to listen to bad advice from his carpetbagger chief of staff, Mike Hough, aptly described by one American Greatness reader as "just another of the permanent bureaucracy in D.C. that shuffles from job to job, never doing anything productive for the U.S., but becoming rich."
Unlike Representative Mooney, however, it would be unfair to compare Hough to a mule. That would be an insult to mules the world over. Hough, instead, is more of an ass.
For instance, look at the good congressman's latest official communiqué to the people, on the West Virginia taxpayer's dime: a big ole 6-inch-by-11-inch glossy full-color postcard that looks like an ad.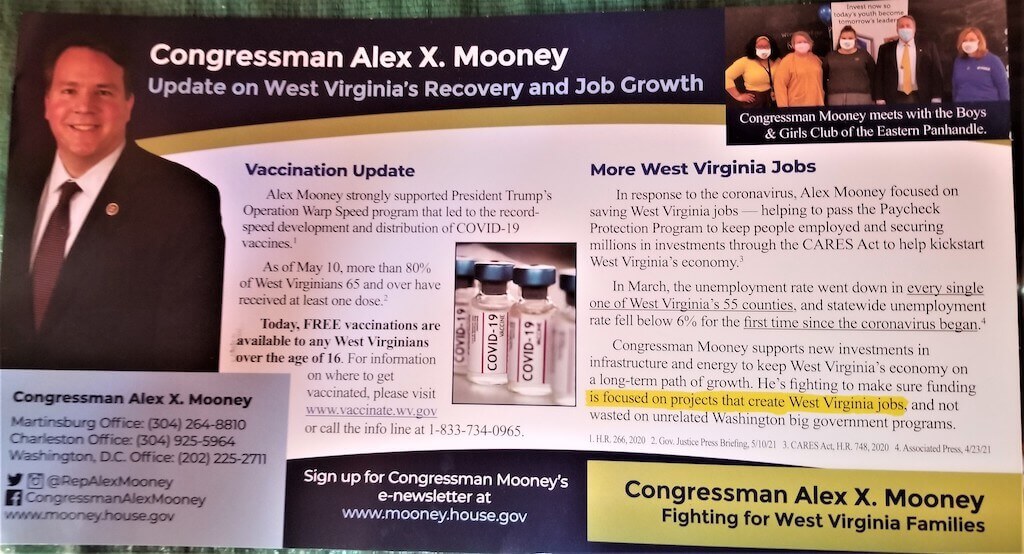 Surely, as it is an official document (it says so on the front), it would have passed through the hands of Mooney's chief of staff for approval. Any responsible chief of staff would see it as the sort of unmitigated disaster Rube Goldberg and the Marquis De Sade would have produced after a roaring drunk. On absinthe!
But Hough was likely not paying attention, given that he is also busy toiling away as a Maryland state senator while also running for the office of Frederick County (Maryland) executive. All of that, evidently, is far more interesting than the constituents of West Virginia's 2nd District.
Then there's the content of the postcard. Of its nearly 300 words, 39 were some part of "Alex X. Mooney." Over 13 percent of that tax-funded space was dedicated to the Congressman's name. 
Fifteen variations of "Alex Mooney"! Eye-rolling comedy not seen since Eddie Murphy's famous "Ellis Dewald" rant in "Beverly Hills Cop 3." 
One would be justified in complaining that this pricey work of art, funded by constituents, is more campaign literature than update information. Obviously, Mike Hough must think that we constituents don't know whom we elected. Talk about a disconnected chief of staff!
We haven't forgotten who we voted for, Mike. You're the one with the short attention span. Clearly you need all of it to run for the office of Frederick County executive, with a $46 million dollar budget and 2,175 employees. Especially since it appears you have no previous executive experience other than political name recognition. Call FEMA now, well ahead of the impending catastrophe, and simply estimate the size of the crater.
But wait, there's more! 
Obviously influenced by a Jenny Craig poster, there are two photos of Alex Mooney. The one on the reverse is a much younger man in suit, tie and smile. And on the flip side: What the hell?!
What lunatic approved this awful photograph of the good congressman?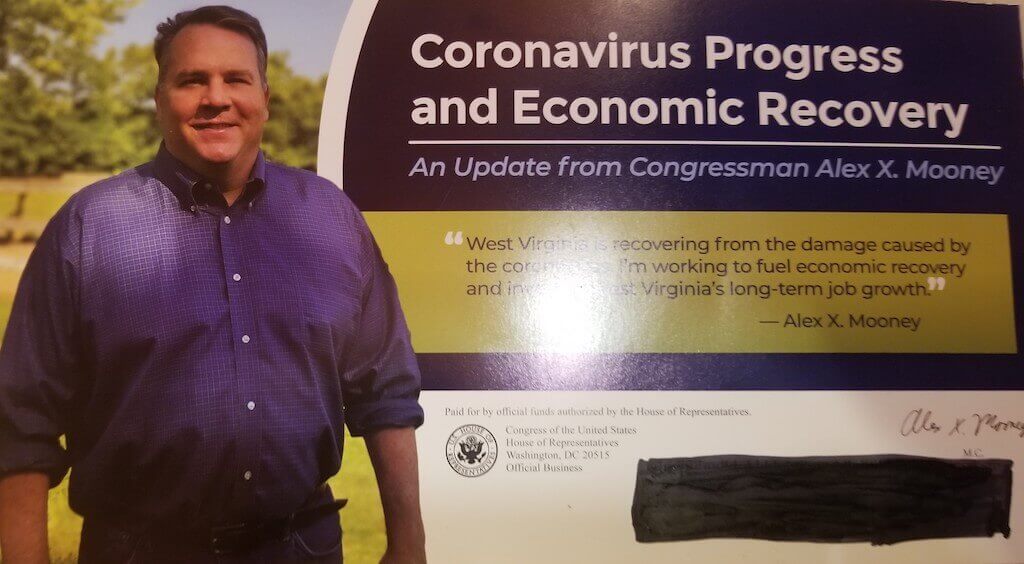 It's a large image of contemporary Mooney emerging from a tree line. From the photo, one can readily deduce that the congressman did not miss any meals as he was dodging COVID, and then perhaps fell victim to what is colloquially known as Dunlap's Disease. (The giveaway is the dual-prong belt buckle and the foot-long extra length of leather needed to cinch it securely.)
This, with so many proud West Virginians losing their jobs during COVID and being forced to go to food banks to feed their families.
The jarring image makes the congressman look like Godzilla-in-Levis, momentarily pausing to contemplate downtown Tokyo. (Slurp!) 
Again, who in their right mind would produce such an unflattering and utterly impolitic image of his boss and then sign off on it?
Finally, buried in the barrage of Alex X. Mooney nametags is the update: COVID is down and you can get free shots. Yes, we know. Contrary to popular belief, West Virginians have actual internet. And television. And radio. And even newspapers, whose requests for a few minutes of the congressman's time are routinely ignored.
Then this: Mooney voted for the CARES Act and the Paycheck Protection Program. Ya think? Boy, that was hard!
And this: "Making sure funding is focused on projects that create West Virginia jobs." Really? Then why is there no mention of all the bills the congressman has successfully sponsored or co-sponsored on these matters? 
It seems that Mike Hough is so busy in Maryland that he simply won't think about the consequences of his hamfistedness in controlling the output of the congressman's staff. It is obvious that Mooney's chief of staff is not taking care of business for his West Virginia constituents. Or trying to make the congressman look good. Or even returning phone calls.
Alex Mooney is being badly underserved.
Perhaps the congressman's first move in unsucking the 2nd District is to realign his staff and begin a more energetic program of constituent outreach as well as effective participation and loud oration in the struggle against the leftist tide flowing through Congress. 
The latter is a job for which Alex Mooney was born and raised to pursue, by Lala Suarez Mooney, his courageous, anti-Communist Cuban mother. After reading her book, I think she would make one helluva fine chief of staff!
Meanwhile, I will be contemplating the effect of Ronald Reagan's fishtail spurs upon obdurate mules.